printer friendly version
The Automation Revolution according to Mike Caliel
June 2014
News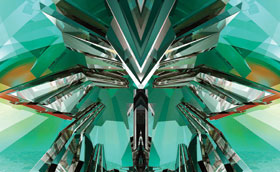 One of the highlights of the local automation calendar is the hugely successful annual Wonderware X-Change User Group Conference.
At this year's event, there was an even louder buzz than usual as it was the first since the acquisition of Invensys by Schneider Electric. This, coupled with the simultaneous release of System Platform 2014 and the new Foxboro Evo, garnered plenty of interest at the Wild Coast during April.
The acquisition has reinforced Schneider Electric's automation capabilities by adding continuous process automation to its arsenal of discrete manufacturing, power and efficient energy solutions. In short, this new organisation now has a complete solutions portfolio for both industrial and process automation applications. Mike Caliel gave us his views on the future of automation technology, the acquisition and the issue of organisational cultures.
Q: Can you tell us about the trends in automation today?
A: We are experiencing a continued acceleration in the pace of change as it relates to core automation systems and safety technology. The challenge for us as a supplier is how to keep our offerings contemporary, given the speed of the advances being made in areas like microprocessor and memory technology, while at the same time ensuring that we future-proof any new investment by our customers. Our clients are operating in ever more competitive environments; these are highly capital intensive businesses where the operating margins are narrow so being able to eke out the extra penny per barrel of oil in the oil and gas industry, for example, can often be immensely valuable. The balance we have to find is between keeping the platforms competitive, in terms of the latest available technologies, while at the same time satisfying the requirement from our customers that any purchases made today should still be operational fifteen years down the line. This is one of the differences between industrial and consumer markets.
Then, we need to add another dimension, the changing nature of the knowledge employee in the workforce. For many in the workforce today, new industrial technology is treated simply as an appliance, like a smartphone or a tablet, and they are not usually preoccupied with how the thing works – they just want to use it to get on and do their jobs.
Couple these with today's typical automation landscape, which features plenty of disparate systems that need to be interconnected so that data can be moved around in a meaningful way, then you begin to understand the forces that are shaping our thinking on the path down which modern automation should be evolving.
For us, the result is the Foxboro Evo system. It includes a new high-speed controller, field device management tools, an Enterprise Historian, redundancy and cyber security features. In addition, the integration of the Triconex Safety Instrumented System allows us to meet the critical safety as well as control needs that our customers demand.
Essentially what we have to do is find ways of keeping things intact at the physical process layer, where it is time consuming and costly to change anything, but be able to add the latest simulation and visualisation technologies above this at control room level. These are some of the ways Invensys is going about future-proofing its new offerings to accommodate both the latest technologies and provide easy, cost effective scale-up.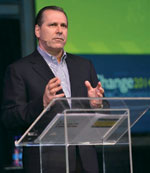 Mike Caliel.
Q: What are the key advantages of this acquisition by Schneider Electric?
A: There is much excitement about the acquisition, not just within Schneider Electric, but within Invensys as well. I don't think you could have come up with two businesses that are more complementary. Not only in terms of the portfolio of products. The domain expertise and the vertical and geographic market reach that we can get collectively are much greater than when considered individually.
From a Schneider Electric point of view, it instantly has access into the process and DCS markets, something that would take years if it had to develop the appropriate products and services, and even longer to get the market penetration. From an Invensys point of view, it suddenly has access to the discrete manufacturing products and expertise that exist within Schneider Electric. The real leverage though comes about through the combination of Schneider's medium and low voltage capability with the process automation expertise of Invensys.
We see tremendous opportunities in power related applications, like Smart Grid for instance. Suddenly we find ourselves in a position to tackle everything from substation automation, through the scada and data gathering layer and then on to distribution and metering. Oil & gas is another area, traditionally Invensys has operated as a main automation contractor on projects in these industries. Our instrumentation, safety and process control capabilities are well known in upstream applications from the wellhead through the mid-stream processing plants. Now we have the ability to add the main electrical contractor on top of that. This is a big advantage as now we are in a position not only to supply all the panel and MCC equipment in our traditional area, but to extend this into the downstream arena as well.
Partly, this is the basis for the increased geographic leverage that we bring to each other. In the Middle East and Europe we are both quite strong, in China Schneider Electric is very strong as is Invensys in North America. The strength is amplified when you couple the extended global reach with a much broader technology and solutions offering.
Q: How is the integration of the two organisations progressing from a cultural perspective?
A: We have taken a very well thought out and structured approach to bringing these two businesses together. An independent consultant was brought in to help with this integration and one of the first things they did was a cultural survey of several thousand people within both organisations. When the teams got together to discuss the findings, we were expecting to hear about all the differences that existed between a European based company and a North American one.
What struck everyone though, including the consultants, was the similarity that existed between our two cultures. What emerged strongest was that we were two engineering organisations that enjoy building elegant technologies and taking those into the market to solve customer problems. The consultants told us that they have never found two organisational cultures as closely aligned as those within Invensys and Schneider Electric.
Once we knew this, it was much easier to map the strategies for integrating the technologies and getting the different sales and engineering teams working together. For instance, this is not just an integration of Invensys, where it makes sense to take something from Schneider Electric and reverse integrate it we are doing that as well.
Editor's conclusion
In his column this month, Jim Pinto discusses the Top 50 Automation companies ranked by turnover. It will be interesting to see where Schneider Electric+Invensys places next year. Given the synergies described by Mike Caliel, plus the good organisational compatibility, it is difficult to see how the result of this merger can be anything other than greater than the sum of its parts.
For more information contact Jaco Markwat, Wonderware Southern Africa, + 27 (0)11 607 8100, contact@wonderware.co.za, www.wonderware.co.za
Credit(s)
Further reading:
From the editor's desk: Edge, cloud or both?
June 2019, Technews Publishing (SA Instrumentation & Control) , News
In the illusory world of digital transformation, the question of where the applications will best be hosted often triggers a lively discussion. In particular, the cloud vs. edge debate has left many wondering 
...
Read more...
---
Wireless IoT devices in oil and gas reached 1,3 million in 2018
June 2019 , News
According to a new research report from Berg Insight, the number of devices featuring cellular or satellite connectivity deployed in oil and gas applications amounted to 1,3 million at the end of 2018. 
...
Read more...
---
Siemens and Iraqi government sign roadmap agreement
June 2019, Siemens Digital Industries , News
In a move that takes the roadmap for rebuilding Iraq's power sector a step further, Siemens and the Ministry of Electricity of the Republic of Iraq have signed an implementation agreement. This builds 
...
Read more...
---
Emerson acquires KNet software
June 2019, Emerson Automation Solutions , News
Emerson has announced the acquisition of KnowledgeNet (KNet) software from Tunisia-based Integration Objects. KNet's unique analytics application software accelerates digital transformation initiatives 
...
Read more...
---
BI set to add ContiTech belts to its range
June 2019 , News
Bearings International (BI) is set to add to its basket of premium brands following a visit by the ContiTech Power Transmission Group to discuss a local distribution agreement for its belt ranges. These 
...
Read more...
---
Endress+Hauser expands patent portfolio
June 2019, Endress+Hauser , News
The number of patents submitted by the Endress+Hauser Group continues to rise. As reported during the annual Innovators' Meeting held this year in France, the Group submitted 287 initial patents in 2018, 
...
Read more...
---
Hyflo Southern Africa incorporated into BMG's Fluid Technology division
June 2019, Bearing Man Group t/a BMG , News
The Engineering Solutions Group (ESG) of Invicta Holdings has incorporated Hyflo Southern Africa into BMG's Fluid Technology Division. This development is a positive move for both companies and for the 
...
Read more...
---
Festo to go digital at Automation Expo
June 2019, Festo , News
The world is currently undergoing radical digital transformation, which is viewed as an implementation of digital technologies in all sectors, including the automation industry. As a company that continuously 
...
Read more...
---
MESA aligns with Africa Automation Fair to promote next level industry automation
June 2019, Reed Exhibitions , News
MESA Africa has aligned with Africa Automation Fair for the first time this year, to help drive the next level of industry automation in South Africa. Vice chairman, Gerhard Greeff, explains that MESA's 
...
Read more...
---
Future Production Technologies Conference
June 2019 , News
"The Fourth Industrial Revolution will herald the transformation of entire systems of production, management and governance," says Bob Williamson, chair of the Future Production Technologies Conference 
...
Read more...
---