printer friendly version
Sartorius' digital weighbridge load cell
May 2014
Mass Measurement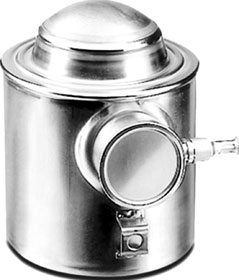 The digital Pendeo Truck load cell is a great solution for weighbridges that takes the performance of Sartorius products to the next level and makes the calibration, setup and operation of weighing systems easier and more reliable.
The digital transfer signal is even less susceptible to faults and ensures precise, reliable operation at all times. Thanks to its identical height, the Pendeo Truck is 100% compatible with the company's other analogue models. Replacement is thus possible without any technical changes to the installation kit or weighbridge.
Easy to install
In combination with the Combics Pro Terminal, the new digital Pendeo Truck load cell makes full use of its strengths. The automatic function identifies all connected load cells and the parameters for the calibration are already saved in the device. This eliminates the need of entering load cell data. Equally easy is the allocation of load cells to their position under the weighbridge. This saves a lot of time in troubleshooting. In this generation of load cells, Sartorius continues to use its PR 6221 model, which has proven itself over many years in thousands of road vehicle weighbridges.
Reliable operation
Thanks to the expanded diagnostic functions, the Combics Pro and Pendeo Truck 'team' offers enhanced reliability for error free operation. All data can be displayed at any time simply by pressing a key. The overall system gives the measurement chain maximum resistance against lightning strikes. All components that are installed directly on the weighing platform comply with the requirements of the highest protection classes IP68/69k. Other features include:
* Fully compatible with PR 6221.
* Special strain-gauge technology for improved lightning protection.
* Maintenance free.
* Compact design.
* Suitable for use in ATEX zone 2/22.
* Robust design.
* Hermetically sealed.
* Stainless steel housing.
* High overload range (up to 150%).
* Quick stabilisation.
* Short weighing times.
* High EMC compatibility (10 V/m).
Further reading:
What is the next big thing in Coriolis mass flowmeters?
June 2019, KROHNE , Mass Measurement
With such fast moving technology it can be difficult to forecast the 'next big thing', but it is possible to focus on two recent developments that look set to influence the market in the near future: high capacity flowmeters; and the ability of Coriolis meters to measure liquids with entrained gas.
Read more...
---
Taking the air out of dairy
May 2019, Endress+Hauser , Mass Measurement
The dairy industry has been plagued for years with the challenge of accurate flow measurement in both processing and offloading applications. Often, the most common cause of inaccuracies in flow measurement 
...
Read more...
---
Small and powerful weighing indicator
Africa Automation Fair 2019 Preview, Richter Scale Co. , Mass Measurement
Specially developed for devices and machines which control limit values via weight measurements, Richter Scale's SMART-2 is a small and simple weighing indicator with a rugged and durable housing. It 
...
Read more...
---
Mass flow measurement of gases
November 2018, Instrotech , Mass Measurement
The Kobold MAS mass flowmeter works according to the calorimetric method and was conceived for gas flow measurement. Since gases can be compressed, the volume changes with pressure and temperature. In 
...
Read more...
---
Mechanical density meter
July 2018, Instrotech , Mass Measurement
Whether dealing with the concentration or the mixing ratio, the density of liquid media is of high importance in processes such as the food or chemical industry. Kobold's DWF mechanical density meter 
...
Read more...
---
Mettler Toledo's weighing control terminal for chemical processes
May 2018, Microsep , Mass Measurement
Profinet interface added to Mettler Toledo's popular weighing control system.
Read more...
---
Proline Promass Q 300/500
February 2018, Endress+Hauser , Mass Measurement
The specialist for challenging applications with superior accuracy for mass, volume flow and density determination.
Read more...
---
Increased whisky production with Yokogawa's Coriolis mass flowmeter
January 2018, Yokogawa South Africa , Mass Measurement
The James Sedgwick Distillery was established in 1886 and is situated in the picturesque region of Wellington in the Western Cape. The distillery produces both malt and grain whiskies on the same site, 
...
Read more...
---
Every drop counts
October 2017, Yokogawa South Africa , Mass Measurement
Yokogawa's bespoke custody metering solutions.
Read more...
---
Precision indicator for belt weighing applications
June 2017, Loadtech Loadcells , Mass Measurement
Loadtech's LT1320 is a precision digital indicator for belt weighing applications. The unit takes the weight and speed information from a belt conveyor system and accurately calculates the rate and 
...
Read more...
---