printer friendly version
Endress+Hauser brings it all together
May 2014
Temperature Measurement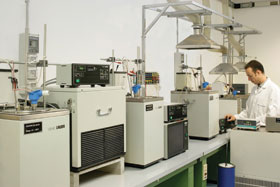 Endress+Hauser's new TM411 is not just another temperature measuring point. It is the culmination of 60 years of instrument building experience accumulated by an organisation that is known for its passion, innovation, quality and attention to detail. According to 'The People for Process Automation', the cutting-edge innovation in the TM411 has been engineered to ensure the most demanding of customer requirements over the entire instrument lifecycle.
Intended for use in the food & beverage and life sciences industries, the modular aseptic design incorporates levels of innovation, accuracy and calibration expertise born out of true market leadership in the business of instrument manufacture.
Innovation at every level
In the TM411, Endress+Hauser has brought together its iTEMP Transmitter, iTHERM QuickSens iTHERM StrongSens, iTHERM TA30R and iTHERM QuickNeck to create a sophisticated temperature measuring instrument for CIP (clean in place) applications demanding the highest standards of quality.

iTEMP Transmitter
The transmitter's task is to transform the sensor input into a stable and standardised output signal. Here everything has been thought of, from the simplicity of the wiring that makes errors practically impossible, to the complexity of the Callendar/Van Dusen (CvD) algorithms that hone the accuracy of the device through sensor-transmitter matching.
The CvD polynomial is an equation that defines the relationship between resistance (R) and temperature (t) of platinum RTDs. It has the 'ideal' form R(t) = R(0) [1 + A*t + B*t² + (t - 100)C*t³]. The coefficients A, B and C for the 'real' RTD are programmed into the transmitter during production. Sensor-transmitter matching is done on every unit to achieve the lowest possible measurement uncertainty – 0,13K in the case of the TM411.
iTHERM QuickSens and iTHERM StrongSens
In a modular thermometer the sensor insert is always the most critical component. In this area, Endress+Hauser has taken repeatable manufacturing to a new level of excellence through the state-of-the-art robotic assembly techniques employed at its Centre for Temperature Products facility in Germany. This type of automated manufacture yields the highest levels of reproducibility and traceability available in the industry today. The benefit is in the ultra-fast response times that ensure critical process optimisation and safety at all times.
The StrongSense component adds the ruggedness that is required to operate in environments that are subject to high levels of vibration and mechanical shock. Endress+Hauser quote the device as being able to withstand impacts of more than 60 G – about seven times the forces on an F16 during combat manoeuvres. The benefit here is the long-term stability that can now be guaranteed over the entire instrument operating life.
iTHERM TA30R and iTHERM QuickNeck
The new stainless steel terminal head features accessibility to the insert through the unique divisible neck (QuickNeck) technology that is sealed via O-rings to protection class IP69K. The outcome is a distinct reduction in maintenance costs through the ease with which an insert can be removed for calibration or replaced in situ if required.
Endress+Hauser Pyrotemp – SANAS accredited calibration facility
Much of the technical innovation discussed up to this point is meaningless unless its accuracy can be verified according to a recognised international standard. For temperature, Endress+Hauser calibrate industrial resistance sensors and thermocouples according to the ISO/IEC 17025, DKD and SIT guidelines.
At the company's local temperature production facility in Benoni, a calibration laboratory has been established that replicates the exacting standards of the calibration facilities found at all of Endress+Hauser's temperature sensor production centres. The facility has been accredited to ISO17025 by the South African National Accreditation System (SANAS), making it one of the most advanced temperature calibration facilities on the African continent and capable of handling temperature ranges from -20 to 1550°C. The calibration facility in Benoni is also accredited to carry out calibration for a complete loop (which means both temperature probe & transmitter combined) are certified as a unit, which is a differentiating factor with any other temperature calibrated laboratory in Africa.
Applying sensor transmitter matching
As temperature measurement plays such a decisive role in manufacturing today, local industry is fortunate to have a facility like Endress+Hauser Pyrotemp right here on its doorstep.
Since the accuracy of instruments like the new TM411 depends largely on the CvD techniques for sensor-transmitter matching, it is important to be able to check this periodically at intervals appropriate to the criticality of the process. Being able to do this in the shortest possible time interval is the beauty of having a local facility of this quality available.
Temperature sensor calibration methodologies at Endress+Hauser Pyrotemp
In addition to sensor-transmitter matching, the following calibration types are also offered at the local laboratory:
Fixed point calibration – these are calibrations against temperature values of thermodynamic equilibrium states of pure substances, such as melting/freezing or the triple point (simultaneous appearance of solid, liquid and gaseous phase) of a substance. Because fixed point calibration procedures are lengthy they are used only when very high requirements on the 'uncertainty of measurement' is required. In comparison calibration using the freezing point of water at (0°C) is relatively easy to do. A water ice mixture is easier to produce and has become the standard calibration procedure for industrial resistance thermometers.
Comparison calibration – in everyday use, thermometers are more frequently calibrated applying the comparison procedure against reference thermometers that are calibrated to the fixed point temperature of the ITS-90 scale using standardised comparison. An essential prerequisite for the procedure is that the thermometer to be calibrated and the reference device are as close together as possible to ensure they are at the same temperature. Hence the use of calibration baths filled with liquids, salts or powders as measurement media. Both thermometers are dipped sufficiently deep and very close to each other while stirrers keep the temperature distribution homogeneous within the medium. Special calibrating furnaces are used for higher temperatures. These demand complex control mechanisms and contain heat pipes or solid equalising blocks with high heat conductivity. The required zones of constant and homogeneous temperature distribution for the comparison measurement are realised in these furnaces.
Bringing it all together
Process accuracy and support over the entire lifecycle of the instrument is the name of the Endress+Hauser game. This is embodied in the technical innovation that is the new TM411 and it is supported by the expertise and passion at the Pyrotemp Centre of Temperature Excellence. It's everything from one source – and perfectly coordinated.
Readers interested in the temperature ranges available from the Endress+Hauser Pyrotemp calibration facility can download the SANAS Certificate of Accreditation by scanning the QR code from a mobile device. Alternatively, visit http://home.sanas.co.za/?Page_id=38 and search for laboratory number 367.
For more information contact Benjamin Mlangeni, Endress+Hauser, +27 (0)11 262 8000, info@za.endress.com, www.za.endress.com
Credit(s)
Further reading:
Endress+Hauser opens vaccination centre
July 2021, Endress+Hauser South Africa , News
As part of a model project, Endress+Hauser is operating a vaccination centre for employees in Maulburg.
Read more...
---
Thermal imaging in materials testing
July 2021, R&C Instrumentation , Temperature Measurement
The Raytek ThermoView TV40 thermal imaging camera with ThermoView software is an ideal choice for material testing applications.
Read more...
---
Vibration-resistant thermowells
July 2021, WIKA Instruments , Temperature Measurement
Debottlenecking is desirable as minor percentage increases in output capacity can result in significant profit returns.
Read more...
---
A new generation of sensors for liquid analysis
May 2021, Endress+Hauser South Africa , News
Endress+Hauser introduces the next generation of Memosens digital technology for simple, safe and connected liquid analysis.
Read more...
---
Endress+Hauser holds its ground despite the pandemic
June 2021, Endress+Hauser South Africa , News
Endress+Hauser weathered the 2020 pandemic year well. The Group created new jobs and expanded its global sales and production network.
Read more...
---
Temperature measuring in steel processing
June 2021, R&C Instrumentation , Temperature Measurement
Accurate and reliable temperature measurement is a part of efficient metal processing and steel manufacturing.
Read more...
---
Memosens 2.0: simple, safe and connected for future-proof applications
June 2021, Endress+Hauser South Africa , Sensors & Transducers
Memosens 2.0 represents the next, future-proof step in the evolution of Endress+Hauser's Memosens technology, while maintaining all of the familiar and well-established advantages.
Read more...
---
24/7 boiler monitoring with the SWAS Compact
June 2021, Endress+Hauser South Africa , Analytical Instrumentation & Environmental Monitoring
Endress+Hauser has developed a compact new steam analysis device for continuous boiler water monitoring.
Read more...
---
Temperature and humidity monitoring for vaccine rollouts
May 2021, Omniflex Remote Monitoring Specialists , Temperature Measurement
How remotely monitoring facilities maintains the vaccine cold chain.
Read more...
---
High-temperature pyrometer with Bluetooth
May 2021, R&C Instrumentation , Temperature Measurement
Raytek has added Bluetooth capability to the Raynger 3i Plus handheld pyrometer.
Read more...
---