printer friendly version
Wireless possibilities
October 2013
Data Acquisition & Telemetry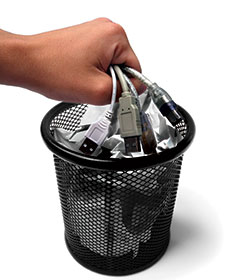 Industrial facilities have traditionally relied on cable to communicate between the control room and the other components on the network. Cable continues to be a reliable choice in the majority of applications today; however, the needs of a facility inevitably change. As managers seek greater control and functionality from their processes, the existing network may need to extend to include additional points in remote sites or hazardous areas. Cable may not be the most appropriate or cost-effective choice to accommodate these needs.
As the application needs of facilities change, the desire for sophisticated features and greater control will continue to fuel the growth and capabilities of wireless technologies. With their versatility and robust capabilities, wireless strategies have become a major contender against cable.
The sophisticated wireless strategies that were once deemed too expensive and only available to government or military institutions are now within easy reach of the process control engineer. In fact, they may actually offer greater functionality and cost less than cable, especially in the long term.
Regardless of cable or wireless, there are expenses associated with both. However, unlike cable, wireless strategies are not buried in trenches or under buildings and subjected to environmental elements that can hinder performance. Because wireless modems operate in the licence-free ranges of the 902-928 MHz and 2,4-2,4835 GHz Industrial, Scientific and Medical (ISM) band, there are no licensing fees or lines to lease. Should a problem arise, many wireless modems maintain self-diagnostic capabilities to prevent errors. A wireless modem can identify and correct the situation quickly to reduce costly downtime.
Implementing wireless modems, engineers are no longer limited by distance, terrain, or hazardous environments. They can access areas where it is impossible, dangerous, or simply not cost-effective to run cable. Safety is also enhanced because wireless modems reduce the need for personnel to make unsafe, inconvenient and costly visits to remote or hazardous locations.
The wireless network module (WNM)
Moore Industries' NET Concentrator System (NCS) process control and distributed I/O network, was specifically designed for demanding applications. The optional WNM provides wireless functionality to the NCS and can effectively extend a facility's existing digital communication infrastructure, without costly wires, leased lines and ongoing visits to remote locations.
This bi-directional, spread spectrum wireless module employs frequency hopping technology, 128-bit AES encryption and 32-bit CRC error protection to provide robust and secure communications. The spread spectrum frequency hopping technique ensures noise and interference immune wireless communications. Available models interface Ethernet or Modbus RTU networks, and operate in the ISM frequency bands ranging from 902-928 MHz and 2,4-2,4835 GHz.
Ethernet
The WNM interfaces Ethernet communications seamlessly and reliably and the transceiver's Ethernet port is a standard 10/100Base-T connector which will accept either a straight through or crossover Ethernet cable. There are two Ethernet WNM models available from Moore Industries.
The first was designed for data communications in the 902-928 MHz licence-free band, and has a rated range of up to 48 km. The second operates in the 2,4-2,4835 GHz band and has a rated range of up to 24 km. Both modules use highly directional antennas and a direct line-of-sight RF path. Ethernet models have a selectable RF data rate of 1,1 Mbps or 345 Kbps.
Intelligent frequency hopping spread spectrum (FHSS)
Moore Industries' WNM utilises FHSS, a robust technology with little susceptibility to noise, reflections or other radio signals. The FHSS method transmits data using signals which rapidly switch a carrier among many frequency channels, using a pseudorandom sequence known to both transmitter and receiver.
This technique offers many advantages over a fixed frequency transmission. Because the signal is spread over a number of frequency channels, it is highly resistant to interference from other signal sources. It is also more secure since it is difficult to intercept the transmission unless the pseudorandom sequence is known. FHSS transmissions can share a frequency band with many types of conventional transmissions with minimal interference. As a result, bandwidth can be utilised more efficiently. The WNM can be configured to operate on one of several network channels. Each channel uses a different frequency pattern which allows multiple networks to coexist using the same frequency band in the same geographic area.
Omnidirectional and Yagi are two of the primary antenna types commonly used in wireless networking to receive and transmit radio frequencies across a network. The WNM comes standard with an omnidirectional whip antenna, which is typically used for bench set up and testing. To extend the range of the WNM, an external antenna can be used in place of the standard whip.
Configuration modes
When integrated with a NET Concentrator System distributed control and I/O strategy, WNM modules can be operated in point-to-point and point-to-multipoint architectures.
Each WNM network includes a master WNM module, which can be set to communicate with just one, or multiple, WNM modules configured as remote modules. WNM modules can also be configured as repeaters to relay signals when a direct line of sight does not exist between a master and remote modules, or to extend the transmission distance allowable within a WNM network. There can be an unlimited number of WNM repeaters per WNM network.
When set in smart switch Ethernet (SSE) mode, the WNM automatically establishes the most efficient path for data packet transmission. It determines whether to broadcast direct to a single radio, multiple radios, or all radios in the network, on a packet by packet basis. This delivers fast and highly reliable network performance.
From simple plant floor monitoring, to complex networks spanning miles over rugged terrain and connecting remote substations, Moore Industries' WNM offers an appealing solution for numerous process applications. Facilities are no longer limited by the restrictions of cable. They can increase the reach and functionality of control systems without disrupting their current infrastructure or incurring the expenses imposed by cable.
Credit(s)
Further reading:
Clip-on indicator with Bluetooth and logging
September 2020, WIKA Instruments , Data Acquisition & Telemetry
Monitor live process values and diagnostic information on any iOS/Android device running the free PPS application, or monitor directly on the display.
Read more...
---
RS Components introduces RX23E-A
July 2020, RS Components SA , Data Acquisition & Telemetry
RS Components has introduced a new series of single-chip devices from Renesas, the RX23E-A microcontrollers (MCUs) which combine an analog front end (AFE) and an MCU core for use in equipment that delivers 
...
Read more...
---
Advanced controller for data acquisition
December 2019, RJ Connect , Data Acquisition & Telemetry
The ioThinx 4530 series is an advanced modular controller product with a unique hardware design, making it an ideal solution for a variety of industrial data acquisition applications. The controller has 
...
Read more...
---
Top data management on the DIN rail
October 2019, Endress+Hauser South Africa , Data Acquisition & Telemetry
The data manager family of Endress+Hauser is growing. To meet the strong demand from the market for a smart, compact DIN rail data manager for mounting in the control cabinet, development of the RSG45 
...
Read more...
---
IoT data logger
October 2019 , Data Acquisition & Telemetry
IMS is known across the globe as a leading industry expert and manufacturer of condition monitoring data loggers and telemetry. The company performs data logger engineering, manufacturing and servicing 
...
Read more...
---
Fieldlogger for data acquisition
June 2019 , Data Acquisition & Telemetry
The Fieldlogger is a great asset to the Novus automation range of products. It is one of the most comprehensive instruments for the acquisition of data recording, and is capable of analog and digital 
...
Read more...
---
New network function for digital ­indicator
October 2018, Yokogawa South Africa , Data Acquisition & Telemetry
Yokogawa has added a network function to the UM33A digital indicator with alarms. With this network function, a single UM33A digital indicator can receive, process and sequentially display data from up 
...
Read more...
---
Remote monitoring and telemetry at power station water plants
July 2018, Omniflex Remote Monitoring Specialists , Data Acquisition & Telemetry
The wireless ability to manage pumps remotely over long distances is now available using Omniflex's Teleterm M3 Radio RTUs. This full functionality IEC61131 PLC enables both control and wireless communications 
...
Read more...
---
Purely analog signal conditioning
June 2018, GHM Messtechnik SA , Data Acquisition & Telemetry
IMTRON, part of the GHM Group, has launched the Purely Analogue Signal Conditioning TSA modules that offer well-established methods for processing, filtering, amplifying and galvanically isolating sensor 
...
Read more...
---
KPMs rotary consistency transmitter boosts pulp mill performance
May 2018 , Data Acquisition & Telemetry
In today's pulp and paper-making market place, consistency measurement is one of the most important ways to keep costs as low as possible without sacrificing quality or production throughput. KPM's KC/5 
...
Read more...
---