printer friendly version
From the Editor's desk: Automation vendors respond to disruption in the market
February 2017
News
Led by a crash in the oil price, the global contraction in commodity demand has forced many of the major automation suppliers to refocus operations in an effort to protect their businesses against the resultant turndown in capital investment. Fortuitously (or was it), a technology disrupt burst onto the scene at almost exactly the same time as the oil price collapsed, which promised improvements in production efficiency the likes of which had never been seen before.
The Industrial Internet of Things paved the way for vendors to extend the value of their traditional hardware and software offerings to compensate for the slowdown in revenues from new project investment. Through the next generation of cloud-based IIoT service offerings, suppliers reacted decisively to a demand from key customers to "get more from the assets that we already own".
Today, automation suppliers prefer their clients think of them as automation partners for life. Remote monitoring of plant assets coupled with IIoT-enabled analytical services designed to optimise plant performance and maintenance efficiency have become the new drivers of business creation. It is no accident then that many retirement age baby boomers in the manufacturing sector are being snapped up as consultants to the large automation houses; a phenomenon Automation Insider's Walt Boyes refers to as "the strategic acquisition of knowledgeable grey heads". A better way to a complete understanding of a customer's processes simply does not exist – at least not a legal one.
Nick Denbow has done an analysis for us this month that provides some eye-opening insight into the different approaches taken by a few of the better known control system suppliers. Company cultures and personalities differ of course, and different circumstances must be allowed for in different industries, but the common thread is the shift from a supplier of automation equipment (primarily for new projects), to a provider of automation services (over the entire life of a facility). The system platform that brings this all together is the Industrial Internet of Things, with companies differentiating their services based on whether they operate from the edge up (sensor-based) or from the enterprise down (analytics-based). See the article "Control systems vendors see opportunities in cloud-based IIoT data services" for more.
Siemens puts things into an African perspective
Siemens announced the findings of its African Digitalization Maturity Report at a function towards the end of 2016. Designed to determine a digitalisation benchmark across four African countries, namely South Africa, Nigeria, Kenya and Ethiopia, as well as the key vertical industries of transport, manufacturing and energy, the report presented some interesting conclusions.
Manufacturing showed the most maturity, but the adoption level of the smart technologies that will accelerate Industry 4.0 (IIoT) remains at a foundation stage. However, awareness of the significance and potential of this technology is high.
In the energy sector, the report noted that without stable electricity it is challenging to do anything digitally. In fact, as we South Africans have learnt firsthand, it is challenging to do anything at all. One hopes therefore that Africa's utility operators realise that help is at hand. In fact, due to the current level of market evolution, there is now a plethora of automation service providers all ready willing and able to assist with the upkeep of what has become a decidedly creaky infrastructure.
What really gelled for me about the Siemens report though is one of its key recommendations: In an African context, disruptive technology drives development rather than disruption. Will this be the year in which digitalisation makes a meaningful difference in Africa? The full report is available on request from Keshin Govender, keshin.govender@siemens.com
SAIMC celebrates its 60th
Congratulations to the SAIMC which celebrates its 60th birthday this year. Under the current leadership, the organisation has grown from strength to strength over the last few years. Check out the call to action from the president as well as the new commemorative logo in "From the President's desk".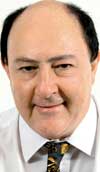 Steven Meyer
Editor: SA Instrumentation & Control
Credit(s)
Further reading:
New chief marketing and communications officer joins Zutari
News
Leading consulting engineering and infrastructure advisory firm, Zutari, has appointed Zipporah Maubane as chief marketing and communications officer for Africa and the Middle East (AME).    The company 
...
Read more...
---
Call for detailed action plan for SA's mining sector
News
Following the President's keynote address at the Mining Indaba, Webber Wentzel sees the lack of timelines and action plans as a deterrent to investors.
Read more...
---
Google announces Africa developer scholarship
News
Google has announced an additional 30 000 Android and Google Cloud training scholarships for aspiring and professional developers
Read more...
---
Record growth for EV market despite mounting challenges
News
The battery remains the largest cost component of the vehicle, and climbing costs of lithium and nickel are a factor behind the increases.
Read more...
---
AATF 2023 to collocate with Future Manufacturing Africa
News
In attendance across the two events will be over 5000 visitors, several feature areas and over 200 exhibitors over three days.
Read more...
---
Abrasive Flow Solutions celebrates 1st anniversary
News Valves, Actuators & Pump Control
The company specialises in the design and manufacture of slurry-related valves, and works closely with sister company, BMG.
Read more...
---
E-House solution powers large platinum HIG mill
Zest WEG News
Zest WEG's solution – built to the highest safety and performance standards – is powering one of the largest HIG mills in the southern hemisphere.
Read more...
---
100 years of Anton Paar
Editor's Choice News
The company's success story began in1922, when Anton Paar founded his machine shop. For 100 years Anton Paar has combined high precision technology with scientific curiosity and a thirst for research. This has made the company a world market leader in the fields of density and concentration measurement, rheometry and CO
2
 measurement.
Read more...
---
Process Automation Solutions appointed as main contractor
EOH Process Automation Solutions News
Process Automation Solutions has been appointed as the Main Automation Contractor by South Africa's liquids pipeline operator to upgrade the control system, metering and leak detection system for inland bound crude oil pipeline.
Read more...
---
From the editor's desk: What does blockchain mean for you?
Technews Publishing (SA Instrumentation & Control) News
Key drivers include authorised analysis of real-time data, enhanced visibility, preventive maintenance, energy efficiency and convergence of IT and OT.
Read more...
---