printer friendly version
SAIMC: From the President's desk
October 2016
SAIMC
The year is coming to an end and we have just had our annual celebration gala dinner. We have been presenting to you our successes, challenges and the manner in which we have immersed ourselves in the realities of the environments in which we operate. As the SAIMC leadership, we realised very early in the year that we cannot ignore the landscape of our 'context' and have deliberately, although unobtrusively, confronted our political and demographic realities.
We presented to you our relentlessness with respect to registering automation as the 10th registered engineering discipline. The journey continues, but we have achieved significant milestones punctuated with many victories that are worth celebrating. We have also demonstrated our quest to reshape skill development in our country, not only in rhetoric but also by enacting our resources accordingly and at the same time deploying capital investments in ­educational institutions. Lastly, we demonstrated our ­continued commitment to the collaborative forces that we have established with various governmental institutions, such as the South African Bureau of Standards (SABS), and the consequent result thereof.
For those who could not make it, be on the lookout for a full report on the event. The glittering gala dinner coupled with the new 'organisational persona' further crystallised the vision and the invigorating strategic intent of the SAIMC. Our guest speaker, Victor Vermeulen, was selected to bring a dimension of 'resilience' into the SAIMC. This is so because we want to continue to push ahead and offer our best to all our stakeholders. The following quote by Victor captures the climate that we are seeking to invoke and inspires us as we navigate through our daily challenges: "I felt as if my mind was being held prisoner in an immobile shell and I'd become frozen inside my skin. I could not do much, but I had made my choice. I was not going to just give up and die. I decided that my life was worth living and I was going to make the most of it; one breath at a time, and one day at a time. I have never been a person who gives up. I decided to fight!"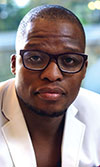 Oratile Sematle.
The 19th of October will present a tough test for all of us at SAIMC. We will be making a crucial and long awaited presentation to ECSA, stakeholders from the industry, government and educational institutions on the subject of automation as the 10th discipline. We hope to draw from the wisdom and the spirit of resilience demonstrated by Victor throughout his life.
To this end, I would like to thank the SAIMC council, delegates from the industry, educational, governmental and engineering institutions that continue to support SAIMC and make it what it is today. Of course, I cannot forget our members, patrons and business partners as they all form part of the engine that propels the SAIMC forward.
Yours sincerely,
Oratile Sematle.
Credit(s)
Further reading:
SAIMC: Vaal branch
December 2019, SAIMC , SAIMC
At the last technology evening, Robert de Scande from SICK Automation gave a presentation on the subject of IO-Link. IO-Link offers new options for communication between the system control and field levels: 
...
Read more...
---
SAIMC: Durban branch
December 2019, SAIMC , SAIMC
Technology evening
At the last technology evening, Beckhoff Automation's Gareth Taylor (sales engineer, Durban) presented on the topic 'Open PC-based control technology in a world of modular process 
...
Read more...
---
SAIMC: Secunda branch
December 2019, SAIMC , SAIMC
At the technology evening on 10 October, Jacques Parrott, from SICK Automation SA gave a presentation on 'Measurement of green house gas emissions', which also touched on the issue of carbon tax. The 
...
Read more...
---
SAIMC: Johannesburg branch
December 2019, SAIMC , SAIMC
The October technology evening was hosted by Extech Safety Systems. Sales director Gary Friend presented an interesting take on the relationship between new technological advances, and the never-ending 
...
Read more...
---
SAIMC: From the President's desk
December 2019, SAIMC , SAIMC
2019 has been a year of many achievements by our members. Although the SAIMC might not be the organisation with the most members, the unselfish and hard-working team have certainly achieved more than 
...
Read more...
---
SAIMC: From the President's desk
November 2019, SAIMC , SAIMC
The end of the year is almost upon us. Have you taken the opportunity to ask yourself what has really changed for you this year? In some areas we have seen significant and exponential change. Automation 
...
Read more...
---
SAIMC: Tshwane branch
November 2019, SAIMC , News
Industry expert talks about importance of continuous learning
Learning from industry experts is a vital component of any student's training. Such an expert is Thabo Lekgowane, a robotics engineer from 
...
Read more...
---
SAIMC: Obituary - Eugene Sithole
November 2019, SAIMC , SAIMC
It is with deep sadness that the SAIMC heard of the death of dear friend and esteemed colleague Eugene Sithole, who passed away suddenly on 7 September.    Thanduxolo Eugene Sithole was born on 13 September 
...
Read more...
---
SAIMC: Johannesburg branch
November 2019, SAIMC , SAIMC
Why use wires?
   At the technology evening on 11 September, Rudi Erasmus of Phoenix Contact walked us through when and why wireless communication is preferred to cabled communication.    Communicating 
...
Read more...
---
SAIMC: Vaal branch
November 2019, SAIMC , SAIMC
This month's presentation at the Vaal branch covered the basic principles and fundamentals of SIL. It included the common misconceptions about SIL, risks, accidents, processes, random and systemic failures 
...
Read more...
---