printer friendly version
Recent trends will shape future of distributed control systems
October 2012
PLCs, DCSs & Controllers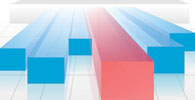 Several trends have already impacted the distributed control systems (DCS) market and are likely to continue to do so over the next few years. These include product and technology-related trends as well as general industry trends.
More intelligent I/O
The DCS I/O subsystem is responsible for handling hundreds or often thousands of different process measurements and other inputs into the system, and outputting control signals to a large number of valves, actuators, motors and other plant final control elements. I/O represents one of the most significant parts of the DCS, and traditionally, a significant cost element. However, DCS suppliers are working to reduce both the cost and the complexity of their I/O by incorporating more intelligence and programmability into the devices.
Shift in I/O type
Fifteen years ago, the traditional process analog input came from a sensor producing a 4-20 mA analog signal and the typical analog output was a 4-20 mA signal. Discrete signals involved various combinations of voltages and currents and each type of signal had a dedicated type of circuit board.
Today, in a greenfield plant, most of the I/O supplied is on some type of bus network. Brownfield plants are also installing more bus I/O, however, with the large installed base of traditional 4-20 mA I/O, the transition is very slow. Major expansions or revamps in brownfield plants consider bus I/O when the sensors and final control elements are also part of the project.
There is also a growing trend towards adding more wireless I/O and associated field devices, particularly for process and equipment monitoring applications.
Need for network consulting services
As the lines between automation and IT begin to blur with increased use of commercial off-the-shelf (COTS) technology, the network infrastructure of the DCS and the network architecture for plant information become increasingly intertwined. End users now often rely on the expertise of suppliers for consulting to set up these networks in a safe and secure manner.
Virtualisation
DCS suppliers started incorporated server virtualisation a few years ago. Common uses of this technology include engineering development and for simulating automation in training. Virtualisation is not appropriate for all parts of the DCS. Sometimes, dedicated hardware will perform a given task better than a virtual server. A good example is the real-time process controller in a DCS, where speed, determinism and high reliability are major design considerations for the operation and safety of the plant. On the other hand, a virtual server performing many applications on one box can be a good choice for offline applications such as control configuration, simulations, and training.
Cyber security
With todays more open and interoperable, largely COTS-based automation systems, cyber security is becoming more important as end users struggle with potential risks, both internal and external to the DCS. Most suppliers now address this threat with active programs, either in house or through partnerships. As part of a 'defence-in-depth' cyber-security strategy, network firewalls and strategically placed switches are required to help prevent the propagation of external viruses and intrusions. Internal threats from disgruntled employees or other internal access points must be addressed with such things as USB locks and software to monitor internal automation system network activity. Furthermore, network maintenance practices that are common in the IT world – such as automatic software updates, anti-virus updates, and bug fixes – must be modified for the mission-critical, 24/7 industrial environments in which DCSs typically operate.
Mobility
Just as people today find it hard to live without their smartphones in their daily lives, increasingly, process operators and production supervisors are relying on the ability to 'access data anywhere, anytime' to perform their job functions. DCS suppliers address this trend by supplying tablet technology for roving operators and use of smartphones for alerts and condition monitoring. This trend towards increasing mobility will grow in importance in the coming years.
Cloud computing
There has been much talk in the industry about developments underway to move selected DCS applications 'to the cloud', a reference to moving applications to remote, Internet (public) or intranet (private) based servers. However, the control automation industry is very conservative by nature, and for the time being this is just talk. ARC believes that, ultimately, selected DCS applications are likely to move to private, and in some cases, even public clouds, but
for now, end users are wary.
Modular skid-mounted DCS
More process units these days are being built and delivered on skids (engineered to order and ready to plug into the process flow), rather than built in situ. As a result, DCSs are showing up on skids when they arrive at the plant or mill, unless there has been good coordination upfront between the equipment supplier and the user's automation team, the skid-mounted DCS technology can be different than the desired system for the plant. Heterogeneous DCS solutions require additional communication interfaces and significant increases in engineering services. This issue could be avoided altogether by the automation team standardising on one DCS supplier early in the project and requiring all skid vendors to supply the same type of DCS.
For more information contact Paul Miller, ARC Advisory Group, +1 781 471 1126, pmiller@arcweb.com, www.arcweb.com
Further reading:
New Modicon IIoT-ready controller
September 2020, Schneider Electric South Africa , PLCs, DCSs & Controllers
The Modicon M262 is IIoT-ready, designed and delivered with intuitive direct cloud connectivity and no gateways are required for OEMs to design solutions for performance demanding applications.
Read more...
---
Modular mid-range PLC series
June 2020, ElectroMechanica , PLCs, DCSs & Controllers
The Delta compact modular mid-range AS series PLCs, available locally from ElectroMechanica (EM), is a high-performance, multi-purpose controller designed for all kinds of automated equipment. The series 
...
Read more...
---
Fishery relies on Siemens process management
December 2019 , PLCs, DCSs & Controllers
The fishery in Steinach, Switzerland, breeds fish species which are under threat so that they can be released into domestic waterways in the canton of St. Gallen. The quality and temperature of the water, 
...
Read more...
---
Meet the Future: Edge Programmable Industrial Controllers
November 2019, Opto Africa Holdings , PLCs, DCSs & Controllers
All controls engineers are familiar with PLCs and PACs (programmable automation controllers). Both have been used and improved over many years, incorporating capabilities that used to be found only in 
...
Read more...
---
Precise control in joining applications
October 2019, ASSTech Process Electronics + Instrumentation , PLCs, DCSs & Controllers
Digiforce is the trusted name when comprehensive monitoring of press-fit, joining, riveting and caulking processes is needed. The models 9306 and 9310 are being successfully used in innumerable applications 
...
Read more...
---
The powerful Festo modular control system CPX-E
Technews Industry Guide: Industrial Internet of Things & Industry 4.0, Festo South Africa , PLCs, DCSs & Controllers
Designed as an EtherCAT master and motion controller with protection to IP20, the powerful automation system CPX-E for factory and process automation with NE21-specific certifications is becoming the 
...
Read more...
---
Rockwell strengthens industrial control system security
July 2019, Rockwell Automation , PLCs, DCSs & Controllers
Communications between industrial control devices have minimal protection today. This leaves them vulnerable to threats like malicious tampering and incidental system changes that can stop production 
...
Read more...
---
Siemens extends the Simine ­portfolio
June 2019, Siemens Digital Industries , PLCs, DCSs & Controllers
Siemens has extended the Simine portfolio for high-pressure grinding mills (HPGR) to include a new controller. Plug-and-play functionality makes the load share controller available for immediate use. 
...
Read more...
---
Schneider Electric announces a new era of control
June 2019, Schneider Electric South Africa , PLCs, DCSs & Controllers
Schneider Electric's new high-end Modicon M580 Ethernet programmable automation controller (ePAC) features redundant processors, native Ethernet, and cybersecurity embedded into its core. It combines 
...
Read more...
---
Selecting the right PLC
June 2019, AC/DC Dynamics , PLCs, DCSs & Controllers
Automation projects, big or small, start with a specification. Here are five factors to consider when choosing a PLC vendor.      
Broad range of devices
The selected brand must have a complete product 
...
Read more...
---