printer friendly version
Siemens' most compact Coriolis solution
October 2012
Flow Measurement & Control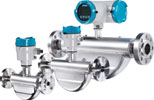 Building on a strong tradition of innovative thinking, Siemens has designed its next generation of Coriolis flowmeters for excellence in performance, safety and user friendliness. The Sitrans FC430 is a digitally based flow solution featuring high accuracy, low pressure loss, extremely stable zero and high-speed update and signal transfer. It is also amongst the first Coriolis flowmeters to offer SIL 3 certification, meeting the highest standards of safety and reliability.
Small in size – big on performance
In designing the Sitrans FC430, the goal was to enhance productivity by increasing the efficiency of operations. Based on patented digital signal processing technology, the Sitrans FCT030 transmitter delivers true multi-parameter measurements with enhanced efficiency, security and simplicity. It features a modular design for convenient installation and replacement and can be remote or compact mounted with all Sitrans FCS400 sensor sizes.
The Sitrans FCS400's compact size facilitates installation and replacement and makes it possible to fit multiple units into tight spaces. At the heart of the compact design is the patented CompactCurve tube shape, offering an accuracy of 0,1% of flow rate and high sensitivity for optimal measurement, even at very low flows. From its short tube length and large bore to the cylindrical frame and hemispherical flow manifold, the Sitrans FCS400 was designed from the ground up for superior performance and reliability through a very stable zero point, low pressure loss and high immunity to process noise and plant vibrations.
The robust frame construction guarantees superior isolation and added resistance against external vibrations, resulting in an ideal measuring environment for excellent accuracy and repeatability with no twisting. Enclosure pressure rating provides for a burst pressure in excess of 160 bars, while a fully rotatable pedestal (0-180°) makes access possible from all sides and features a simple one-bolt release clamp. A wide range of process connections for standard, hygienic and Namur sensors allows for extensive customisation: options include flanged, pipe-thread, hygienic thread and hygienic clamp.
For a video overview of the new technology visit http://tinyurl.com/ce43shb

Tailor-made solutions for any industry application
Putting safety first in the chemical industry
The Sitrans FC430 has been designed for optimal performance in hazardous areas and complies with a wide variety of certificates and approvals. Among the distinct advantages are mass balance measurement for determination of molecular quantity, density measurement for enhanced quality checks and high accuracy for increased efficiency of chemical processes. Other benefits include: multi-parameter measurement; low wear and tear; suitable for CIP/SIP cleaning and reduced training needs through a one stop solution provider.
Saving time and money in the oil and gas industry
Accuracy and time efficiency make all the difference in flow monitoring, particularly when large quantities of product change hands for profit, eg, in bulk loading applications. The FC430 is custody transfer approved and measures mass flow directly, ensuring that performance is not affected by fluctuating process conditions. In addition, a short tube length, large bore and unique tube shape result in minimal pressure loss for decreased product loading/unloading time and a significant reduction in energy costs. Other benefits include: OlIML R 117 custody transfer approval and high accuracy thanks to the patented CompactCurve design.
Hygienic and precise for the food, beverage and pharmaceutical industries
Meeting a comprehensive list of hygiene and safety requirements, this Coriolis flowmeter is up for the challenge of producing foods, beverages and pharmaceuticals that are consistently safe for human consumption. Its high level of accuracy improves quality control for individual ingredients, mixes and overall production yields, while its multi-parameter measurement capability strengthens overall process management. Other benefits include: self-draining installation for optimum hygiene and food safety; suitable for CIP/SIP cleaning; high-speed 100 Hz signal processing for reliability under dynamic conditions; HART communication and multi-configurable I/O with up to four outputs.
Versatility for OEM solutions
Thanks to its highly customisable nature and capability for exceptional performance under most process conditions, the instrument is versatile enough to meet the challenges posed by a wide variety of affiliated industries and OEMs. From automotive to HVAC to pulp and paper, the design is a direct response to the varied needs of customers in many different businesses. As a result, users are ensured seamless incorporation into almost any application.
Field test at international brewery indicates a bright future
At Royal Unibrew in Denmark, the Sitrans FC430 demonstrated superior measurement capabilities and performance stability in calculating the °Plato of unfermented beer. [Wikipedia: the 'Plato scale' is an empirically derived hydrometer scale to measure density of beer wort in terms of percentage of extract by weight.]
The challenge
Producing beer that demonstrates uniform taste, colour and consistency is one of the biggest and most important challenges faced by any brewery. Although the brewing cycle generally only lasts weeks, it involves many steps that must be regulated through repeated measurements to ensure that the beer will adhere to a predetermined standard of quality.
Accurate measurement becomes especially critical after the wort (unfermented beer) is boiled in the brewkettle with hops and other additives, which causes some proteins to denature and coagulate. When the boil is complete, the wort is transferred at a high velocity to the whirlpool vessel, which forces much of the solid material to separate and settle into a cone shape at the centre of the tank. Before the wort is moved from the whirlpool to the wort cooler to be prepared for fermentation, the concentration of sugar must be quantified to enable a calculation of the brewhouse yield.
The solution
Since the brewery is more than satisfied with the products and customer support received from Siemens over the past 10 years, it agreed to participate in a field test for the new Sitrans FC430, the first Coriolis meter from Siemens to utilise a digital signal for reduced noise interference.
To perform the test, a unit was installed adjacent to the whirlpool to measure outbound wort. This location was considered ideal for testing the stability of the meter due to constantly fluctuating flow rates and temperatures. The existing Coriolis meters were left in place to serve as reference points and the FC430 was then subject to a rigorous series of assessments that were carried out multiple times over an eight month period.
The results showed that the device met or exceeded expectations in nearly all areas of examination. Findings included:
* Performance remained stable at zero flow, with a deviation between Auto Zero setting results no greater than 0,2% over the course of 10 tests.
* Flow readings remained consistent over four consecutive days, demonstrating reliability as good as the older meters in extended running scenarios.
* Mass and density readings were more accurate than the older meters under dynamic flow conditions, and comparably accurate under stable conditions.
* Temperature readings were comparably accurate to the older meters under both stable and dynamic temperature conditions.
Royal Unibrew is pleased with the results of the field test and believes that the Sitrans FC430 shows great potential due to its conveniently small size and exceptional functionalities. According to Jakob Agerbo Bach, maintenance manager at Royal Unibrew, "The FC430 provides density and temperature readings accurately, reliably and with good response times, which is exactly what our brewery needs. We feel absolutely confident in this new generation of Coriolis flow technology from Siemens."
For more information contact Keshin Govender, Siemens Southern Africa, +27 (0)11 652 2412, keshin.govender@siemens.com, www.siemens.co.za
Credit(s)
Further reading:
Safe operation of CNG stations
October 2020, SICK Automation Southern Africa , Flow Measurement & Control
The Flowsic500 compact ultrasonic gas meter enables extremely accurate natural gas distribution measurement.
Read more...
---
Bringing intelligence to the shop floor with Siemens Industrial Edge
October 2020, Siemens Digital Industries , IT in Manufacturing
Siemens Industrial Edge closes the gap between local and cloud computing and enables high-frequency data exchange at field level.
Read more...
---
Ultrasonic flowmeter for wide ranges
September 2020, Instrotech , Flow Measurement & Control
Bi-directionally transmitted ultrasonic waves provide precise results of volume flow as the result of their transit time difference. Installed in any position, the units can measure ranges of 1:250.
Read more...
---
Validation goes digital
September 2020, Siemens Digital Industries , IT in Manufacturing
CVal allows customers in the pharmaceutical industry to produce digital, auditable plant documentation through efficient data handling across all disciplines using a central database and object orientation.
Read more...
---
Turck standardises its fluid portfolio
September 2020, Turck Banner , Flow Measurement & Control
Turck's new portfolio of fluid sensors offers a wide range of variants and combinations, while having common key features at the same time. The compact FS+ flow sensor with IO-Link now follows the launch of the PS+ pressure sensor.
Read more...
---
Automation and digitalisation offer competitive edge in volatile markets
August 2020, Siemens Digital Industries , News
The current situation creates major challenges for industrial companies worldwide and shows that digitalised and highly automated production is more important than ever when it comes to gaining a competitive 
...
Read more...
---
Safe operation of CNG stations
August 2020, SICK Automation Southern Africa , Flow Measurement & Control
SICK's Flowsic500 gas meter, used in State Oil Company of Azerbaijan Republic's (SOCAR) transfer and measurement stations, has shown to meet stringent compressed natural gas (CNG) production protocols. 
...
Read more...
---
Siemens South Africa joins forces with the National Ventilator project community in response to the COVID-19 pandemic
June 2020, Siemens Digital Industries , News
Siemens has been a long-standing partner of the Council for Scientific and Industrial Research (CSIR) in South Africa and have cooperated in various field of research, including manufacturing and mining. 
...
Read more...
---
Siemens and Bentley Systems build digital twin for Indonesian petrochemical complex
June 2020, Siemens Digital Industries , News
Siemens and Bentley Systems will develop the first petrochemical digital twin in Indonesia for Chandra Asri, the country's largest integrated petrochemical complex. With over 27 year footprint, the latter 
...
Read more...
---
Flexim perfects the steam flowmeter
June 2020, Actum Group , Flow Measurement & Control
Flexim is proud to announce the manufacture of a robust, user-friendly and industry-certified ultrasonic steam flowmeter solution. For this accomplishment, the company has been nominated for the 2020 
...
Read more...
---