printer friendly version
SAIMC: Pretoria branch
December 2015
SAIMC
Employability of South African Engineers
For the month of October, the committee after some consultation opted to invite Marna Thompson and Bellah Nxumalo from Network Recruitment Agency (NRA www.networkrecruitment.co.za), specialists within the C&I domain, to present on the topic of employability.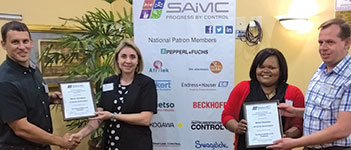 Marna Thompson (left) and Bellah Nxumalo receive certificates of appreciation from Jurie Weidemann and Petrus Klopper.
Many interesting statistics were quoted and some that stood out highlighted the fact that electrical engineering was listed number one on the list of scarce/critical skills, but more interesting is that around 42% of engineers have a second qualification related to complementary functions like project or business management.
Also of importance is that more than half of the people surveyed have no plans to leave South Africa and will remain based in the country even while they work abroad, so if your strategy is to wait for competition to thin out you may be disappointed. Also, you may think that you will do better as people retire, however the survey revealed that many engineers when they retire continue to operate as consultants. Only 7% of matriculates have physical science and 22% mathematics higher grade, and more disheartening, only 14% of people who start tertiary study actually graduate. What this means is that C&I engineers will continue to be in demand.
Some of the job types which stand out as being scarce are automation/system integration engineers, engineers with 'renewables' experience, people with GGC (mining), drives people, MCC and hardware (system) designers and project managers.
Soft skills requirements deemed critical to employability includes factors such as age (read 'experience'), flexibility (read 'willing to travel') and culture (read 'attitude').
Numerous constructive questions were raised from the audience about registration with ECSA (Engineering Council of South Africa), level of standardisation of job profiles, recruitment processes and relocation to other countries. In general terms, in excess of 80% of qualified/experienced people are absorbed relatively quickly into the market, which illustrates the employability of South African engineers both locally and abroad.
The final part of the discussions alluded to the fact that an entity such as SAIMC needs to assist with creation of an online platform where members can post their CVs and supporting documents to create an open channel to prospective employers. It is envisaged that niche service providers such as NRA form part of this initiative and possibly via ECSA roll it out to other engineering disciplines. Some more ground work is needed to ensure that efforts are not duplicated. Another opportunity which exists is to streamline the overall recruitment process and to look at standardising job profiles within our industry. This, along with existing efforts, will go a long way to standardising expectation and roles within C&I, and the convergence with IT. Ultimately this will create a more detailed career path and align the tertiary institutions with requirements from industry.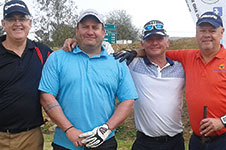 During the month of September, the Pretoria Branch Committee hosted a Golf day to assist with fund raising which was well attended. A special word of thanks goes out to attendees and also our sponsors without whom the day would not have been possible. Seen here enjoying the day are some of the participants.

Credit(s)
Further reading:
SAIMC: From the office of the CEO
September 2021, SAIMC , News
The registration process for people doing engineering work according to the Identification of Engineering Work, (IoEW) document gazetted in March, will start in earnest next year.       Surnames A through 
...
Read more...
---
SAIMC: Durban branch
September 2021, SAIMC , News
Kevin Preston of Phoenix Contact kindly presented at the virtual Durban branch technology meeting in August. Kevin is group manager IMA & IE at Phoenix Contact and is responsible for the interface, 
...
Read more...
---
SAIMC: Johannesburg branch
September 2021, SAIMC , News
Once again, the Johannesburg branch technology evening had to held virtually. We were happy to have Stahl SA involved, with Diogo Fidalgo doing a presentation on 'Ethernet and network technologies for 
...
Read more...
---
SAIMC: From the office of the CEO
July 2021, SAIMC , SAIMC, News
The Identification of Engineering Work that has been in the making since 2000, was eventually gazetted in March this year. People now have roughly three years to comply – depending on your surname.
...
Read more...
---
SAIMC: Durban branch
July 2021, SAIMC , SAIMC, News
The Durban branch held its latest technology meeting via Zoom on the first Wednesday of June. Bryan Baxter explained the importance of effective cybersecurity for industrial networks – something which 
...
Read more...
---
SAIMC: Johannesburg branch
July 2021, SAIMC , SAIMC, News
First hybrid meeting
Following lockdowns, shutdowns and the second wave, the Johannesburg branch rolled out a combined/online meeting for May, hosted by Adroit Technologies. Dave Wibberley spoke on 
...
Read more...
---
SAIMC: From the office of the CEO
August 2021, SAIMC , News
This month let's examine the question: what is considered engineering work? (Refer to Government Gazette Vol 669 published 26 March 2021 No 44333.) It is important to understand what is considered 
...
Read more...
---
SAIMC: Durban branch
August 2021, SAIMC , News
As a well-known and respected figure in the industry, Gary Friend (sales director, Extech Safety Systems) drew record crowds for the Durban branch's July (virtual) technology meeting. His presentation 
...
Read more...
---
SAIMC: Johannesburg branch
August 2021, SAIMC , News
The branch recently had the privilege of hosting Turck Banner for another hybrid technology evening, which was a great success. The topic was, 'Have you seen the light?' Kenneth McPherson, who was 
...
Read more...
---
SAIMC: Cape Town branch
June 2021, SAIMC , SAIMC
An integrated geared unit that combines the recently launched Nord IE5+ synchronous motor and a single-stage helical gear unit offers optimum system efficiency.
Read more...
---