printer friendly version
SAIMC: From the President's desk
January 2015
SAIMC

Welcome back! I hope all of you had a fantastic and well-deserved break, hoping 2015 is going to be a very successful year for each and every one of you. May you all achieve the successes you wish for in every aspect of your life and expect it will be more balanced in 2015. I am certainly going to try for greater work/life balance. Let's persevere and achieve those New Year's resolutions, even if we failed last year.
The SAIMC is gearing up for another exciting year. We have the inaugural Africa Automation Fair (AAF) in May which is going to become our biennial meeting place with colleagues from the African continent, international and local experts, as well as our local South African automation and control community. The focus on the youth will continue at this event with a major FTC competition to be held there. More details to follow from the organisers, èlancommunications.
The SAIMC will be endeavouring to make greater progress on its business plan by hiring more full-time resources and will be using electronic voting across all branches and council for the very first time. The electronic voting was pioneered by the Durban branch and they have had very successful elections over the past four years or so. Electronic voting gives a much wider audience a chance to nominate and vote. This has resulted in the Durban branch unearthing a great pool of additional branch members who are now serving as mentees on the branch committee. They will no doubt take on more responsibility in future years and hence be recognised for their contributions and raise their profiles. This will make them more likely to be voted in than an unknown person. This new blood will take the pressure off our stalwarts in Durban, who get voted in year after year, because our members will recognise their contributions. We are hoping to replicate this model of introducing new blood across all branches in 2015.
Other plans for the year include completing MOUs and cooperation agreements with various engineering organisations both locally and internationally, and working closer with the organisers of local university competitions so that the winning students can derive much more benefit, post-competition. Watch this space for more ambitious plans from the SAIMC to make another significant contribution to our industry and its future leaders.
The SAIMC will continue with its quest to have C&I recognised as the 10th engineering discipline by ECSA. We are continuing lobbying support in various quarters where we find that our objective of a dedicated C&I engineering degree is being misunderstood and does not require a whole new curriculum. It only requires a bit of re-arrangement and we don't plan to 'dumb-down' BSc. engineering degrees, like we have heard from some organisations. We hope to clarify all of these issues in 2015 so we can join the rest of the world who have C&I degrees and these countries are amongst leaders in manufacturing, which is what our country needs desperately now.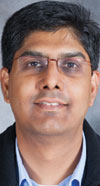 Vinesh Maharaj.
Our branch and council 2015 calendars will be on the SAIMC website this week. You will notice the website is much faster, since we made some technical enhancements. You can immediately diarise the SAIMC Gala Dinner, which will be held on the first Friday of October 2015. This will become its permanent position in future years. Please look out for our golf days and annual functions, to help you plan your year well in advance. We encourage the entire C&I fraternity to contribute to this industry calendar to provide much better co-ordination of activities and prevent clashes. Please send your updates to admin@saimc.co.za
As usual, please mail me your thoughts on vinesh.maharaj@saimc.co.za
Working together, achieving more,
Vinesh Maharaj, President.
Credit(s)
Further reading:
SAIMC: From the office of the CEO
September 2021, SAIMC , News
The registration process for people doing engineering work according to the Identification of Engineering Work, (IoEW) document gazetted in March, will start in earnest next year.       Surnames A through 
...
Read more...
---
SAIMC: Durban branch
September 2021, SAIMC , News
Kevin Preston of Phoenix Contact kindly presented at the virtual Durban branch technology meeting in August. Kevin is group manager IMA & IE at Phoenix Contact and is responsible for the interface, 
...
Read more...
---
SAIMC: Johannesburg branch
September 2021, SAIMC , News
Once again, the Johannesburg branch technology evening had to held virtually. We were happy to have Stahl SA involved, with Diogo Fidalgo doing a presentation on 'Ethernet and network technologies for 
...
Read more...
---
SAIMC: From the office of the CEO
July 2021, SAIMC , SAIMC, News
The Identification of Engineering Work that has been in the making since 2000, was eventually gazetted in March this year. People now have roughly three years to comply – depending on your surname.
...
Read more...
---
SAIMC: Durban branch
July 2021, SAIMC , SAIMC, News
The Durban branch held its latest technology meeting via Zoom on the first Wednesday of June. Bryan Baxter explained the importance of effective cybersecurity for industrial networks – something which 
...
Read more...
---
SAIMC: Johannesburg branch
July 2021, SAIMC , SAIMC, News
First hybrid meeting
Following lockdowns, shutdowns and the second wave, the Johannesburg branch rolled out a combined/online meeting for May, hosted by Adroit Technologies. Dave Wibberley spoke on 
...
Read more...
---
SAIMC: From the office of the CEO
August 2021, SAIMC , News
This month let's examine the question: what is considered engineering work? (Refer to Government Gazette Vol 669 published 26 March 2021 No 44333.) It is important to understand what is considered 
...
Read more...
---
SAIMC: Durban branch
August 2021, SAIMC , News
As a well-known and respected figure in the industry, Gary Friend (sales director, Extech Safety Systems) drew record crowds for the Durban branch's July (virtual) technology meeting. His presentation 
...
Read more...
---
SAIMC: Johannesburg branch
August 2021, SAIMC , News
The branch recently had the privilege of hosting Turck Banner for another hybrid technology evening, which was a great success. The topic was, 'Have you seen the light?' Kenneth McPherson, who was 
...
Read more...
---
SAIMC: Cape Town branch
June 2021, SAIMC , SAIMC
An integrated geared unit that combines the recently launched Nord IE5+ synchronous motor and a single-stage helical gear unit offers optimum system efficiency.
Read more...
---