printer friendly version
SAIMC: From the President's desk
August 2014
SAIMC

Well the cold is still with us, but the end is in sight thankfully.
That can hardly be said for the work of the SAIMC, for which there seems no end. However, the team and I are up for the challenge! Once again this month we have some exciting news to share on the education and training front as well as an update on our annual function and a clarification on some people misunderstanding my message regarding payment for the upcoming African Automation Fair 2015.
I am very pleased to announce that our strategy to bridge the gap between industry and the tertiary educational institutions is bearing fruit. A few months ago I was asked to give a guest lecture at the University of Pretoria (UP). This is as a result of the SAIMC sponsoring the automation laboratory renovations last year. I briefed the students on what options they had in the workplace once they had graduated. The various options for C&I careers were discussed, from maintenance, to projects, to R&D as well as management. The lecture was well received based on feedback from Professor Ian Craig and thereafter one of the students, Andrew Barnes, approached me for assistance with his automation project.
Andrew's project aims to simulate the global carbon cycle, an apt subject indeed considering our current challenges regarding greenhouse gas emissions. He required four tanks, pumps and numerous pieces of instrumentation for flow, level, valves etc. as well as a PLC and HMI. Normally such projects are radically scaled down because the university does not have the budget for such elaborate equipment. As the SAIMC, we felt that we had a duty to the future generations in assisting them produce a project that the C&I industry can be proud of. A project of such stature and fully functional as per initial concept design would also raise the profile of C&I/Automation at the university and hence attract more students to our under-recognised industry.
Bearing all of this in mind, I sent out a request to our Patron members at the SAIMC and our colleagues at the IIG. Within 24 hours we had responses and commitment from Kenneth McPherson of Beckhoff, Dave Strydom of Burkert Contromatic and Leo Franken from ABB. I would like to personally thank these three forward-thinking gentlemen for their assistance. I am proud to be a member of the C&I fraternity which has leaders of such calibre in our midst. Andrew now has all the C&I equipment, but at the time of writing is still in need of four small water pumps and four water tanks. If anybody out there can assist, this would be greatly appreciated. Please contact me.
You will also need to contact us at the SAIMC very quickly if you want a seat/table at our Gala Dinner. The details have been finalised and the invitations have gone out a few weeks ago. You can find the details on the SAIMC news pages of this edition. Sales are as brisk as last year and David Kibuuka will have you in stitches like Conrad Koch did last year. There are still a few sponsorship opportunities available so please contact admin@saimc.co.za for details.
Lastly, I would like once again to address the controversial issue of the R100 payment for entrance into the African Automation Fair. Unfortunately the free training example I cited to show that free offers are not always appreciated and sometimes can be perceived as inferior quality, was misunderstood. The R100 entrance fee is NOT to cover training and there is no training planned for this event. Instead there will be one-on-one interactions with both local and international experts. The point is that this is a completely new concept which is meant to draw people who are serious about the technology and developments in industry. I am sure the majority of the exhibitors would prefer to deal with quality attendees rather than droves of people who are just there to pass some time. We can certainly fill the hall with busloads of school children, if it is just about numbers.
The African Automation Fair 2015 cannot be compared to the Process Show 2013. It is a step change, in concept, format and content. It is positioning automation and control as an industry of high value – its rightful place! Items of value have a cost; if we value it we will pay the price for the item, service or experience. Are we saying that our industry is so poor that the quality attendees and/or their companies out there cannot afford R100? Are we saying that what we are offering at the fair is of such poor quality that people cannot justify R100 to enter? Are we saying that all the knowledge to be gained from the launches, the numerous international experts' time, and the various local experts' time is not worth R100, which equates to R12.50 an hour? Are things so bad in our industry?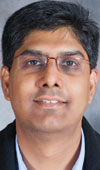 Vinesh Maharaj.
I surely hope not! For far too long we accepted second-class citizenship in the engineering sector. It is time we rise up and claim our rightful place in the engineering fraternity. It is time we move away from the small mindedness and think BIG! It is time for automation and control to be recognised as a key player in engineering. There are billions of rand to be spent on infrastructure projects in our economy in the coming years. If we are quibbling about a R100 entrance fee to an exhibition of international quality, then what hope do we have of being taken seriously by our engineering peers? What hope do we have of being recognised as the 10th Engineering discipline by ECSA? I sincerely hope that the state of our industry is not so bad that R100 becomes a deal breaker.
I ask you all to consider the message we are putting out there regarding our industry when we have to have free entrance to attract people to a fair of international quality?
I welcome your feedback on this controversial issue? Are the AAF 2015 committee and I off the mark?
Please mail me your thoughts on vinesh.maharaj@saimc.co.za
Working together, achieving more, Vinesh Maharaj, President.
Credit(s)
Further reading:
Obituary: Steven James Meyer
January 1957 - January 2022
Technews Publishing (SA Instrumentation & Control) News SAIMC
It is with deep sadness and shock that we announce the sudden death of SA Instrumentation & Control Editor, Steven Meyer. Steven joined Technews in October 2007 in the position of Deputy Editor. His 
...
Read more...
---
SAIMC: From the office of the CEO
SAIMC SAIMC
I trust that you all had a wonderful holiday season and are rested and ready to start another year of hectic activity. For some people, the holidays are the highlight of their year, while for others, 
...
Read more...
---
SAIMC: Johannesburg branch
SAIMC SAIMC
During another full month, the Johannesburg team had the pleasure of hosting the branch year-end function, as well as a technology evening presented by turboTRAIN. The year-end function was a spectacular 
...
Read more...
---
SAIMC: Cape Town branch
SAIMC SAIMC
The Cape Town branch management team would like to thank all members for their support in 2021 and wish everyone all the best for 2022. Presented by by Dhiren Naidoo, the last technical evening 
...
Read more...
---
SAIMC: Durban branch
SAIMC SAIMC
On 3 November the branch was treated to an informative presentation, given by Dewald Smit of Festo, using Zoom as the virtual medium. He provided a well-balanced comparison of the relative advantages 
...
Read more...
---
SAIMC: From the office of the CEO
SAIMC SAIMC
Covid-19, vaccination and 5G are both culprits when it comes to the subject of rumours, false information and scare-mongering. I will not be talking about Covid as this is a highly controversial subject. 
...
Read more...
---
SAIMC: Durban branch
SAIMC SAIMC
The branch held its virtual technology meeting, as always, on the first Wednesday of October. Diogo Fidalgo from R. STAHL South Africa presented on the very interesting topic: HMI and camera solutions 
...
Read more...
---
SAIMC: Johannesburg branch
SAIMC SAIMC
The branch had the good fortune of hosting two technology events this month, but due to the Covid-19 virus threat and the current lockdown situation, the management team has decided to do virtual training 
...
Read more...
---
SAIMC: Vaal branch
SAIMC SAIMC
The branch hosted Kenneth M
c
Pherson from Turck Banner during the month of September, when he presented on the role that IO-Link can and probably will, play in the Industry 4.0 workplace.       Most 
...
Read more...
---
SAIMC: From the office of the CEO
SAIMC News
Last month I elaborated on the big question: What are assessors looking for? Today I would like to talk to you about the new CPD requirements. This is especially important to companies who will apply 
...
Read more...
---