printer friendly version
From the editor's desk: Innovation inspired by nature
August 2014
News
Biomimicry is a relatively new discipline that studies nature's best ideas and then imitates these designs and processes to solve current technological problems. The underlying principle is that nature, over billions of years of evolution, has already discovered solutions to many of the engineering problems we humans are still grappling with today. Animals, plants and microbes are all consummate design engineers according to the Institute of Biomimicry.
Holistically, nature has solved a complex set of system dynamics that needed to be worked out and integrated in ways that eliminate waste almost entirely. The science of biomimicry depends more on observing how nature has done this than it does on inventing new theories or formulae. Modern computational tools are however an indispensible aid for modelling and optimisation of the equivalent human solutions. In a series of video lectures, co-founder of the Biomimicry Guild Dr. Dayna Baumeiter explains that while humans will never be able to fly like dragonflies, the laws of physics just do not allow it, but there are some deep-seated design principles to be learnt by studying their wings.
The industrial revolutions of the past were all based on taking resources from nature and refining them into something else. Biomimicry, on the other hand, views nature as a source of recipes and blueprints. One of the most famous of all the inventions to come out of this copycatting approach is Velcro. It was invented by a Swiss engineer who decided to take a closer look at the burrs he removed from the coat of his dog after a hunting trip in the Alps. Under a microscope he discovered an ingenious set of hooks at the end of the burr needles and the idea for Velcro was born.
The aerodynamic design of bullet trains was influenced by a bird-watching engineer in a Japanese rail company who observed how the kingfisher hardly creates a ripple when it darts into the water in search of its prey. The train's redesigned nose – a 20 metre long steel kingfisher beak – solved the noise pollution problems associated with the pressure waves that build up at the front of the train.
In an industrial automation context, Festo is a company doing a lot of work in this regard. In previous issues of this magazine we have published articles about the inspiration coming out of the Festo Bionic Learning Network. The ultra-light BionicOpter based on the design of the dragonfly and the pneumatically controlled robotic ExoHand are two that spring to mind.
This month it is the turn of the BionicKangaroo, a remarkable design that demonstrates how integrated automation solutions using mobile pneumatics can be used to recover, store and efficiently reuse potential energy. Condition monitoring as well as the precise control technology ensures the required stability when jumping and landing. The energy status of the kangaroo and other variables are constantly monitored and evaluated and these are fed into complex control algorithms for triggering the cylinders and motors. In addition to the benefits of mobile pneumatics, Festo believes that the principle of permanent diagnostics will in the future contribute to operational safety and process stability in the industrial automation environment. More in 'Festo demonstrates bionic kangaroo'.
SAIMC Gala Dinner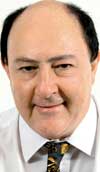 After the highly successful event at the Birchwood Hotel last year, the organising committee has been hard at work to put together an even better function this year. The lion's share of the work has once again been done by Hanli Kritzinger of élancommunications and our own SAI&C product manager Jane van der Spuy. They have done a fantastic job of finding a new venue, designing the programme for the evening and overseeing the menu. There are also some innovative sponsorship ideas available to interested companies. All surplus funds generated by the SAIMC from the evening will be donated towards FIRST Tech projects – a very worthwhile cause. We hope to see you all there.
Steven Meyer
Editor: SA Instrumentation
& Control
Credit(s)
Further reading:
From the editor's desk: Is additive manufacturing poised to go mainstream?
Technews Publishing (SA Instrumentation & Control) News
As digital manufacturing technology pushes its way further towards the production floor, additive manufacturing (3D printing) is emerging as a viable option to complement the more traditional methods 
...
Read more...
---
WIKA SA opens online shop
WIKA Instruments News
Now customers in South Africa can order measurement technology directly from the manufacturer – simple, quick, secure.
Read more...
---
GE Invests $2,5 million in Johannesburg engineers
News
The Next Engineers program aims to increase the diversity of young people in engineering and reach 3500 local students.
Read more...
---
Webinar on radiometric level measurement
Mecosa News
Experts from Berthold discuss the advantages of a rod source/point detector arrangement.
Read more...
---
BMG's heavy-duty mechanical face seals
Bearing Man Group t/a BMG News
BMG's extensive range of seals and gaskets includes Trelleborg mechanical face (torric) seals, which have been specially engineered for rotating applications in arduous conditions.
Read more...
---
Zest customers can now buy online – anytime
Zest WEG Group Africa News
Zest WEG has linked its new E-Commerce facility to the organisation's website, allowing its customers to make online purchases.
Read more...
---
A new vibration test system for Dragonfly Aerospace
TANDM Technologies News
Dragonfly Aerospace is investing in a 3000 square metre design and manufacturing facility in Techno Park, Stellenbosch.
Read more...
---
Successful EtherCAT Interoperability Testing Week in Japan
News
With the recently concluded EtherCAT Interoperability Testing Week in Japan, the EtherCAT Technology Group (ETG) concludes this year's series of developer events in online format.
Read more...
---
Eaton Oxalis CCTV cameras available from Extech
Extech Safety Systems News
Extech Safety Systems is pleased to announce that it has been appointed by Eaton to sell the Oxalis CCTV cameras in southern Africa.
Read more...
---
Inspection, repair, maintenance all bread-and-butter work for Skyriders
News
Skyriders offers a variety of rope-access aided services to numerous industries, such as power generation, petrochemical, mining and facilities management.
Read more...
---