printer friendly version
Meet the Future: Edge Programmable Industrial Controllers
November 2019
PLCs, DCSs & Controllers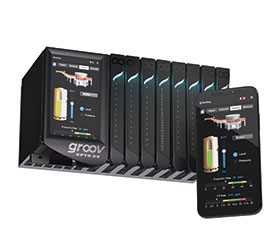 All controls engineers are familiar with PLCs and PACs (programmable automation controllers). Both have been used and improved over many years, incorporating capabilities that used to be found only in scada systems, adding communications with Microsoft Windows-based HMIs, running on standard Ethernet networks, and so on.
But now we need more from our automation systems. For the kinds of applications we want to do in the future, we need a new approach that simplifies connections and communication – a new product that does much more than a PLC or even a PAC. We need an automation product that shrinks or eliminates the middleware and lets us move data from where it is produced to where it needs to be, in far fewer steps. Fortunately that product has recently appeared on the market. It is called EPIC – an edge programmable industrial controller. An EPIC device eliminates middleware and shrinks the steps required to get the data we need, thus reducing complexity, lessening security risks, and decreasing the time and expense required for installation and maintenance.
So what exactly is EPIC?
Let's take a look at each part of the acronym and see what it means for an automation application.
Edge
All data acquisition starts at the edge because that is where data is produced. A manufacturing line or shipping department in a factory, refrigerated rooms or barcoded containers in a warehouse, pumps and pipes and storage tanks at remote sites: all are at the edge of the network, and all have data that could be used to improve processes and profits.
If we can get that data directly from the source, then we know it is accurate. So an EPIC device sits at the edge and connects directly to sensors and actuators through its I/O, the inputs and outputs that gather sensor data and send control commands. It also connects to existing PLCs or other devices to gather their data and issue commands, if needed.
Programmable
An EPIC device is not a PLC, not a PAC, and not a PC, but like them it must be programmed for control. An EPIC device gives you several programming options, some of which reflect traditional automation tools and others that come from PC and Internet backgrounds.
An EPIC device does not limit your programming options like PLCs and PACs, or force you to learn a new programming language in order to use it. Instead, it lets you leverage what you already know, so you can build control, data exchange, and HMI programs more quickly.
Industrial
As engineers, we often have to place controllers in severe environmental locations. One problem with PCs in industrial automation is that an off-the-shelf PC cannot be trusted to stand up to harsh environments. Only a more expensive industrial PC will work.
In contrast, EPIC devices grew from real-world automation experience and were designed to withstand tough conditions. Industrial-grade components and processors are designed for long life. UL hazardous locations approval and ATEX compliance are standard. Operating temperature ranges are wide, for example, -20 to 70°C, while EPIC I/O is hot swappable.
Stainless-steel chassis come in different sizes to fit enclosures or machine designs and can be DIN-rail or panel mounted.
Controller
At heart, an EPIC device is a real-time industrial controller designed to run control applications – a device that does everything we have always expected from a PLC or PAC.
Programmed with standard automation tools like flowcharting, structured text, and even traditional ladder logic, an EPIC works just like a PLC or PAC in a control system – but an EPIC device is much more than just a controller. Its I/O modules offer multiple channels. Modules with isolated channels are also available. Analog and discrete I/O accepts a variety of signals, through channels that are software configurable.
Taken as a whole, an EPIC system offers significant options for automation and IIoT projects, which include security, gateway functions, HMI, data communications, control and scalability. EPIC devices offer a new kind of industrial controller – an edge programmable industrial controller – that not only gives automation engineers real-time control for all kinds of traditional automation applications, but also positions them to be able to provide the IIoT and data-based tasks companies want to do now.
Interested readers can download a complete Opto 22 White Paper, which includes a more detailed description as well as a real-world case study at https://instrumentation.co.za/papers/J4922.pdf.
For more information contact Opto Africa Holdings, +27 11 792 4886, sales@optoafrica.co.za, www.optoafrica.co.za
Credit(s)
Further reading:
New Modicon IIoT-ready controller
September 2020, Schneider Electric South Africa , PLCs, DCSs & Controllers
The Modicon M262 is IIoT-ready, designed and delivered with intuitive direct cloud connectivity and no gateways are required for OEMs to design solutions for performance demanding applications.
Read more...
---
Modular mid-range PLC series
June 2020, ElectroMechanica , PLCs, DCSs & Controllers
The Delta compact modular mid-range AS series PLCs, available locally from ElectroMechanica (EM), is a high-performance, multi-purpose controller designed for all kinds of automated equipment. The series 
...
Read more...
---
I/O for the IIot
April 2020, Opto Africa Holdings , Fieldbus & Industrial Networking
Intelligent, Ethernet-based I/O unit for IIoT connection to real-world signals.
Read more...
---
Fishery relies on Siemens process management
December 2019 , PLCs, DCSs & Controllers
The fishery in Steinach, Switzerland, breeds fish species which are under threat so that they can be released into domestic waterways in the canton of St. Gallen. The quality and temperature of the water, 
...
Read more...
---
Precise control in joining applications
October 2019, ASSTech Process Electronics + Instrumentation , PLCs, DCSs & Controllers
Digiforce is the trusted name when comprehensive monitoring of press-fit, joining, riveting and caulking processes is needed. The models 9306 and 9310 are being successfully used in innumerable applications 
...
Read more...
---
The powerful Festo modular control system CPX-E
Technews Industry Guide: Industrial Internet of Things & Industry 4.0, Festo South Africa , PLCs, DCSs & Controllers
Designed as an EtherCAT master and motion controller with protection to IP20, the powerful automation system CPX-E for factory and process automation with NE21-specific certifications is becoming the 
...
Read more...
---
Rockwell strengthens industrial control system security
July 2019, Rockwell Automation , PLCs, DCSs & Controllers
Communications between industrial control devices have minimal protection today. This leaves them vulnerable to threats like malicious tampering and incidental system changes that can stop production 
...
Read more...
---
Siemens extends the Simine ­portfolio
June 2019, Siemens Digital Industries , PLCs, DCSs & Controllers
Siemens has extended the Simine portfolio for high-pressure grinding mills (HPGR) to include a new controller. Plug-and-play functionality makes the load share controller available for immediate use. 
...
Read more...
---
Schneider Electric announces a new era of control
June 2019, Schneider Electric South Africa , PLCs, DCSs & Controllers
Schneider Electric's new high-end Modicon M580 Ethernet programmable automation controller (ePAC) features redundant processors, native Ethernet, and cybersecurity embedded into its core. It combines 
...
Read more...
---
Selecting the right PLC
June 2019, AC/DC Dynamics , PLCs, DCSs & Controllers
Automation projects, big or small, start with a specification. Here are five factors to consider when choosing a PLC vendor.      
Broad range of devices
The selected brand must have a complete product 
...
Read more...
---