printer friendly version
Belting for food applications
November 2019
Motion Control & Drives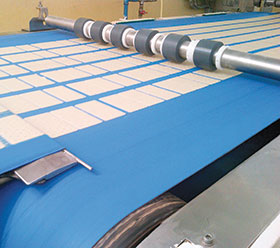 BMG's Light Materials Handling division supplies and supports a comprehensive range of belting products suitable for the food processing, bottling and packaging sectors.
"New to BMG's range of belting certified for safe food handling, is the KleenEdge non-fray series, developed by Ammeraal Beltech to minimise the problems of belt-edge fray and associated contamination issues, ensuring absolute hygiene in food processing," explains Ryan Forsyth, business unit manager, Light Materials Handling division, BMG. "Another popular product in the local food handling sector is BMG's new Ammeraal Beltech Pop-up flight solution for inclined food conveyors, which has been designed to reduce waste, enhance efficiency and minimise costs."
Easy-to-clean KleenEdge belting has been designed with a high-strength, low-stretch fabric reinforcement, which is held securely in a tough, non-cracking thermoplastic structure. This durable assembly prevents the risk of contamination, belt shrinkage and distortion that may occur from belt-edge wear during use.
KleenEdge is suitable for use in arduous applications, particularly where knife edges are present. This belting can also be safely used on roller supports, slider bed and troughed applications. Typical applications include high-risk food processing areas, like bakeries and confectioneries, meat, poultry and fish processing, the dairy industry and fruit and vegetable processing.
BMG's Ammeraal Beltech Pop-up flights for inclined food conveyors, are integrated into modular belt systems, to prevent product residues left on the belt and they also minimise droppage onto the floor.
These Pop-up flights, which are suitable for direct food contact, improve efficiency, hygiene levels and profitability in various food processing and packing applications and are especially suitable for products that tend to stick to conveyor belts. Applications include fresh and frozen meat and fish processing, the washing and packing of salads and green leaf vegetables, confectionery packing and pasta and rice processing.
All components of this system are easily mounted and removed, with effortless cleaning and maintenance procedures.
Also in BMG's range of belting for food processing are Rexnord slat-top chain, Uni Modular belting, flat food processing synthetic belts and Rapplon flat processing transmission belts.
All products for food handling, bottling and packaging applications, are carefully selected by BMG specialists, to meet the highest conveying and packaging standards, in terms of reliability, flexibility and consistent quality and hygiene controls.
For more information contact Lauren Holloway, BMG, +27 11 620 7597, laurenhy@bmgworld.net, www.bmgworld.net
Credit(s)
Further reading:
New XTS functionality enables novel solutions in machine building
November 2019, Beckhoff Automation , Motion Control & Drives
XTS is a smart transport system of magnetically driven movers that travel along tracks consisting of motor modules and guide rails. A Beckhoff Industrial PC is able to control the movers independently 
...
Read more...
---
Couplings for high torque applications
November 2019, SKF South Africa , Motion Control & Drives
Available in a variety of configurations, SKF's range of Disc Couplings provide affordable, lubrication-free service in medium to high torque applications that require torsional rigidity. These innovative 
...
Read more...
---
BMG emphasises Hallite hydraulic and pneumatic seals
October 2019, Bearing Man Group t/a BMG , News
BMG supplies an extensive range of hydraulic and pneumatic seals and sealing solutions for demanding environments, and is also the distributor for Hallite Seals International within central and southern 
...
Read more...
---
BMG and AAC partner in Jeppestown clean up
October 2019, Bearing Man Group t/a BMG , News
The joy of teamwork is clearly evident in the partnership between engineering specialists, BMG and entrepreneurs, Agri Arts & Construction (AAC). "Through this match made in Jeppestown, home to both companies, 
...
Read more...
---
Sawmills and sugar mills underpin growth for SEW-Eurodrive
October 2019, SEW-Eurodrive , Motion Control & Drives
Ageing sawmills and sugar mills in KwaZulu-Natal represent a significant growth opportunity for SEW-Eurodrive to introduce its latest energy-efficient technology. This is an increasing trend as both the 
...
Read more...
---
Smart devices for Ex areas: Unbelievably simple mistakes that prevent control.
September 2019, Michael Brown Control Engineering , Editor's Choice, Motion Control & Drives
I am often astounded by finding really basic problems with controls in plants, which have operated that way for years. These problems are so basic that one can only wonder at how these controls could 
...
Read more...
---
Sealing for oil and gas applications
September 2019, Bearing Man Group t/a BMG , News
BMG supplies and supports the full range of Garlock seals and sealing systems, including specialist fluid sealing products for the oil and gas industry. "Garlock seals and sealing systems, which meet 
...
Read more...
---
DLM V-Drives
September 2019, Dupleix Liquid Meters (DLM) , Motion Control & Drives
DLM V-Drives control the latest generation of permanent magnet and standard induction motors. DLM offers the AMC (advanced motor control) and EPC (efficient pump control) V-Drives, which are available 
...
Read more...
---
Complete drive solutions to boost efficiency and cut costs
September 2019, SEW-Eurodrive , Motion Control & Drives
The importance of the sugar industry in KwaZulu-Natal to SEW-Eurodrive as a key growth area for its complete drive solutions was underscored when it exhibited at the Congress of the South African Sugar 
...
Read more...
---
RS announces drive controller kit
September 2019, RS Components SA , Motion Control & Drives
RS Components has announced the launch of the K4 Drive System Development Kit (K4DSDK) from ebm-papst, one of the world's leading manufacturers of high-efficiency fan and motor drive products. Targeting 
...
Read more...
---