printer friendly version
Couplings for high torque applications
November 2019
Motion Control & Drives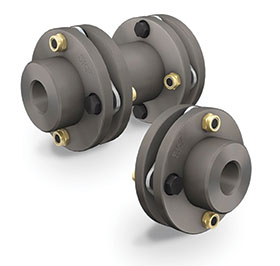 Available in a variety of configurations, SKF's range of Disc Couplings provide affordable, lubrication-free service in medium to high torque applications that require torsional rigidity.
These innovative couplings feature two hubs and a laminated stainless steel disc pack secured by a series of fitted bolts retained by nylon insert lock nuts. With a capacity range up to 178 kNm in a variety of configurations including single disc, double disc and spacer for both horizontal and vertical mounting, these couplings deliver several benefits to a vast selection of applications.
"In many applications, the challenge posed by exposure to the elements requires quality parts that continue to operate smoothly," says David Beggs, SKF Power Transmission global technical manager. "The couplings offer robust performance, with all-steel machined components that allow for high-speed applications to be handled with ease. With two-plane dynamic balancing, higher speeds are often permissible."
By offering particular allowance for misalignment and with no need for lubrication, maintenance on these cost-effective devices is significantly diminished. Single couplings accommodate angular offset, while double disc pack units with a spacer will enable angular, parallel or combined offset. The prime mover and driven machine do not need to be moved due to the fact that the disc pack or spacer can be removed and re-installed radially.
SKF Disc Couplings encompass hub pilot bores to simplify boring to requirements. This subsequently brings cost effective high performance to a range of applications and industries such as petrochemical (direct drive fan drives, pumps and compressors), printing and paper (positioning), plastics, power generation (high speed turbine type drives, alternators, pumps), refrigeration (compressors) and marine.
For more information contact Samantha Joubert, SKF South Africa, +27 11 821 3500, samantha.joubert@skf.com, www.skf.com
Credit(s)
Further reading:
Game-changing digital solutions for mines
December 2019, SKF South Africa , IT in Manufacturing
With digitalisation creeping into the mining industry and transforming day-to-day operations, this sector is enhancing its Industry 4.0 operation and process compliancy. As a preferred supplier of premium 
...
Read more...
---
Space chair automation
December 2019, Siemens Digital Industries , Motion Control & Drives
The Euro Space Centre adventure park in Transinne in Belgium is home to a number of different simulators, including the original NASA multi-axis chair dating back to the 1960s which was used to familiarise 
...
Read more...
---
Superior Filtration relies on Movidrive
December 2019, SEW-Eurodrive , Motion Control & Drives
An industrial water filtration specialist that has used gearmotors from SEW-Eurodrive for many years has adopted its Movidrive inverters with CMP servo motors and customisable iPOS software for its latest 
...
Read more...
---
New XTS functionality enables novel solutions in machine building
November 2019, Beckhoff Automation , Motion Control & Drives
XTS is a smart transport system of magnetically driven movers that travel along tracks consisting of motor modules and guide rails. A Beckhoff Industrial PC is able to control the movers independently 
...
Read more...
---
SKF condition monitoring system to boost reliability at biomass electricity plant
November 2019, SKF South Africa , Maintenance, Test & Measurement, Calibration
As a global bearing and rotating technology specialist, SKF South Africa is committed to assisting companies to achieve their productivity goals whilst remaining environmentally friendly. The Multilog 
...
Read more...
---
Belting for food applications
November 2019, Bearing Man Group t/a BMG , Motion Control & Drives
BMG's Light Materials Handling division supplies and supports a comprehensive range of belting products suitable for the food processing, bottling and packaging sectors. "New to BMG's range of belting 
...
Read more...
---
Sawmills and sugar mills underpin growth for SEW-Eurodrive
October 2019, SEW-Eurodrive , Motion Control & Drives
Ageing sawmills and sugar mills in KwaZulu-Natal represent a significant growth opportunity for SEW-Eurodrive to introduce its latest energy-efficient technology. This is an increasing trend as both the 
...
Read more...
---
SKF solution improves service quality at Barcelona Metro
October 2019, SKF South Africa , Maintenance, Test & Measurement, Calibration
For over a century, the citizens of Barcelona have relied on the metro to travel into and around the city. At peak times, 150 trains shuttle passengers between 158 stations on the eight-line network, 
...
Read more...
---
Smart devices for Ex areas: Unbelievably simple mistakes that prevent control.
September 2019, Michael Brown Control Engineering , Editor's Choice, Motion Control & Drives
I am often astounded by finding really basic problems with controls in plants, which have operated that way for years. These problems are so basic that one can only wonder at how these controls could 
...
Read more...
---
DLM V-Drives
September 2019, Dupleix Liquid Meters (DLM) , Motion Control & Drives
DLM V-Drives control the latest generation of permanent magnet and standard induction motors. DLM offers the AMC (advanced motor control) and EPC (efficient pump control) V-Drives, which are available 
...
Read more...
---