printer friendly version
Setting the future standard for 3D image processing
November 2019
Sensors & Transducers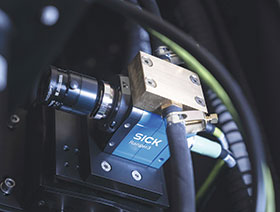 SICK Automation has set the future standard for 3D image processing with regard to technology, speed, resolution and ease of integration. The company's Ranger3 3D vision camera is capable of taking high resolution 3D measurements of dimensions, contours and surface properties in raid production and inspection processes to detect the most minute deviations and product faults in production processes.
It achieves this with SICK's innovative rapid-on-chip-calculations (ROCC) technology, which can process up to 15,4 gigapixels per second, enabling full-frame 3D imaging (2560 x 832 pixels) at a speed of 7 kHz. The contour detection of the laser line, which is projected onto the object, takes place from the ambient brightness or from the visual appearance of profiles, slabs or pipes flickering with heat, regardless of colour and contrast.
Case study
IMS Messsysteme, a measuring systems company in Heiligenhaus, Germany, develops and produces isotope, X-ray, and optical measurement systems for industrial applications in the steel and non-ferrous metals industry. Their focus is on continuous casting plants, hot rolling mills and tube rolling mills. One of their solutions is the X-3Dvision measurement system, which features between three and eight SICK Ranger3 cameras depending on the type and contours of long products to ensure 360° inspection.
The measurement system checks long-goods profiles and pipes in terms of their dimensions, contours and linearity, as well as for surface defects such as cracks, deposits, inclusions, or indentations under harsh conditions. To detect faults early, IMS Messsysteme measurement systems are used as far upstream as the thermal processes, where profile and pipe temperatures are close to 1000°C.
The X-3Dvision measurement systems are used for 360° inspection of products with a wide range of geometric properties. To capture the entire surface of profiles or pipes seamlessly, multiple cameras and laser lighting devices are integrated into a single, circular measurement setup through which the long goods are passed for inspection. The meteorological components are integrated into a robust frame to protect them from the surrounding environment, and the cameras and laser transmitters are cooled by air and water to ensure stable ambient temperatures for precise and reproducible measurement results.
For contour measurements, the company offers a resolution of 0,05 mm and repeatability of ±0,08 mm. For surface inspections, furrows, cracks and scratches measuring as little as 0.3 mm wide, 10 mm long, and 0.3 mm deep can be measured and detected reliably. This means that both the dimensional and contour measurement as well as the inspection of the surfaces can be carried out with a specified level of accuracy and repeatability, right down to the sub-millimetre range. This ensures products are always manufactured to the highest quality.
Zvezdan Pejovic, product and sales manager for optical 3D inspection systems at IMS, says that in one of its latest plants the company integrated 22 Ranger3 units. "This allowed us to meet our customer's request for a single, high-precision measurement and inspection system to handle its full range of profiles and sheet piling walls."
The unit's compact desgn, 55 x 55 x 77 mm, enabled space-saving and application-oriented integration of the camera within the measurement setup. It has a profile rate of up to 47 kHz and a resolution of 2560 x 832 pixels, meeting the highest requirements in terms of metrotechnical performance. Its state-of-the-art 3D algorithm offering reliable detection of the laser line on the object means that the appearance of the profile and pipe surfaces has no impact on the availability and accuracy of the camera. This is despite the potential for flickering due to thermal radiation. Each camera features an optimised bandpass filter as well as an infrared blocking filter to act against thermal radiation on the corresponding laser light.
The CMOS sensor in the Ranger3 converts the laser line recorded on the object into a precise 3D representation. This means that the camera can store complete 3D coordinates for the X-3Dvision measurement system without the need for complex post-processing. The Gigabit Ethernet interface for the streaming camera ensures that large volumes of measurement data can be transferred in real time. "Depending on the application, the cameras are capable of creating up to 24 000 profiles per second, which represents a data throughput for all of the cameras of up to 4 gigabits per second," says Pejovic.
"The Ranger3 cameras have allowed us to develop our X-3Dvision into an inline system for multi-profile inspection, capable of achieving an extremely high level of accuracy at challenging speeds. At the same time, it can pick up the tiniest deviations to ensure adjustments can be immediately made to casting and rolling processes," Pejovic adds.
He concludes by saying that with the help of the Ranger3, IMS not only ensures maximum quality in terms of both products and processes, but also opens up new market opportunities for companies. "The high measurement and transfer rates of the 3D vision sensors from SICK open up whole new fields of application for our inspection systems wherever high process speeds are required in production processes".
For more information contact Grant Joyce, SICK Automation Southern Africa, +27 10 060 0550, grant.joyce@sickautomation.co.za, www.sickautomation.co.za
Credit(s)
Further reading:
Prevent backward driving accidents
September 2020, SICK Automation Southern Africa , Sensors & Transducers
To prevent collisions and improve worker safety, Cologne-based sugar producer Pfeifer & Langen selected SICK Automation's Visionary-B CV 3D driver assistance system for use at its reloading point.
Read more...
---
Conductivity sensor for CIP monitoring
September 2020, ifm - South Africa , Sensors & Transducers
The LDL200 from ifm electronic is designed to be used in cleaning processes (CIP) in the food industry.
Read more...
---
Conductivity sensor for interface detection
September 2020, ifm - South Africa , Sensors & Transducers
The conductivity sensor LDL100 for interface detection from ifm electronic ensures that product validation is possible at all times.
Read more...
---
Image processing software with Profinet interface
August 2020, ASSTech Process Electronics + Instrumentation , Sensors & Transducers
ASSTech now offers Wenglor's image processing software – uniVision – with new features. The latest release, Version 2.2, enables smart cameras and control units to be integrated into controls quickly 
...
Read more...
---
Safe operation of CNG stations
August 2020, SICK Automation Southern Africa , Flow Measurement & Control
SICK's Flowsic500 gas meter, used in State Oil Company of Azerbaijan Republic's (SOCAR) transfer and measurement stations, has shown to meet stringent compressed natural gas (CNG) production protocols. 
...
Read more...
---
Flexible sensors for individual beer
August 2020, ifm - South Africa , Sensors & Transducers
A variety of individual beers characterise the regional brewery Skanderborg Bryghus in the Danish town of Skanderborg. Unlike large commercial breweries, this brewery is largely promoted and operated 
...
Read more...
---
Monitoring of chemical distribution
August 2020, Instrotech , Sensors & Transducers
The IoT offers smart solutions that help make life easier and more convenient, improve and streamline processes, and receive information in good time that were previously unavailable or difficult to acquire. 
...
Read more...
---
Programmable LED strip with19 colours
August 2020, Turck Banner , Sensors & Transducers
his work light can be programmed to provide bright white light for safety or efficiency during normal operation and then change colour to indicate other machine statuses, such as red for a stop condition.
Read more...
---
Sensors support crisp bread production in Sweden
August 2020, ifm - South Africa , Sensors & Transducers
Production is automated according to the latest state-of-the-art technology with sensors from ifm electronic monitoring the processes from the supply of ingredients to the dispatch area.
Read more...
---
Ecolab certified photoelectric sensors
August 2020, Turck Banner , Sensors & Transducers
Banner's new T18-2 photoelectric sensors have an FDA-grade shatterproof plastic housing and are IP69K rated and Ecolab certified to protect against water ingress and chemical washdown. IP69K and epoxy 
...
Read more...
---