printer friendly version
Emerson's new eight-path flowmeter
November 2019
Flow Measurement & Control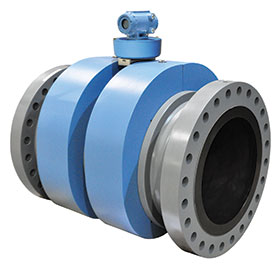 Emerson has introduced the Daniel 3418 eight-path gas ultrasonic flowmeter, which delivers highly accurate flow measurement in natural gas custody transfer applications with reduced upstream piping requirements and without flow conditioning. The meter compensates for flow distortions that result from pipe bends, shorter straight runs or smaller design footprints, allowing it to operate in more design configurations without sacrificing accuracy and long-term performance.
The 3418 is Emerson's first ultrasonic flowmeter to pass all perturbation tests for OIML R-137 Accuracy Class 0.5 with only five pipe diameters in front of the meter and without a flow conditioner. It features eight interlocked direct chordal paths, positioned as two British Gas path layouts where the second is the mirror image of the first, allowing the meter to cancel out asymmetrical velocity effects. This design enables it to measure flow with greater resolution and accurately calculate swirl, reducing the need for flow conditioning and long upstream piping configurations.
As a part of the Daniel Gas Ultrasonic product line, the 3418 features the ability to calculate standard flow and directly integrate with temperature and pressure transmitters, gas chromatographs and flow computers while providing real-time meter and process diagnostics. The instrument uses Emerson's proprietary MeterLink diagnostic software with specific enhancements designed to mimic the look and feel of the original Daniel four-path gas ultrasonic meter interface.
"The addition of this new model further supports our customers with the most technologically advanced fiscal measurement ultrasonic portfolio in the marketplace, yielding the highest level of measurement confidence available," said Lonna Dickenson, director of product marketing for Daniel ultrasonic flowmeter products at Emerson.
Available in sizes DN250 to DN1050 (10-in to 42-in), the 3418 offers bidirectional flow capabilities, increased flow capacity and no incremental pressure drop, therefore reducing measurement risk and minimising operating cost.
Credit(s)
Further reading:
Emerson announces commitment to venture capital initiative
Emerson Automation Solutions News
Emerson Ventures to focus on disruptive discrete automation solutions, environmental sustainability technologies and industrial software.
Read more...
---
Compact ultrasonic flow controller
Mecosa Flow Measurement & Control
Bronkhorst's new, compact ES-Flow ultrasonic flowmeter/controller series ES-113C was designed for the OEM market to measure or dose low volume flows with high precision, high linearity and low pressure drop.
Read more...
---
Safe supply in CNG operations
SICK Automation Southern Africa Flow Measurement & Control
The Flowsic500 compact ultrasonic gas meter enables extremely accurate natural gas distribution measurement.
Read more...
---
Accurate flow measurement on a conveyor
SICK Automation Southern Africa Flow Measurement & Control
Heidelberg Cement in Lengfurt, Germany, needed a solution for the accurate metred supply of secondary material on its conveying system.
Read more...
---
Flowmeter with IO-Link
GHM Messtechnik SA Flow Measurement & Control
The calorimetric measuring principle makes this new Honsberg meter practically wear-free and gives users the ability to record media temperature in addition to flow measurement.
Read more...
---
Level transmitter for hygienic applications
Emerson Automation Solutions Level Measurement & Control
The Rosemount 1408H Level Transmitter with IO-Link provides accurate, non-contacting measurement to help optimise operations and ensure food safety.
Read more...
---
Electronic flow switch with display
WIKA Instruments Flow Measurement & Control
The new model FSD-4 electronic flow switch from WIKA offers full flexibility in monitoring and controlling flow based on the velocities of liquid media.
Read more...
---
Emerson publishes ESG report
Emerson Automation Solutions News
Environmental, Social and Governance (ESG) Report showcases company's sustainability framework plus new goals to advance diversity, equity and inclusion.
Read more...
---
Key factors for picking the optimal flowmeter
KROHNE Flow Measurement & Control
While a variety of factors impact meter performance, the most common culprits are flawed sizing and failing to choose the most appropriate technology.
Read more...
---
Thief hatch monitoring
Emerson Automation Solutions Operator Interfaces, Switches & Relays
As thief hatches on oil storage tanks are necessary for maintenance, it is essential to monitor the hatch is closed so that it does not contribute to overall emissions limits.
Read more...
---