printer friendly version
Thermal profiling can prevent business disasters
November 2019
Temperature Measurement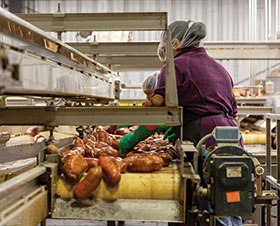 Thermal profiling is the term used to describe the process of recording and interpreting the temperatures of products and air as they move through a heat treatment process.
In the food, beverage and pharmaceutical industries, it is essential to know the temperature at which a process is being run. This is critical to ensure that product quality is maintained to the standards required by consumers.
Not all processes are equal. Each process has its own challenges in terms of space, duration and environment (steam and submersion in water or oil).
The risk to public health places the processing industry firmly under the public spotlight.
Therefore, the effects of getting cooking or freezing processes wrong can be disastrous for a business, as well as its customers.
The Datapaq range of Thermal Profiling units and Thermal Barriers allow temperature logging equipment to pass through the treatment ovens connected directly to the process. This type of system is unique as it maintains the operability of sophisticated recording and storage electronics at temperatures in excess of 1000°C.
The units also come with a sophisticated software package that allows users to set parameters like actual ramp and soak times required to meet the desired specifications, and on completion, print out actual versus desired values to showing any deviations from the required profile, along with the durations.
There are many different packages available for different applications, but as an example the Food Tracker System, comprises of Insight software, a data logger and a selection of protective thermal barriers and thermocouples. It offers an accurate and reliable means of measuring product and environmental temperatures, an essential requirement for HACCP data analysis and process validation.
All systems offer enhancements such as humidity measurement, food tray and thermocouple jig, as well as the TM21 Radio Telemetry System for real-time temperature monitoring.
Another use of the Datapaq system is to use the information to optimise process temperatures. The most frequent food processing applications in the profiling systems include: food processing, baking, pasteurisation and sterilisation.
For more information contact R&C; Instrumentation, +27 11 608 1551, info@randci.co.za, www.randci.co.za
Credit(s)
Further reading:
Profiling in paint cure ovens
April 2020, R&C Instrumentation , Temperature Measurement
Datapaq's solution for monitoring temperatures in furnaces, ovens and dryers.
Read more...
---
New fibre-optic pyrometer
April 2020, R&C Instrumentation , Temperature Measurement
As part of their Endurance range, Raytek and Ircon combined, have introduced the Endurance fibre-optic infrared thermometer. These pyrometers have an external sensor head attached via a fibre-optic 
...
Read more...
---
New temperature transmitters with Bluetooth
April 2020, Endress+Hauser , Temperature Measurement
High measuring performance and ease of use for all industries.
Read more...
---
Inspection system for coronavirus detection
April 2020, Instrotech , Temperature Measurement
The coronavirus and other diseases are highly infectious and transferred by sick people or contaminated objects. Globally, aircraft are one way that this virus is quickly exported worldwide. China, the 
...
Read more...
---
Temperature measurement on ultra-thin glass
March 2020, Instrotech , Temperature Measurement
Touch displays, such as for smartphones and tablets, use ultra-thin glass that brings special challenges for temperature measurement technology during their manufacturing. For this application, Optris 
...
Read more...
---
Using infrared to detect the invisible
March 2020, R&C Instrumentation , Sensors & Transducers
Both preventive and predictive maintenance programmes rely on regular inspections of the critical assets that comprise a plant or facility. These inspections range from visual inspections to non-destructive 
...
Read more...
---
Bimetal thermometer with switch contacts
December 2019, WIKA Instruments , Temperature Measurement
WIKA's model TGS55 is a stainless steel bimetal thermometer which offers high reliability and long service life. Wherever the process temperature has to be indicated on-site and, at the same time, circuits 
...
Read more...
---
Infrared monitoring of kiln shells extends refractory life
December 2019 , Temperature Measurement
Extending the life of a kiln refractory as well as preventing disastrous failures requires a good understanding of the condition of the refractory material.
Read more...
---
Thermocouples in gasification reactors
November 2019, WIKA Instruments , Temperature Measurement
Gasification reactors, due to their harsh process conditions, place high demands on the instruments used there. Many manufacturers have reacted to this and adapted their products accordingly, but what 
...
Read more...
---
Hotspot detection in pressboard manufacturing applications
October 2019, R&C Instrumentation , Temperature Measurement
In the building industry, there is a product used that is commonly referred to as pressboard, also known as chipboard. Sheets of pressboard are typically 1,2 m x 2,4 m in size and are used in the construction 
...
Read more...
---