printer friendly version
Radiometric solutions in refineries
November 2019
Level Measurement & Control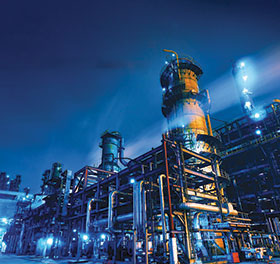 Berthold Technologies' radiometric instruments for non-contacting level and density measurement are widely used in the oil refining industry, where customers include Exxon Mobil, Sinopec, Shell, BP, Conoco Phillips, Lukoil and Total.
The measuring solutions based on gamma absorption help customers to control their processes for safe operation and maximum efficiency. Berthold is renowned for cutting-edge technology and high-class products and provides a wide range of standard solutions to industry. In addition it develops, in close cooperation with customers, tailored systems for new processes and measuring tasks.
To make critical applications more reliable the company provides interface, level and density measurements for oil/emulsions/water in desalters; distillation bottoms; delayed coking units; solvent de-asphalting units; alkylation units; fluidised catalytic cracking units; and continuous catalytic reforming processes.
Committed to technology leadership
The high-sensity detectors achieve a better measuring effect and can work with remarkably low source activities. Depending on the application the source activity can be reduced by up to 80%.
Unique features such as X-ray interference protection during weld inspections (XIP and RID), the patented temperature and ageing compensation and SIL2/SIL3 certification leads to superior measurement performance and high reliability, which remain stable over time. These non-intrusive measurement systems offer a number of advantages including:
• Outside mounting of components.
• Not exposed to the harsh process conditions.
• Free of wear and maintenance.
• Smooth handling and operation.
• Lowest cost of ownership.
• Easy to install on existing pipes or tanks.
• Perfect for high temperature and pressure applications.
Credit(s)
Further reading:
New compact radar sensor
April 2020, VEGA Controls SA , Level Measurement & Control
A new era in radar level measurement began a few years ago when Vegapuls sensors based on 80 GHz technology were introduced. Thanks to the more precise focusing of the radar beam, the sensor virtually 
...
Read more...
---
Digital innovations using the vibronics measuring principle
February 2020, Endress+Hauser , Level Measurement & Control
Continuous optimisation and increasingly automated processes are shaping the history of process automation, as well as that of industrialisation.
Read more...
---
High-speed level measurement
February 2020, Morton Controls , Level Measurement & Control
Morton Controls in partnership with Anderson-Negele has introduced the innovative NSL-F level sensor based on a modular device platform. The new platform strategy used with this sensor is based on a building-block 
...
Read more...
---
Capacitive level limit switch
February 2020, Morton Controls , Level Measurement & Control
The Capanivo level limit switch can be used in most solids and liquids as a full or empty detector. The robust, glass reinforced PPS (polyphenylene sulphide) sensor is suitable for food applications while 
...
Read more...
---
Rotary paddle switch with rope extension for point level measurement in silos
February 2020, Morton Controls , Level Measurement & Control
Limit detection is required in most silos and containers to avoid overfilling or unnecessary downtime. The sensor needs to deal with an assortment of process conditions within a wide range of industries. 
...
Read more...
---
Digital float switch
January 2020, WIKA Instruments , Level Measurement & Control
As its first instrument of this kind, WIKA has launched a float switch with a PNP/NPN output signal. The model GLS-1000 detects the level of liquids with an accuracy of 1 mm or less. The digitised float 
...
Read more...
---
Level measurement in silos
January 2020, Morton Controls , Level Measurement & Control
UWT has taken a traditional method of content measurement in silos and storage hoppers and remastered it to enable seamless integration with modern-day control systems and PLCs. The UWT NivoBob continuous 
...
Read more...
---
Interface measurement in desalters
November 2019, Mecosa , Level Measurement & Control
Interface measurements in desalters are often regarded as non-critical, even though every drop of oil to be refined passes through the desalter. As refineries try to maximise their margins, so-called 
...
Read more...
---
Level monitoring of groundwater
October 2019, WIKA Instruments , Level Measurement & Control
Much of our drinking water is extracted from subterranean resources. Water that falls to the surface of the Earth drains not only into rivers and lakes, much of it will permeate into subterranean reservoirs. 
...
Read more...
---
Ultrasonic sensor for remote water level measurement
October 2019, Instrotech , Level Measurement & Control
Instrotech has available the Senix ToughSonic CHEM range of ultrasonic sensors, in service around the world in some of the most demanding and corrosive industrial environments. They measure a wide variety 
...
Read more...
---