printer friendly version
Thermocouples in gasification reactors
November 2019
Temperature Measurement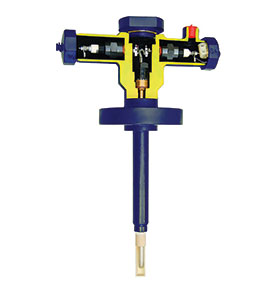 Gasification reactors, due to their harsh process conditions, place high demands on the instruments used there. Many manufacturers have reacted to this and adapted their products accordingly, but what are the optimisation possibilities for thermocouples used at higher process pressures?
The challenge: gasification reactors
In a gasification reactor, there is an extremely aggressive process atmosphere and, with that, the risk of poisoning of the noble metal thermocouple. The process conditions often lead to shutdowns and interruptions in operation. Profitability and safety aspects are thus two important themes in connection with the instruments used in them.
The solution: Sapphire thermocouples
WIKA has developed the TC84 sapphire-design, high-temperature thermocouple specifically for use in gasification reactors. Through the use of a sapphire protection tube, the high-temperature thermocouple is protected from poisoning by the aggressive process atmosphere during operation. The reason for this is its monocrystalline structure. The sapphire-design thermocouple has, as a result of its construction, a significantly higher service life than other high-pressure thermocouples and, therefore, contributes to a clear reduction in process downtime.
Credit(s)
Further reading:
Level monitoring of groundwater
October 2019, WIKA Instruments , Level Measurement & Control
Much of our drinking water is extracted from subterranean resources. Water that falls to the surface of the Earth drains not only into rivers and lakes, much of it will permeate into subterranean reservoirs. 
...
Read more...
---
Hotspot detection in pressboard manufacturing applications
October 2019, R&C Instrumentation , Temperature Measurement
In the building industry, there is a product used that is commonly referred to as pressboard, also known as chipboard. Sheets of pressboard are typically 1,2 m x 2,4 m in size and are used in the construction 
...
Read more...
---
Pair temperature probes with different cable lengths
October 2019, ASSTech Process Electronics + Instrumentation , Temperature Measurement
In heat meters for heating systems, two paired temperature probes are usually used for symmetrical installation. These must have identical cable lengths to comply with the legal regulations. Now, Jumo 
...
Read more...
---
Tough OEM pressure switch from WIKA
October 2019, WIKA Instruments , Pressure Measurement & Control
The PSD-4-ECO pressure switch from WIKA is designed for harsh ambient conditions, and is optimised for OEM integration. With a diameter of 29 mm, the model is very slim and through the arrangement of 
...
Read more...
---
IR thermometers in the steel industry
September 2019, R&C Instrumentation , Temperature Measurement
In many foundry applications, temperature readings show whether processes are operating within their proper ranges, whether a reheater is too cold or too hot, whether a stand needs adjusting, or how much 
...
Read more...
---
Portable calibrator approved for hazardous areas
September 2019, WIKA Instruments , Maintenance, Test & Measurement, Calibration
WIKA's CPH7000 portable process calibrator has received ATEX approval. It is therefore now also suitable for use in hazardous areas. The calibrator provides highly flexible on-site calibration for process 
...
Read more...
---
Compact IR camera with industrial accessories
September 2019, Comtest , Temperature Measurement
Comtest has announced an addition to the Optris Compact line of IR cameras – Xi 80 and Xi 400 – with new industrial accessories for use in harsh conditions. The range has a modular design and as a result, 
...
Read more...
---
IR measurement optimises plastic stationary and rotary thermoforming
August 2019, R&C Instrumentation , Temperature Measurement
Background
Thermoforming is the process by which a thermoplastic sheet is made soft and pliable by heating, and bi-axially deformed by being forced into a three-dimensional shape. This process may take 
...
Read more...
---
Level measurement for sanitary applications
August 2019, WIKA Instruments , Level Measurement & Control
WIKA's model FLM-H magnetostrictive sensor has been specifically designed to meet the requirements of the food and beverage, pharmaceutical and biotechnology industries. The sensor is particularly suitable 
...
Read more...
---
Temperature profiling in aluminium heat treatment
July 2019, R&C Instrumentation , Temperature Measurement
Many high volume production foundries use continuous furnaces for the heat treatment of castings. Cylinder heads, wheels, suspension components and many other aluminium alloy products are placed in wire 
...
Read more...
---