printer friendly version
Thermocouples in gasification reactors
November 2019
Temperature Measurement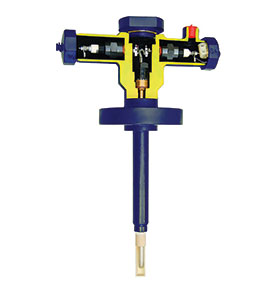 Gasification reactors, due to their harsh process conditions, place high demands on the instruments used there. Many manufacturers have reacted to this and adapted their products accordingly, but what are the optimisation possibilities for thermocouples used at higher process pressures?
The challenge: gasification reactors
In a gasification reactor, there is an extremely aggressive process atmosphere and, with that, the risk of poisoning of the noble metal thermocouple. The process conditions often lead to shutdowns and interruptions in operation. Profitability and safety aspects are thus two important themes in connection with the instruments used in them.
The solution: Sapphire thermocouples
WIKA has developed the TC84 sapphire-design, high-temperature thermocouple specifically for use in gasification reactors. Through the use of a sapphire protection tube, the high-temperature thermocouple is protected from poisoning by the aggressive process atmosphere during operation. The reason for this is its monocrystalline structure. The sapphire-design thermocouple has, as a result of its construction, a significantly higher service life than other high-pressure thermocouples and, therefore, contributes to a clear reduction in process downtime.
Credit(s)
Further reading:
Profiling in paint cure ovens
April 2020, R&C Instrumentation , Temperature Measurement
Datapaq's solution for monitoring temperatures in furnaces, ovens and dryers.
Read more...
---
New fibre-optic pyrometer
April 2020, R&C Instrumentation , Temperature Measurement
As part of their Endurance range, Raytek and Ircon combined, have introduced the Endurance fibre-optic infrared thermometer. These pyrometers have an external sensor head attached via a fibre-optic 
...
Read more...
---
New temperature transmitters with Bluetooth
April 2020, Endress+Hauser , Temperature Measurement
High measuring performance and ease of use for all industries.
Read more...
---
Inspection system for coronavirus detection
April 2020, Instrotech , Temperature Measurement
The coronavirus and other diseases are highly infectious and transferred by sick people or contaminated objects. Globally, aircraft are one way that this virus is quickly exported worldwide. China, the 
...
Read more...
---
Monoblock for sampling and injection processes
March 2020, WIKA Instruments , Valves, Actuators & Pump Control
WIKA's new monoblock has been designed to meet the requirements of the process industry. It is especially well suited to applications in natural gas and aggressive media. The compact design integrates 
...
Read more...
---
Temperature measurement on ultra-thin glass
March 2020, Instrotech , Temperature Measurement
Touch displays, such as for smartphones and tablets, use ultra-thin glass that brings special challenges for temperature measurement technology during their manufacturing. For this application, Optris 
...
Read more...
---
Robust new dry-block calibrator
March 2020, WIKA Instruments , Maintenance, Test & Measurement, Calibration
Suitable for on-site use, WIKA's new Model CTD4000 dry-well calibrator has been designed for use in the severe conditions of the naval and marine sectors. Their ease of use and compact and practical 
...
Read more...
---
Digital float switch
January 2020, WIKA Instruments , Level Measurement & Control
As its first instrument of this kind, WIKA has launched a float switch with a PNP/NPN output signal. The model GLS-1000 detects the level of liquids with an accuracy of 1 mm or less. The digitised float 
...
Read more...
---
Bimetal thermometer with switch contacts
December 2019, WIKA Instruments , Temperature Measurement
WIKA's model TGS55 is a stainless steel bimetal thermometer which offers high reliability and long service life. Wherever the process temperature has to be indicated on-site and, at the same time, circuits 
...
Read more...
---
Infrared monitoring of kiln shells extends refractory life
December 2019 , Temperature Measurement
Extending the life of a kiln refractory as well as preventing disastrous failures requires a good understanding of the condition of the refractory material.
Read more...
---