printer friendly version
Latest power monitoring device
November 2019
Electrical Power & Protection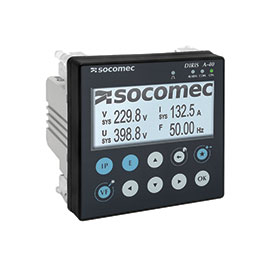 A new panel-mounted power monitoring device (PMD) from Socomec has been launched locally by ElectroMechanica (EM). The Socomec DIRIS A-40 has been designed for measuring, monitoring, and reporting electrical energy. The latest PMD offers a range of functions for measuring voltage, current, power, energy, and power quality. Compliant with IEC 61557-12, implementation is quick and efficient. The three current technologies – namely solid-core, split-core, and flexible (TE, TF and TR/iTR) – allow for a monitoring solution to be implemented on new and existing installations.
IEC 61557-12 is a specific standard for all PMDs designed to measure and monitor electrical parameters in distribution networks. Compliance with the standard ensures a high level of equipment performance, metrology, and also the mechanical and environmental aspects.
A configuration wizard provides step-by-step instructions for the end user, in addition to detecting and correcting configuration errors, thereby slashing commissioning time by half in order to guarantee a reliable monitoring system. The Socomec DIRIS range consists of IIoT-ready connected products that can export data automatically for remote processing, without any restrictions on time and storage. The embedded WEBVIEW-S solution optimises metering, alarming, and monitoring functions, with no need for additional software.
Metering consists of the measurement of active, reactive and apparent energies; a historic record of measurements; a graphical display on a monthly, weekly, daily, or hourly basis; and automatic data export via FTPS in CSV format. Monitoring includes real-time measurement of electrical values; viewing data as graphs or tables; and power quality analysis of the utility supply and loads.
The Socomec DIRIS A-40 has panel-mounted measurement units, ensuring that the end user has access to all the measurements required for carrying out successful energy efficiency projects, as well as monitoring electrical distribution. All of this information can be analysed remotely using an energy management software solution. Thanks to its large backlit LCD display and its multiple viewing screens with direct pushbutton access, the Socomec DIRIS A-4x provides clear readings and is easy to use. It directly displays a number of multi-measurement and metering values.
Credit(s)
Further reading:
Compact universal DC power supplies
January 2021, Beckhoff Automation , Electrical Power & Protection
The three new PS power supply series from Beckhoff comprises 18 single-and three-phase DIN-rail mountable power supply units that are compact and supply output currents from 2,5 to 40 A.
Read more...
---
Hager automation solution from EM keeps Noka Camp in luxury
November 2020, ElectroMechanica , News
A smart Hager KNX home automation system has been supplied by ElectroMechanica for the Noka Camp luxury cliff-top lodge in the Lapalala Game Reserve.
Read more...
---
Simple acquisition of energy consumption values
November 2020, Phoenix Contact , Electrical Power & Protection
By developing the new components of the EMpro product family, Phoenix Contact has found a solution that satisfies most energy data gathering applications.
Read more...
---
Using infrared thermometers in electrical maintenance
January 2021, R&C Instrumentation , Electrical Power & Protection
Non-contact, infrared thermometers enable checks to be carried out without the risk of electric shocks or the need to shut down the facility.
Read more...
---
When not just any battery will do
January 2021 , Electrical Power & Protection
One of the country's most sought after battery brands, GSS batteries, is changing its name to better reflect its outstanding features.
Read more...
---
Siemens Energy turbines generate low-emission power
November 2020 , Electrical Power & Protection
Siemens Energy helps Total achieve low-emission goals for largest LNG project in Africa.
Read more...
---
Maintaining battery backup systems
November 2020, Comtest , Electrical Power & Protection
Standby battery backup systems play a critical role in keeping essential operations functional in the event of a utility outage.
Read more...
---
Electrical loggers for energy savings
October 2020, Comtest , Electrical Power & Protection
Fluke energy loggers deliver a complete picture to reduce energy costs and improve the bottom line.
Read more...
---
Power supply components and services for marine applications
October 2020 , Electrical Power & Protection
Vert Energy works closely with the marine and offshore sector offering the supply of quality branded components and the support of a comprehensive repair and maintenance service.
Read more...
---
Mines reduce fire hazards
August 2020 , Electrical Power & Protection
Underground mines in southern, central, and west Africa have been seeing the safety benefits of dry-type transformers from Johannesburg-based Trafo Power Solutions. According to managing director 
...
Read more...
---