printer friendly version
Latest power monitoring device
November 2019
Electrical Power & Protection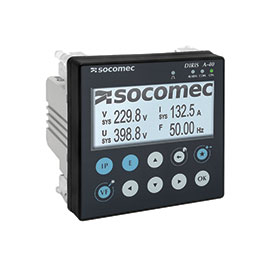 A new panel-mounted power monitoring device (PMD) from Socomec has been launched locally by ElectroMechanica (EM). The Socomec DIRIS A-40 has been designed for measuring, monitoring, and reporting electrical energy. The latest PMD offers a range of functions for measuring voltage, current, power, energy, and power quality. Compliant with IEC 61557-12, implementation is quick and efficient. The three current technologies – namely solid-core, split-core, and flexible (TE, TF and TR/iTR) – allow for a monitoring solution to be implemented on new and existing installations.
IEC 61557-12 is a specific standard for all PMDs designed to measure and monitor electrical parameters in distribution networks. Compliance with the standard ensures a high level of equipment performance, metrology, and also the mechanical and environmental aspects.
A configuration wizard provides step-by-step instructions for the end user, in addition to detecting and correcting configuration errors, thereby slashing commissioning time by half in order to guarantee a reliable monitoring system. The Socomec DIRIS range consists of IIoT-ready connected products that can export data automatically for remote processing, without any restrictions on time and storage. The embedded WEBVIEW-S solution optimises metering, alarming, and monitoring functions, with no need for additional software.
Metering consists of the measurement of active, reactive and apparent energies; a historic record of measurements; a graphical display on a monthly, weekly, daily, or hourly basis; and automatic data export via FTPS in CSV format. Monitoring includes real-time measurement of electrical values; viewing data as graphs or tables; and power quality analysis of the utility supply and loads.
The Socomec DIRIS A-40 has panel-mounted measurement units, ensuring that the end user has access to all the measurements required for carrying out successful energy efficiency projects, as well as monitoring electrical distribution. All of this information can be analysed remotely using an energy management software solution. Thanks to its large backlit LCD display and its multiple viewing screens with direct pushbutton access, the Socomec DIRIS A-4x provides clear readings and is easy to use. It directly displays a number of multi-measurement and metering values.
For more information contact Karen Zotter, ElectroMechanica, +27 11 249 5000, karenz@em.co.za, www.em.co.za
Credit(s)
Further reading:
EM Bloemfontein offers accredited training courses
January 2020, ElectroMechanica , News
The Bloemfontein branch of supplier ElectroMechanica (EM) plans to make significant inroads in the Free State region thanks to its fully-equipped training facility, focusing mainly on automation products 
...
Read more...
---
Motor system efficiency for reduced carbon emissions
January 2020 , Electrical Power & Protection
With electric motors consuming almost 70% of industry's energy, companies are always looking for better motor efficiencies. For many years, motor efficiency has been well defined; however, when driven 
...
Read more...
---
Enabling IIoT connectivity for virtual power plants
December 2019, RJ Connect , Electrical Power & Protection
The power grid has seen many changes that have enabled the integration of power from distributed energy sources (DERs).
Read more...
---
DIN rail power supply for demanding applications
December 2019, ElectroMechanica , Electrical Power & Protection
Automated production systems require power supplies with high stability and safety protection. DIN rail power supply series for such demanding applications are available from Delta Electronics, distributed 
...
Read more...
---
Dry-type transformers go mainstream
December 2019 , Electrical Power & Protection
The uptake of dry-type transformers in South Africa is now well beyond 'niche' applications, with local specialist Trafo Power Solutions installing a range of sizes across various sectors. "In recent 
...
Read more...
---
Robust embedded power supply series
December 2019, RS Components SA , Electrical Power & Protection
RS Components (RS) has announced the availability of a new series of AC-DC embedded switch-mode power supplies (SMPS) from TDK-Lambda. The cost-effective RWS-B series of AC-DC industrial power supplies 
...
Read more...
---
Ultra-compact soft starter with protection
December 2019, Vepac Electronics , Electrical Power & Protection
The Tele Christian P4.0/RL/TP/IC electronic soft starter is, with all of its integrated functionality, designed for ultra-compact installation. It helps to reduce wiring material, installation time and 
...
Read more...
---
WEG IE3 compliant motor control and protection
October 2019, Zest WEG Group , Electrical Power & Protection
The increased move towards the use of IE3 electric motors has made it increasingly important that the most appropriate starting method be selected to ensure optimum performance. With this move it is essential 
...
Read more...
---
Electronic monitoring devices from EM
October 2019, ElectroMechanica , Electrical Power & Protection
A comprehensive range of electronic monitoring and timing devices in different formats for ease of use and retrofit purposes is available from ElectroMechanica (EM). The ElectroDev units are suited to 
...
Read more...
---
Integrated earth leakage protection
October 2019, Schneider Electric South Africa , Electrical Power & Protection
Schneider Electric has announced the introduction of integrated earth leakage protection for its Compact NSX and NSXm moulded circuit breaker ranges. "The award-winning Compact NSX moulded case circuit 
...
Read more...
---