printer friendly version
Local PDS at the cutting edge of technology
November 2019
Industrial Wireless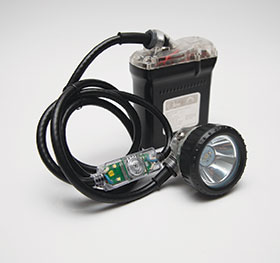 With mine safety legislation getting progressively tighter, Booyco Electronics continues to ensure compliance with its locally developed proximity detection system (PDS). According to Pieter Janse van Rensburg, the company's area manager for Mpumalanga, legislation coming into force in 2020 will mean the extended application of Level 9 safety standards, which require full intervention from a PDS on trackless mining machines (TMMs) to avoid man and machine related incidents.
Booyco Electronics' PDS can facilitate such collision avoidance, with automatic slow-down and even safe-stop of mining machines. The system uses VLF antennas on a vehicle to create fields within a danger zone around the vehicle. The size of each field can be determined by the customer, to suit their specific operating environment and addressing identified risk.
An RFID tag installed on the pedestrian's cap lamp alerts them – through a light and sound alarm – when they enter this zone. The light changes colour from green to orange and then red, the closer the pedestrian is to the vehicle.
The vehicle itself also receives a warning from the PDS, with the operator being alerted that a pedestrian is in the proximity. If equipped and configured appropriately, the vehicle can also be automatically slowed down at a certain distance from the pedestrian, and similarly brought to a safe stop.
One of the most significant advantages of the Booyco Electronics PDS is that it can effectively detect as many as seven TMMs and 20 pedestrians within one field, in the underground environment.
"Our combined technology includes a very low frequency (VLF) signal that penetrates rock walls underground," he says. "This ensures that the pedestrian will still be warned of an approaching vehicle even if it is out of sight around a corner."
The PDS can be applied to older 'non-intelligent' machines on a mine as well as the newer, controller area network (CAN) bus enabled models.
With 13 years of experience in PDS, Booyco Electronics has supplied in excess of 5000 sets of mining vehicle equipment around southern Africa, as well as 50 000 pedestrian sets of equipment.
For more information contact Booyco Electronics, 086 126 6926, info@booyco-electronics.co.za, www.booyco-electronics.co.za
Further reading:
Vibration sensor for prescriptive analytics
June 2020, Emerson Automation Solutions , Industrial Wireless
Emerson has introduced the AMS Wireless Vibration Monitor, a low-cost, easy to deploy vibration sensor that performs prescriptive analytics on vibration data using native software to automatically identify 
...
Read more...
---
A new approach to wireless networks
June 2020, EOH Process Automation Solutions. , Industrial Wireless
The Instrument Area Network (IAN) has been developed by Schneider Electric as a cost-efficient and flexible industrial wireless network as an alternative to more costly systems. Bluetooth communication 
...
Read more...
---
High-speed dependable underground communication system
June 2020, Becker Mining South Africa , Industrial Wireless
Becker Mining South Africa's Electronics Division specialises in automation and communication systems, which are designed to enhance productivity and improve safety in the mining sector. The company 
...
Read more...
---
Rugged wireless gateway for Ex areas
April 2020, Comtest , Industrial Wireless
Comtest – local representative of Industrial Scientific, a global leader in gas detection – has introduced the RGX Gateway, which enables designated safety contacts to receive real-time alerts for gas 
...
Read more...
---
IO-Link data communication through to the cloud
April 2020, Pepperl+Fuchs , Industrial Wireless
Continuous data communication from the lowest sensor/actuator level to the cloud is becoming increasingly important across the entire industrial environment. For the logistics sector in particular, where 
...
Read more...
---
Handheld spectrum analysers
April 2020, Comtest , Industrial Wireless
The latest offering from Bird expands its highly sought-after SignalHawk family of rugged, handheld spectrum analyser products by adding the SH-60S-AOA Angle of Arrival spectrum analyser and the SH-60S-TC. 
...
Read more...
---
Getting ahead of the curve
April 2020 , Industrial Wireless
Cold chain management critical for vaccine distribution.
Read more...
---
Take data to the cloud wirelessly
February 2020, RJ Connect , Industrial Wireless
The ultimate goal of most industrial automation applications is to obtain actionable insights from data sources for more precise decision-making. To achieve this, businesses need to make their field data 
...
Read more...
---
Wireless control of pumps
February 2020, Omniflex Remote Monitoring Specialists , Industrial Wireless
The ability to control a pump remotely over distance and without using wires is simple using Omniflex Teleterm Radio RTUs over a licence free band, avoiding administration of radio frequency band use. 
...
Read more...
---
Enterprise-level wireless infrastructure management
February 2020, Emerson Automation Solutions , Industrial Wireless
Emerson has added two new IIoT solutions to its Plantweb Insight data analytics platform that will enable industrial facilities to transform the way they manage their enterprise-level wireless network 
...
Read more...
---