printer friendly version
New format for 2020 Sasol Solar Challenge
November 2019
News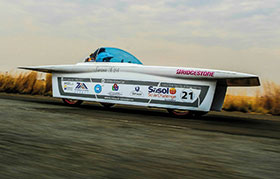 The 2020 Sasol Solar Challenge is officially open for entries and boasts exciting changes. Participants can look forward to a new route, changes in format, and a renewed title sponsor. It will be held in September next year, once again challenging top young engineers from across the world to drive their fuel-free, cutting-edge cars across 2500 km of South Africa's public roads.
Competitors in 2020 will have to think on their feet on 'blind' days, when information regarding the route is withheld until the night before, forcing teams to strategise on the go. Experienced teams usually travel the route several times in advance to prepare for all challenges, but will now need to plan for the element of surprise. The loops en route, which allow teams to rack up distance and get a lead on competitors, will also be much shorter in 2020. Spectators will also have better opportunities to see the carefully co-ordinated, Formula 1-style pit stops in action.
The Sasol Solar Challenge is a popular testing ground for the world's leading teams to push new equipment to the limit. Widely regarded as the most difficult of a dozen such events globally, the baking sun, violent storms, high winds, changing road surfaces and a record drop in altitude of nearly 2000 m along the route allow teams to gather invaluable data.
"The 2020 Sasol Solar Challenge is once again an opportunity for our team to test and understand new technology we've developed," says Tshwane University of Technology's (TUT) team leader, Johannes de Vries. The University's car, Sun Chaser 3, topped the South African leader board with 2397 km in 2018. Sun Chaser 4, which will compete in 2020, is 25% more aerodynamic, and the team hopes to make it 20 kg lighter too.
Sasol is the title sponsor for the fourth year running, demonstrating its commitment to furthering STEM education and inspiring learners to pursue technical careers. "The Sasol Solar Challenge brings maths and engineering to life in the eyes of the thousands of school children it reaches on its route, inspiring them in ways that textbooks simply cannot," said Sasol's group brand marketing manager, Nozipho Mbatha.
For more information contact Gabi Falanga, +27 79 458 0888, gabi@prooafrica.co.za, www.solarchallenge.org.za
Further reading:
Plan your media strategy with Technews Publishing
November 2019 , News
Dear Marketer, Have you ever looked back on a year and wondered how you survived it? For the majority of South Africans, 2019 started benignly enough, cosily wrapped in the blanket of Ramaphoria that 
...
Read more...
---
From the Editor's desk: Emerson unveils its digital nexus at Nashville Exchange
November 2019, Technews Publishing (SA Instrumentation & Control) , News
Lal Karsanbhai, executive president Emerson Automation Solutions, launched this year's American User Group Exchange with an announcement that positioned Industry 4.0 front and centre in the company's 
...
Read more...
---
SAIMC: Tshwane branch
November 2019, SAIMC , News
Industry expert talks about importance of continuous learning
Learning from industry experts is a vital component of any student's training. Such an expert is Thabo Lekgowane, a robotics engineer from 
...
Read more...
---
Yokogawa announces acquisition of RAP International
November 2019, Yokogawa South Africa , News
Yokogawa Electric Corporation has announced the signing of an agreement with UK-based RAP International for Yokogawa to acquire all shares of the company and make RAP a wholly-owned subsidiary. RAP specialises 
...
Read more...
---
Kenya launches Africa's largest wind farm
November 2019 , News
Kenya has launched Africa's largest wind farm project in a bid to boost the country's power generation capacity and reach its goal of 100 percent renewable energy generation by 2030. Set to contribute 
...
Read more...
---
Emerson acquires Spence and Nicholson steam technology product lines
November 2019, Emerson Automation Solutions , News
Emerson has announced the acquisition of the Spence and Nicholson product lines from Circor International. The acquisition complements Emerson's broad portfolio of steam system solutions for process industries 
...
Read more...
---
Process 4.0 breakfast seminar series
November 2019, Beckhoff Automation, VEGA Controls SA , News
Beckhoff Automation recently partnered with VEGA to present another highly successful series of breakfast seminars at venues across the country, with the theme Process 4.0. Beckhoff managing director, 
...
Read more...
---
Emerson deepens commitment to manufacturers' top quartile performance
November 2019, Emerson Automation Solutions , News
As leaders across industries work to realise measurable business improvement in today's complex technology environment, global engineering and technology company, Emerson, announced it has established 
...
Read more...
---
Hydrogenics strengthens Cummins' fuel cell capabilities
November 2019 , News
Cummins has announced that it closed on the previously announced acquisition of fuel cell and hydrogen production technologies provider Hydrogenics Corporation. "We are thrilled to welcome the Hydrogenics 
...
Read more...
---
SEW-Eurodrive passes international audit with flying colours
November 2019, SEW-Eurodrive , News
The Durban branch of SEW-Eurodrive has passed an internal audit by its German parent with flying colours. This means that not only does it comply with the latest standards such as ISO 9001:2015, but it 
...
Read more...
---