printer friendly version
Process 4.0 breakfast seminar series
November 2019
News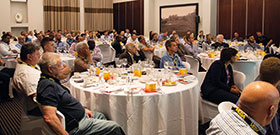 Beckhoff Automation recently partnered with VEGA to present another highly successful series of breakfast seminars at venues across the country, with the theme Process 4.0. Beckhoff managing director, Kenneth McPherson set the tone by telling the story of Beckhoff – a family-owned garage success story that has grown into a leading automation company. He highlighted the four core values that underpin the company's philosophy: people, focus on new talent, loyal relationships and a culture of innovation. "Beckhoff is very focused," he said. "We are the industrial PC (controller) company, the I/O company, the motion company and the automation (software) company."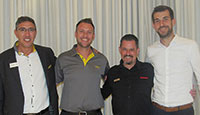 Left to right: Mustapha Tayebi, Frikkie Streicher, VEGA, Kenneth McPherson and Benjamin Bruns, Beckhoff.
Frikkie Streicher, managing director of VEGA, added that VEGA, also a family-owned company, has similiar ideals and morals, in particular with respect to the safety of its people and the environment. "The synergy between us works so well, Beckhoff has the control systems and we have the field instrumentation. Together we can create a complete automation system," he said.
This was followed by Beckhoff product and business manager Benjamin Bruns, who talked about Beckhoff's open PC-based control technology for the process industry. He covered major trends in the world of automation and Beckhoff's contribution; the critical issue of safety and explosion protection; artificial intelligence (AI) and machine learning; predictive maintenance; and a range of interesting applications. He said that modular automation is the most important upcoming trend for the factory of the future as applications become more specialised and more targeted.
Beckhoff's functional safety solutions combined with explosion protection include intrinsically safe I/Os and Ethercat terminals, all with fieldbus integration, as well as robust and intuitive explosion-proof control panel solutions. These embrace the concept of Smart Safety, where all angles of process safety are digitalised and fully integrated.
VEGA business and product manager, Mustapha Tayebi then described VEGA's IIoT solution. He explained the technology behind VEGA's latest range of measurement solutions and the various options for different applications. "With IIoT you have a new infrastructure where every single layer can share the information needed to make decisions," he said. "VEGA's IIoT solution is the PLICSCOM display and adjustment module with Bluetooth. This new technology allows connectivity to the cloud with digital communication as the basis."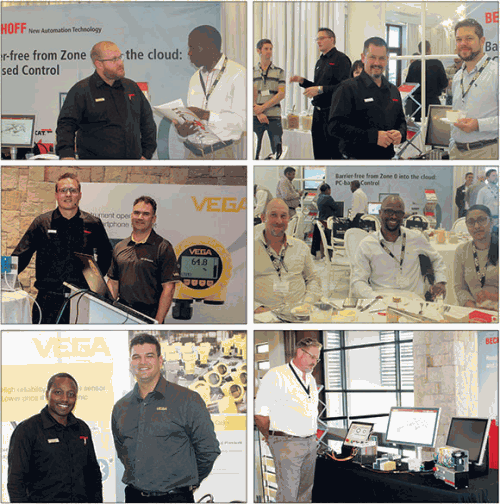 He showed how customers can enhance their experience by connecting to the myVEGA portal for device selection and configuration. "What differentiates VEGA is the support and service we can offer via myVEGA, it takes our service to another level," he added. "It integrates with all our VEGA products through any device. We can merge information technology and operational technology to create added value for our customers."
This was followed by a live demonstration by Andrew Reinhold, technical engineering manager at Beckhoff, and Clint Viviers, technical product manager at VEGA, who together showed how data can be collected from the field, processed and pulled through from the cloud to an HMI in order to create actions.
The morning was rounded off with a Q&A; session where the experts were able to answer a variety of questions. "Beckhoff with its software platform is positioned for all eventualities. Our two companies can combine our expertise and come up with innovative solutions," concluded McPherson.
For more information contact Michelle Murphy, Beckhoff Automation, +27 11 795 2898, michellem@beckhoff.com, www.beckhoff.co.za or Leandi Hendrikse, VEGA Controls SA, +27 11 795 3249, leandi.hendrikse@vega.com, www.vega.com
Credit(s)
Further reading:
Plan your media strategy with Technews Publishing
November 2019 , News
Dear Marketer, Have you ever looked back on a year and wondered how you survived it? For the majority of South Africans, 2019 started benignly enough, cosily wrapped in the blanket of Ramaphoria that 
...
Read more...
---
From the editor's desk: The power of 23
December 2019, Technews Publishing (SA Instrumentation & Control) , News
Have you ever looked back on a year and wondered how you survived it? For the majority of South Africans, 2019 was such a year. It started benignly enough, cosily wrapped in the blanket of Ramaphoria 
...
Read more...
---
Dome protects communication sticks
December 2019, Beckhoff Automation , Industrial Wireless
With the new CU8210-M001 cabinet dome, the USB port of an industrial PC can be fed out of the control cabinet and still be well protected. In this way, reliable and powerful wireless connections to the 
...
Read more...
---
Robust absolute linear position measurement
December 2019, ATI Systems , News
Temposonics, an MTS Systems company, is a leading supplier of magnetostrictive sensors, which are rapidly becoming the transducers of choice in many applications.
Read more...
---
PC-based control decorates plastic lids and containers
December 2019, Beckhoff Automation , System Integration & Control Systems Design
In-mold labelling (IML) is ideally suited to meet today's customer requirements in the plastics industry, especially in the packaging segment.
Read more...
---
Honeywell helps transform petrochemical operations
December 2019, Honeywell ACS South Africa , News
Honeywell has announced that Braskem Idesa has adopted a hands-free, wearable connected technology solution at its plant in Veracruz, Mexico. Honeywell's Intelligent Wearables will allow Braskem Idesa 
...
Read more...
---
Lonza selects Rockwell Automation for digital transformation of pharmaceutical operations
December 2019, Rockwell Automation , News
Lonza has selected Rockwell Automation for the turnkey implementation of the strategic vision to bring the digital factory to nine facilities that manufacture drug capsules. The Swiss-based company, founded 
...
Read more...
---
Rocket car arrives in South Africa
December 2019 , News
The Bloodhound LSR car has arrived at Hakskeenpan, the dry salt lake bed in South Africa's northern Cape province, where over the next month a 25-strong crew will run tests that may see it exceed 800 
...
Read more...
---
Europe's largest-ever Emerson Users Conference to be held in Milan
December 2019, Emerson Automation Solutions , News
The largest-ever Emerson Global Users Exchange in Europe will be taking place in Milan, Italy, in 2020. The biennial conference will be held at the Milano Convention Centre from March 18 to 20, with current 
...
Read more...
---
World record for Festo's BionicOpter
December 2019, Festo , News
The Festo BionicOpter will be included in the 2020 Guinness World Records. The chapter 'Robots' presents the most amazing records from the world of super robots and artificial intelligence. The Festo 
...
Read more...
---