printer friendly version
RS announces availability of interconnection solutions from HARTING
October 2019
Enclosures, Cabling & Connectors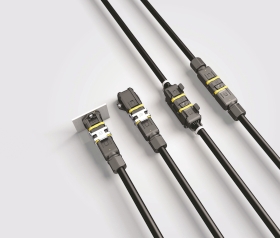 RS Components has extended its industrial connector portfolio with new solutions from HARTING, including the recently launched Han 1A connector.
The new Han 1A is a significantly smaller connector than the Han 3A, requiring 30% less space than the manufacturer's previous smallest rectangular industrial connector. The unit has been developed to meet the demand for smaller interfaces used with the latest power engineering equipment deployed in modern networks.
A key feature of the connector is its versatility, which enables the easy creation of simple interfaces. It has a system of modular inserts and is constructed from a lightweight and durable polyamide plastic, making it suitable for a wide range of applications. In addition, the Han 1A uses the simple 'click and mate' system and provides a solution for on-site installation with screw contacts or for the pre-assembly of separate units with crimp contacts.
The connector integrates contacts for data, power and signal transmission: it has modules available for Cat 5 or 6A data transmission; it can handle a maximum of 16 A and 400 V; and has up to 12 D-sub contacts for signal interfaces. In addition, there is a shielded version for application environments that are susceptible to interference.
Overall, it provides an efficient solution for applications such as heating and cooling units, fans, control terminals, lighting systems, drives and vibration conveyors. It also meets the EN45545-2 standard for fire protection on railway vehicles, making it well suited for use on a variety of systems including door openers, lighting and screens. Accessories are also available, such as fasteners for wall mounting or colour-coded pins to help in the identification of signal lines. The use of additional housing elements or single-wire seals can also extend protection up to IP65, making it suitable for use in outdoor environments.
Credit(s)
Further reading:
Amphenol circular connectors available from RS Components
RS Components SA Enclosures, Cabling & Connectors
Extensive series of M8x1 D-coded devices delivers best-in-class data and power signal integrity for Ethernet industrial automation applications.
Read more...
---
Pratley's flameproof junction box
Pratley Enclosures, Cabling & Connectors
By combining a flameproof junction box with its Kwikblok terminals, Pratley can prevent arcing across the connections themselves.
Read more...
---
Rittal and Eplan join forces to add value for customers
Enclosures, Cabling & Connectors
By joining forces, sister companies Rittal and Eplan deliver solutions to speed up processes and boost productivity.
Read more...
---
RS adds IIoT-enabled sensors
RS Components SA Sensors & Transducers
Over 2000 added items include the latest IIoT sensors and machine safety systems for smart manufacturing developments.
Read more...
---
Adjustable cable gland is easy to fit
Pratley Enclosures, Cabling & Connectors
Pratley, produces a uniquely adjustable cable gland that fits any size armouring.
Read more...
---
Legrand's Atlantic stainless steel cabinets
Legrand Enclosures, Cabling & Connectors
Legrand's Atlantic stainless steel cabinets have been designed for safe use in corrosive conditions and in areas requiring a high level of hygiene.
Read more...
---
RS Components extends sensor range
RS Components SA Sensors & Transducers
More than 340 new products added offering customers a comprehensive choice of factory automation sensor solutions.
Read more...
---
GirlCode and RS inspire the next generation of female coders
RS Components SA News
More than 50 female learners and their teachers were recently invited to attend a day of inspiration, technology and fun.
Read more...
---
Clean air for control systems
Enclosures, Cabling & Connectors
RTS Inertial Spin Filters provide an effective maintenance-free solution to dust problems in MCC rooms, transformer rooms, control rooms and other industrial spaces.
Read more...
---
Wearable device keeps workers safe during the pandemic
RS Components SA Industrial Wireless
Maintaining social distancing is key to limiting the spread of coronavirus, but it can be a real challenge in busy workplaces such as manufacturing facilities, warehouses and construction sites.
Read more...
---