printer friendly version
No weak links
October 2019
Enclosures, Cabling & Connectors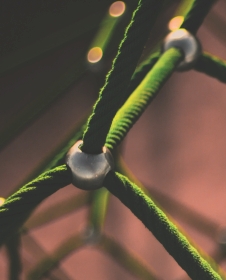 EKD energy chain from Powermite delivers reliable and cost-effective protection of cable, hose and hydraulic supply at a fixed or variable speed for the seamless operation of mobile equipment such as cranes and milling and boring machines.
"Our combined knowledge of over 50 years in drag chain applications with the globally renowned German energy chain manufacturer EKD, positions us as a leading supplier of EKD Kolibri energy chain to southern African industry," says Donovan Marks, director at Powermite. "EKD Kolibri energy chain is uniquely engineered to reduce operational costs and extended component life for lowest total cost of ownership. It therefore comes as no surprise that this high quality product which we have been supplying to the southern African market for over three decades, is widely used across diverse industries such as ports and harbours, materials handling, industrial and water treatment plants."
According to Marks, one of the biggest challenges when it comes to recommending the most optimum energy chain solution, is that customers are not always able to provide the most accurate or comprehensive information about their machines. "We interact regularly with our customers and build solid long-term relationships so that we get to know their business and completely understand their equipment and requirements in order to be able to recommend the best possible solution."
Powermite's comprehensive range of EKD Kolibri energy chain, available in galvanised steel, stainless steel and carburised (hardened) steel, includes different types – a one part link or flap-open link range, a wide range of bending radii (to facilitate large cables), as well as chain with separate end-connectors (each link can be used as an end-connector). "The bars of the flap-open range ensure easy access for on-site installation of hoses or cables," explains Marks.
The EKD Kolibri series ranges from external sizes of 15x15 mm through to 65x225 mm while the EKD PKK range can handle external sizes up to 100x340 mm. Steel external sizes start from 50 mm high x up to 1500 mm wide.
The company's energy chain portfolio also extends to a plastic range consisting of self-extinguishing, ATEX, anti-static, steel-coated and robotic bi-directional chain. Very few spare parts are required as all plastic chains are equipped with integrated connectors, keeping costs and downtime to a minimum. Powermite also offers chains designed for ultra-long distances. Known as the Marathon System, these chains use roller sets and are capable of maintaining speeds of up to 200 m/minute.
EKD Kolibri energy chain's wear resistance ensures exceptional reliability. This robust chain requires minimal maintenance and spares and can operate in extreme temperatures between -20 and 100°C.
Powermite's countrywide branch and distribution network in Johannesburg, Witbank, Cape Town, Durban, Richards Bay and Rustenburg, carry a full range of spares for the entire EKD Kolibri drag chain range and deliver after-sales service support to customers and end-users across some 15 African countries as well as in Mauritius. Powermite's extensive product portfolio includes a comprehensive range of industrial and mining cables, industrial and mining plugs and sockets, cable reeling equipment and accessories as well as energy supply systems. Powermite is a division of Hudaco and ISO 9001:2000 certified.
For more information contact Donovan Marks, Powermite, +27 11 271 0000, donovan@powermite.co.za, www.powermite.co.za
Further reading:
New range of compact enclosures
April 2020, Rittal , Enclosures, Cabling & Connectors
After more than 50 years and 35 million enclosures sold, Rittal has introduced its small and compact enclosures in the form of the AX and KX series respectively. According to managing director of Rittal 
...
Read more...
---
SMC offers services as well as components
April 2020, SMC Corporation South Africa , Enclosures, Cabling & Connectors
Besides being a leading supplier of industrial automation components, SMC South Africa also offers value-added services. One of these is in-house control panel design and construction. This takes a labour 
...
Read more...
---
Enclosures with modular design
April 2020, Vepac Electronics , Enclosures, Cabling & Connectors
CamdenBoss CNMB DIN rail enclosures, feature a modular design. Terminal guards and top covers can be snap-fitted for a quick and simple assembly. PCBs can be placed into the DIN rail enclosure in five 
...
Read more...
---
Self-venting compressed air safety couplers
April 2020, Parker Hannifin Sales Company South , Enclosures, Cabling & Connectors
Motion control technologies specialist, Parker Hannifin, has introduced a new series of safety couplings for compressed air systems. The new KP series is an ergonomic push-button, self-venting coupler 
...
Read more...
---
Pick-to-light solutions kit
April 2020, Turck Banner , Enclosures, Cabling & Connectors
The Pick-to-Light Solutions kit is an integrated solution that consists of an enclosure, an DXM controller, a HMI, plus direct connections for PTL110 devices and power. The integrated device and power 
...
Read more...
---
What's the difference between round and flat cables?
Technews Industry Guide: Maintenance, Reliability & Asset Optimisation 2020, Helukabel , Enclosures, Cabling & Connectors
Understanding how to make reliable connections to an application starts with proper cable selection.
Read more...
---
Connectors for automotive applications
April 2020, RS Components SA , Enclosures, Cabling & Connectors
RS Components has launched the A Series of high-specification automotive connectors from Amphenol, one of the world's leading makers of interconnection devices suitable for a huge diversity of markets 
...
Read more...
---
How cable categories relate to data transmission speeds
December 2019, Helukabel , Enclosures, Cabling & Connectors
Customers often ask about data cable categories and what they mean. For many end-users, engineers and purchasing agents, who do not work with these types of cables on a daily basis, the different categories can seem complicated and overwhelming.
Read more...
---
Rittal's new innovative adaptor
November 2019, Rittal , Enclosures, Cabling & Connectors
Answering to the call by Industry 4.0, Rittal's Blue e cooling units can now integrate into existing condition monitoring and IIoT systems thanks to a special adaptor that retrofits comprehensive communications 
...
Read more...
---
Crimp and cleave solution for fibre optic terminations
October 2019, KVMTech , Enclosures, Cabling & Connectors
This product was launched by KVMTech at Africa Automation Fair 2019.
Read more...
---