printer friendly version
Vibration measurement in machine maintenance
October 2019
Maintenance, Test & Measurement, Calibration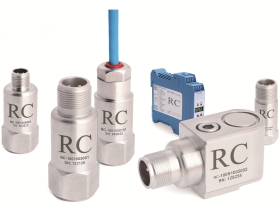 Vibration and temperature are the most common parameters measured on process plants for machine maintenance. Temperature measurement has been around for longer, probably because it was available first and was better understood than vibration analysis. However, vibration analysis gives an earlier warning and can provide more information to assist maintenance engineers in decision making.
Most people are familiar with vibration – a vibrating object oscillates. We experience many examples of vibration in daily life. A pendulum set in motion vibrates. A plucked guitar string vibrates. Vehicles driven on rough terrain vibrate, and geological activity can cause massive vibrations in the form of tremors and earthquakes. There are various ways we can tell that something is vibrating. We can touch a vibrating object and feel the vibration. We may also see the back-and-forth movement of a vibrating object. Sometimes vibration creates sounds that we can hear, or heat that we can sense.
Vibration analysis
Vibration analysis can be useful in helping to determine the exact nature of a machine problem, allowing the necessary spare parts for repair to be ordered well in advance of the scheduled shutdown. The cost of equipment failure is tremendous, so is the lost production due to shutdown, particularly unscheduled shutdown. Also, equipment not running efficiently costs money in extra services like electricity and consumables.
So, the answer is to keep a check on the mechanical health of the machine and keep it in operation as long as possible, and as efficiently as possible. The way to do this is via simple fixed and portable vibration monitoring. Unexpected down-time can create a lot of problems and having good information or early warning as to the condition of the machine, a sound judgment can be made as to whether or not to keep the machine running until a more convenient time.
With today's technology, vibration measurement has become more cost effective and easier to install. User friendly equipment allows simple 2-wire installations that can provide system alarms and also provide data to analysers for exact fault diagnosis. More sophisticated systems can be installed on critical rotating plant to provide on-line, real-time analysis. These systems can also be linked to existing vibration sensors and when made available on an LAN of your choice can be viewed at any point on the plant or even around the country. By making vibration information available plant or country wide it allows the correct people to make the right decision and results in savings on downtime due to unnecessary maintenance and undetected failures.
Historically, many processes have been shut down on a routine basis for visual inspection of the machinery, whether or not an inspection was required. Shutdowns, even scheduled shutdowns, have become more and more expensive in today's continuous processes. By installing vibration monitoring equipment or using portable units on a routine basis we can extend the running time between shutdowns.
R&C; Instrumentation supplies and supports the RC range of vibration measurement products. These instruments are manufactured in Europe and conform to European standards as far as manufacture, quality and reliability is concerned. Apart from the standard range of RC vibration sensors, ATEX certified intrinsically safe units are also available, as well as a sensor with 4-20 mA vibration and 10 mV/°C temperature output. Portable instruments, raw data converters, and programmable vibration switches complete the range of RC products.
For more information contact R&C; Instrumentation, +27 71 471 2056, info@randci.co.za, www.randci.co.za
Credit(s)
Further reading:
SKF condition monitoring system to boost reliability at biomass electricity plant
November 2019, SKF South Africa , Maintenance, Test & Measurement, Calibration
As a global bearing and rotating technology specialist, SKF South Africa is committed to assisting companies to achieve their productivity goals whilst remaining environmentally friendly. The Multilog 
...
Read more...
---
Eliminate power outages caused by steam leaks
November 2019, Instrotech , Maintenance, Test & Measurement, Calibration
The current system Inspecta FFT, first released some 20 years ago, is reaching its end-of-life, and Instrotech's design engineers felt the time was right to upgrade to newer technology, by combining their 
...
Read more...
---
Hotspot detection in pressboard manufacturing applications
October 2019, R&C Instrumentation , Temperature Measurement
In the building industry, there is a product used that is commonly referred to as pressboard, also known as chipboard. Sheets of pressboard are typically 1,2 m x 2,4 m in size and are used in the construction 
...
Read more...
---
Do more with less and generate ROI with an Integrated Calibration Solution
October 2019, QTEK Instrumentation & Calibration Solutions , Maintenance, Test & Measurement, Calibration
Instrument calibration is just one of the many maintenance-related activities in a process plant, but the last thing anyone needs is to have precious resources wasting time performing unnecessary calibrations 
...
Read more...
---
RS adds food grade maintenance line
October 2019, RS Components SA , Maintenance, Test & Measurement, Calibration
RS Components has launched a new range of food grade maintenance products for use in the food processing and catering sector. All RS Pro food grade products are registered with the NSF (National Sanitisation 
...
Read more...
---
Improved design tips balance toward HV motor replacement
October 2019, Zest WEG Group , Maintenance, Test & Measurement, Calibration
The applications knowledge of Zest WEG Group, coupled with the design capability of parent company WEG, now make it easier than ever for old high voltage (HV) motors to be replaced with new improved machines, 
...
Read more...
---
Vibration tester diagnoses machine problems
October 2019, Comtest , Maintenance, Test & Measurement, Calibration
Comtest now offers the Fluke 810 vibration tester, an advanced troubleshooting instrument that enables maintenance teams to collect data, diagnose and solve mechanical problems. The handheld instrument 
...
Read more...
---
SKF solution improves service quality at Barcelona Metro
October 2019, SKF South Africa , Maintenance, Test & Measurement, Calibration
For over a century, the citizens of Barcelona have relied on the metro to travel into and around the city. At peak times, 150 trains shuttle passengers between 158 stations on the eight-line network, 
...
Read more...
---
Accelerometer for vibration monitoring
October 2019, Instrotech , Maintenance, Test & Measurement, Calibration
Monitran has introduced the General Purpose Monitoring Sensor range, for use with PLCs and other industrial controllers, which provide users with a continuous output of vibration, usually as a 4-20 mA 
...
Read more...
---
Portable thermal camera for industrial inspection
October 2019, Comtest , Maintenance, Test & Measurement, Calibration
Fluke's new PTi 120 pocket thermal imager for easy troubleshooting and industrial inspection offers a first line of defence for easy troubleshooting on the job. It is a camera small enough to carry around 
...
Read more...
---