printer friendly version
Rosemount food and beverage leak detection system
October 2019
Sensors & Transducers
In response to industry demand for increased quality in food and beverages at every level, Emerson has introduced the Rosemount CT4215 food and beverage leak detection system. The CT4215 is a quantum cascade laser/tunable diode laser (QCL/TDL) continuous, inline detection system designed to help assure quality and safety, maximise production volume and decrease product waste for food and beverage products. It tests the seal and integrity of every bottle or package on a production line, detecting leaks at a sensitivity as low as 0,3 mm and automatically rejecting any defective bottle or package without slowing down production. This is in contrast to the traditional practice of testing occasional grab samples, which can leave a manufacturer vulnerable to low quality, unsafe food or beverages, reduced profitability and damaged reputation.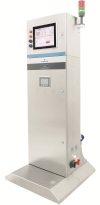 "In an industry being driven by an increasing consumer awareness of freshness and safety, manufacturers need solutions that allow them to ensure quality while maintaining, or even increasing, efficiency," said Peter Watmough, global leak detection product manager, Emerson Automation Solutions. "The Rosemount CT4215 provides packagers with an easy to install and use assurance of freshness and safety. For the first time, food and beverage packagers can measure every package and bottle for leaks, without having to compromise their production speed."
The system installs directly on the food or beverage production line in a compact, self-contained unit. A wide variety of customisable sampling heads are available for any package type, including trays, pouches, bags, bottles and boxes. The patented QCL laser technology measures CO2 and other gases used in food and beverage packaging. A high-flow vacuum pump draws air from around the package or bottle and delivers this air to the measurement cell. If gas from a leaking product passes through the measurement cell, it will absorb some of the laser light. Less laser light reaching the detector means there is a leak. Any leak detected will trigger rejection of the package or bottle. The system requires few consumables, is low-cost to operate, and needs only regularly scheduled maintenance. It is easily installed on both new and existing production lines.
For the first time, food and beverage packagers can assure that every package leaving their facility is of the highest quality and can eliminate the returns and penalties associated with defects, while enabling any production issues to be identified and resolved within minutes.
"The Rosemount CT4215 quickly brings a food or beverage packaging facility up to current consumer and supermarket quality demands."
Credit(s)
Further reading:
Engineers help British wine growers achieve success
Instrotech Sensors & Transducers
English growers realise that like all developing industries, as production grows so the need for efficiency increases.
Read more...
---
Steierl-Pharma uses smart cameras to modernise its labelling processes
Omron Electronics Sensors & Transducers
Steierl-Pharma of Herrsching, Germany, relies on the support of Omron automation experts for state-of-the-art labelling technology. By using a new labelling system with smart camera technology, the company 
...
Read more...
---
Brewery benefits from IO-Link devices
ifm - South Africa Sensors & Transducers
Marston's recently undertook a review of the fine ale room tank level indication system, to address certain issues.
Read more...
---
Emerson announces commitment to venture capital initiative
Emerson Automation Solutions News
Emerson Ventures to focus on disruptive discrete automation solutions, environmental sustainability technologies and industrial software.
Read more...
---
Inductive sensors with IO-Link
Turck Banner Sensors & Transducers
Turck's Banner's new non-flush sensors set new standards with maximum accuracy and smart additional information for condition monitoring.
Read more...
---
New compact capacitive sensor
Instrotech Sensors & Transducers
Instrotech has introduced a new series of capacitive sensors with more compact dimensions than older sensors on the market.
Read more...
---
Hot and cold rolling mills
Morton Controls Sensors & Transducers
One of the major consumables in steel production is the oil in water emulsion used to spray on the mill rollers to cool, lubricate and improve the finish of the final product, as well as assist with corrosion prevention and control friction.
Read more...
---
Controlling moisture content is crucial in food processing
SECO Process Instrumentation Sensors & Transducers
When it comes to food processing, excess moisture can ruin products and create unnecessary waste, economic losses and decreased productivity.
Read more...
---
High-performance photoelectric sensors
ASSTech Process Electronics + Instrumentation Sensors & Transducers
Wenglor's Type 2K photoelectric sensors within the PNG/smart product range have robust stainless steel 316L housings with IP69K protection.
Read more...
---
Omron launches new laser sensor
Omron Electronics Sensors & Transducers
New sensing technology detects difficult targets and reduces the need for complex installation design.
Read more...
---