printer friendly version
Precise control in joining applications
October 2019
PLCs, DCSs & Controllers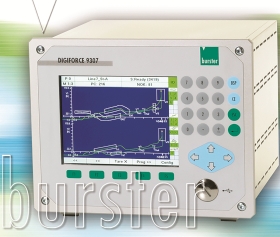 Digiforce is the trusted name when comprehensive monitoring of press-fit, joining, riveting and caulking processes is needed. The models 9306 and 9310 are being successfully used in innumerable applications as both an individual process control system or as multichannel monitoring equipment.
Now ASSTech offers the new generation of German-manufactured Burster Digiforce process monitor, model 9307 – a high-end universal controller based on powerful hardware and software architecture. Intuitive operation using the clear, graphics-based menu tools, guide users quickly to their objectives. Precise control of joining, riveting and caulking processes or curve-monitoring functions is still one of the core functions, while new options in the field of torque measurement and haptic testing, universal signal testing, leak detection and many other options expand the range of applications enormously.
At a glance, the user gets not just a global result, but also detailed OK/NOK evaluations of the process status. With new graphical evaluation elements such as thresholds, trapeziums, windows, envelopes and additional user-configurable mathematical operations, it is possible to achieve precise monitoring of process curves. A range of informative diagnostic pages enables sophisticated process analysis.
Programmable I/Os, independent measurement start/stop mechanisms and a powerful fieldbus interface via Profibus or Ethernet-based protocols, enables rapid and reliable implementation.
The Digiforce 9307 achieves an accuracy class of 0,05 for strain gauges and analog process signals. The controller can also record and evaluate two synchronous processes with its intelligent sampling, which can use a combination of variables. Even production processes with a high component variance are handled easily. Up to 128 measurement programs can be selected and conveniently managed. An internal memory provides storage space for a range of measurement curves for reference purposes. In addition to supporting analog sensor interfaces for strain gauges, potentiometers, piezoelectric signals, DC process signals and others, the unit also supports high-resolution incremental systems and absolute encoders with SSI or EnDAt 2.2 output signals.
For more information contact Anastas Schnippenkotter, ASSTech Process Electronics & Instrumentation, +27 11 708 9200, info@asstech.co.za, www.asstech.co.za
Credit(s)
Further reading:
Meet the Future: Edge Programmable Industrial Controllers
November 2019, Opto Africa Holdings , PLCs, DCSs & Controllers
All controls engineers are familiar with PLCs and PACs (programmable automation controllers). Both have been used and improved over many years, incorporating capabilities that used to be found only in 
...
Read more...
---
Pair temperature probes with different cable lengths
October 2019, ASSTech Process Electronics + Instrumentation , Temperature Measurement
In heat meters for heating systems, two paired temperature probes are usually used for symmetrical installation. These must have identical cable lengths to comply with the legal regulations. Now, Jumo 
...
Read more...
---
Hygienic pressure transmitter
September 2019, ASSTech Process Electronics + Instrumentation , Pressure Measurement & Control
The pressure transmitter Jumo Taros S46 H – available locally from ASSTech – is designed according to the hygienic requirements for precision measurement and longevity. The high-level protection type 
...
Read more...
---
The powerful Festo modular control system CPX-E
Technews Industry Guide: Industrial Internet of Things & Industry 4.0, Festo , PLCs, DCSs & Controllers
Designed as an EtherCAT master and motion controller with protection to IP20, the powerful automation system CPX-E for factory and process automation with NE21-specific certifications is becoming the 
...
Read more...
---
Pressure and temperature in one sensor
July 2019, ASSTech Process Electronics + Instrumentation , Sensors & Transducers
ASSTech's German sensor manufacturing agency, Wenglor, has succeeded in integrating a temperature element into a pressure measuring cell. This makes it possible for the new weFlux² sensor to simultaneously 
...
Read more...
---
Rockwell strengthens industrial control system security
July 2019, Rockwell Automation , PLCs, DCSs & Controllers
Communications between industrial control devices have minimal protection today. This leaves them vulnerable to threats like malicious tampering and incidental system changes that can stop production 
...
Read more...
---
Siemens extends the Simine ­portfolio
June 2019, Siemens Digital Industries , PLCs, DCSs & Controllers
Siemens has extended the Simine portfolio for high-pressure grinding mills (HPGR) to include a new controller. Plug-and-play functionality makes the load share controller available for immediate use. 
...
Read more...
---
Schneider Electric announces a new era of control
June 2019, Schneider Electric South Africa , PLCs, DCSs & Controllers
Schneider Electric's new high-end Modicon M580 Ethernet programmable automation controller (ePAC) features redundant processors, native Ethernet, and cybersecurity embedded into its core. It combines 
...
Read more...
---
Selecting the right PLC
June 2019, AC/DC Dynamics , PLCs, DCSs & Controllers
Automation projects, big or small, start with a specification. Here are five factors to consider when choosing a PLC vendor.      
Broad range of devices
The selected brand must have a complete product 
...
Read more...
---
Static and rotational torque sensors
June 2019, ASSTech Process Electronics + Instrumentation , Sensors & Transducers
With the new compact 8661 series of torque sensors, Burster has extended its portfolio to include static and rotating torques over the range from 0,05 to 200 Nm. In addition to the highly accurate measurements, 
...
Read more...
---