printer friendly version
Vibration tester diagnoses machine problems
October 2019
Maintenance, Test & Measurement, Calibration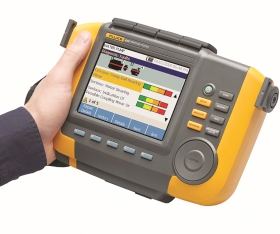 Comtest now offers the Fluke 810 vibration tester, an advanced troubleshooting instrument that enables maintenance teams to collect data, diagnose and solve mechanical problems.
The handheld instrument is designed and programmed to recognise the most common mechanical problems of unbalance, looseness, misalignment and bearing failures in a wide variety of mechanical equipment, including motors, fans, belts, gearboxes, couplings, pumps and compressors. When it detects a fault, the tester identifies the problem and rates its severity on a four-level scale to help the maintenance professional prioritise the order of tasks. It also recommends repairs, while context-sensitive on-board help menus provide new users with real-time guidance and tips.
The 810 uses a simple step-by-step process to report on machine faults the first time measurements are taken, without prior measurement history. The combination of plain-text diagnoses, severity ratings and repair recommendations helps users make better maintenance decisions and address critical problems first. Typical vibration analysers and software are intended for monitoring machine condition over the longer term, but require special training and investment that may not be possible in many companies. However, Fluke's new device is designed specifically for maintenance professionals who need to troubleshoot mechanical problems and quickly understand the root cause of equipment condition.
Mechanical diagnosis begins when the user places the Fluke tri-axial TEDS accelerometer on the machine under test. The accelerometer has a magnetic mount and can also be installed by attaching a mounting pad using adhesive. A quick-disconnect cable connects the accelerometer to the test unit. As the machine under test operates, the accelerometer detects its vibration along three planes of movement and transmits that information to the instrument. Using a set of advanced algorithms, the 810 vibration tester then provides a plain-text diagnosis of the machine with a recommended solution.
A new approach to machine diagnosis
Vibration, on a basic level, is just an oscillation of machines and components in motorised equipment. Sometimes it is a symptom or even a cause of trouble; other times, it is part of normal machine operation. Oscillating sanders and vibratory tumblers, for example, rely on vibration in order to function. In internal combustion engines and gear drives, vibration is to an extent unavoidable. However, most devices are engineered to avoid vibration. Left unchecked, vibration can cause damage or deterioration to equipment over time.
Evaluating mechanical equipment typically requires comparing its condition over time to a previously established baseline condition. Vibration analysers used in condition-based monitoring or predictive maintenance programmes rely upon these baseline conditions to evaluate machine condition and estimate remaining operating life.By contrast, this new diagnostic technology analyses machinery operation and identifies faults by comparing vibration data to an extensive set of rules developed over years of field experience. The software determines fault severity using a unique technology to simulate a fault-free condition and establish a baseline for instant comparison to gathered data. This means that every measurement taken is compared to a 'like new' machine.
Viewer application software
The included Viewer PC software, compatible with Windows XP and Vista, expands the data storage and tracking capability. With Viewer, users can:
• Create machine setups at the computer keyboard and transfer the data to the tester.
• Generate diagnostic reports in a PDF file format.
• View vibration spectra in greater detail.
• Import and store jpeg images and Fluke .IS2 thermal images for a more complete view of machine condition.
The Fluke 810 Vibration Tester is supplied with embedded diagnostic technology, tri-axial TEDS accelerometer, accelerometer magnet mount, accelerometer mounting pad kit with adhesive, accelerometer quick-disconnect cable, laser tachometer and storage pouch, smart battery pack with cable and adaptors, shoulder strap, adjustable hand strap, Viewer PC application software, mini-USB to USB cable, Getting Started Guide illustrated Quick Reference Guide, User Manual CD-ROM and a hard carrying case.
For more information contact Comtest, +27 10 595 1821, sales@comtest.co.za, www.comtest.co.za
Credit(s)
Further reading:
Emerson monitoring accelerates asset digitalisation
December 2019, Emerson Automation Solutions , Maintenance, Test & Measurement, Calibration
Emerson has introduced the AMS Asset Monitor edge analytics device, which digitalises essential asset data and analytics for better operations performance and improved decision making. AMS Asset Monitor 
...
Read more...
---
SKF condition monitoring system to boost reliability at biomass electricity plant
November 2019, SKF South Africa , Maintenance, Test & Measurement, Calibration
As a global bearing and rotating technology specialist, SKF South Africa is committed to assisting companies to achieve their productivity goals whilst remaining environmentally friendly. The Multilog 
...
Read more...
---
Eliminate power outages caused by steam leaks
November 2019, Instrotech , Maintenance, Test & Measurement, Calibration
The current system Inspecta FFT, first released some 20 years ago, is reaching its end-of-life, and Instrotech's design engineers felt the time was right to upgrade to newer technology, by combining their 
...
Read more...
---
Do more with less and generate ROI with an Integrated Calibration Solution
October 2019, QTEK Instrumentation & Calibration Solutions , Maintenance, Test & Measurement, Calibration
Instrument calibration is just one of the many maintenance-related activities in a process plant, but the last thing anyone needs is to have precious resources wasting time performing unnecessary calibrations 
...
Read more...
---
RS adds food grade maintenance line
October 2019, RS Components SA , Maintenance, Test & Measurement, Calibration
RS Components has launched a new range of food grade maintenance products for use in the food processing and catering sector. All RS Pro food grade products are registered with the NSF (National Sanitisation 
...
Read more...
---
Improved design tips balance toward HV motor replacement
October 2019, Zest WEG Group , Maintenance, Test & Measurement, Calibration
The applications knowledge of Zest WEG Group, coupled with the design capability of parent company WEG, now make it easier than ever for old high voltage (HV) motors to be replaced with new improved machines, 
...
Read more...
---
SKF solution improves service quality at Barcelona Metro
October 2019, SKF South Africa , Maintenance, Test & Measurement, Calibration
For over a century, the citizens of Barcelona have relied on the metro to travel into and around the city. At peak times, 150 trains shuttle passengers between 158 stations on the eight-line network, 
...
Read more...
---
Vibration measurement in machine maintenance
October 2019, R&C Instrumentation , Maintenance, Test & Measurement, Calibration
Vibration and temperature are the most common parameters measured on process plants for machine maintenance. Temperature measurement has been around for longer, probably because it was available first 
...
Read more...
---
Accelerometer for vibration monitoring
October 2019, Instrotech , Maintenance, Test & Measurement, Calibration
Monitran has introduced the General Purpose Monitoring Sensor range, for use with PLCs and other industrial controllers, which provide users with a continuous output of vibration, usually as a 4-20 mA 
...
Read more...
---
Batteries in motive power applications
October 2019, Comtest , Electrical Power & Protection
When discussing motive power applications, the initial thought is that their batteries must be similar to transportation batteries. After all, this equipment is 'motive' just like a car or truck. However, 
...
Read more...
---