printer friendly version
RS adds food grade maintenance line
October 2019
Maintenance, Test & Measurement, Calibration
RS Components has launched a new range of food grade maintenance products for use in the food processing and catering sector. All RS Pro food grade products are registered with the NSF (National Sanitisation Foundation), an international public health and safety organisation, demonstrating risk reduction compliance.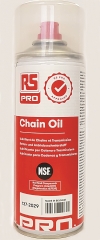 The handling, preparation, processing and packaging of food products require machinery with moving parts that come into contact with foodstuffs. Keeping this equipment clean and lubricated involves the use of non-food chemical products. NSF certification ensures that such products present a significantly lowered risk to health, and, in conjunction with a robust HACCP assessment, may effectively eliminate risk of foodstuff contamination when used appropriately.
RS Pro Chain Oil is formulated with PTFE and foams on application to cling to chains and penetrate deep into links, providing long lasting lubrication and corrosion resistance. It is certified as NSF H1 (lubricants suitable for use with incidental food contact).
RS Pro Foam Cleaner is used to remove general grime and soiling from machinery. It is a stable foam that clings to vertical surfaces without dripping. It is safe for use on plastics, is biodegradable, and is certified as NSF category A1 (general cleaner for use in all areas).
RS Pro Solvent Cleaner is a heavy-duty solvent with a powerful spray action and good wetting properties for difficult degreasing applications. It evaporates quickly leaving zero residue. It is certified as NSF A8, (degreaser/carbon remover for use in all areas) and K1 (cleaner/degreaser for use in non-food-processing areas).
RS Pro Belt Spray (NSF H1) is an adhesive belt lubricant that improves grip on drive belts, reducing squeak and prolonging belt life. A tacky lubricating film increases pulling power and prevents belt slip.
RS Pro Penetrating Spray (NSF H1) is a fast acting penetrating oil that helps to remove seized fasteners without damaging the head or thread.
Credit(s)
Further reading:
Emerson monitoring accelerates asset digitalisation
December 2019, Emerson Automation Solutions , Maintenance, Test & Measurement, Calibration
Emerson has introduced the AMS Asset Monitor edge analytics device, which digitalises essential asset data and analytics for better operations performance and improved decision making. AMS Asset Monitor 
...
Read more...
---
Robust embedded power supply series
December 2019, RS Components SA , Electrical Power & Protection
RS Components (RS) has announced the availability of a new series of AC-DC embedded switch-mode power supplies (SMPS) from TDK-Lambda. The cost-effective RWS-B series of AC-DC industrial power supplies 
...
Read more...
---
RS adds self-adjusting double-acting air cylinders
December 2019, RS Components SA , Pneumatics & Hydraulics
RS Components has expanded its offering from factory automation manufacturer Festo to include new double-acting pneumatic cylinders in the DSBC product range. Aimed at both machine builders and maintenance 
...
Read more...
---
SKF condition monitoring system to boost reliability at biomass electricity plant
November 2019, SKF South Africa , Maintenance, Test & Measurement, Calibration
As a global bearing and rotating technology specialist, SKF South Africa is committed to assisting companies to achieve their productivity goals whilst remaining environmentally friendly. The Multilog 
...
Read more...
---
Eliminate power outages caused by steam leaks
November 2019, Instrotech , Maintenance, Test & Measurement, Calibration
The current system Inspecta FFT, first released some 20 years ago, is reaching its end-of-life, and Instrotech's design engineers felt the time was right to upgrade to newer technology, by combining their 
...
Read more...
---
RS introduces flush-mount devices for smart manufacturing
November 2019, RS Components SA , Operator Interfaces, Switches & Relays
RS Components has added the Schneider Electric Harmony XB4F series of flush mounting pushbuttons, selector switches and pilot lights to its product portfolio. Designed for use in industrial automation 
...
Read more...
---
Do more with less and generate ROI with an Integrated Calibration Solution
October 2019, QTEK Instrumentation & Calibration Solutions , Maintenance, Test & Measurement, Calibration
Instrument calibration is just one of the many maintenance-related activities in a process plant, but the last thing anyone needs is to have precious resources wasting time performing unnecessary calibrations 
...
Read more...
---
Improved design tips balance toward HV motor replacement
October 2019, Zest WEG Group , Maintenance, Test & Measurement, Calibration
The applications knowledge of Zest WEG Group, coupled with the design capability of parent company WEG, now make it easier than ever for old high voltage (HV) motors to be replaced with new improved machines, 
...
Read more...
---
Vibration tester diagnoses machine problems
October 2019, Comtest , Maintenance, Test & Measurement, Calibration
Comtest now offers the Fluke 810 vibration tester, an advanced troubleshooting instrument that enables maintenance teams to collect data, diagnose and solve mechanical problems. The handheld instrument 
...
Read more...
---
SKF solution improves service quality at Barcelona Metro
October 2019, SKF South Africa , Maintenance, Test & Measurement, Calibration
For over a century, the citizens of Barcelona have relied on the metro to travel into and around the city. At peak times, 150 trains shuttle passengers between 158 stations on the eight-line network, 
...
Read more...
---