printer friendly version
Do more with less and generate ROI with an Integrated Calibration Solution
October 2019
Maintenance, Test & Measurement, Calibration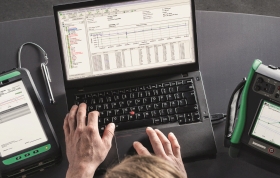 Instrument calibration is just one of the many maintenance-related activities in a process plant, but the last thing anyone needs is to have precious resources wasting time performing unnecessary calibrations or using time-consuming, ineffective calibration procedures.
This article examines at what an 'Integrated Calibration Solution' is, and how it can help make calibration process more effective, save time and money and improve the quality and integrity of the results.
Improve the whole calibration process with an Integrated Calibration Solution (ICS)
It is not enough just to buy some new calibration equipment or calibration software – that does not make calibration processes leaner and more effective. Instead, all the steps of the current calibration process should be analysed, and, with the help of a suitable solution and expertise, find ways to improve the whole calibration process.
Let's take a look at a typical calibration process from beginning to end and explore how an integrated system could help:
ICS-summary
Typically, work is planned, and work orders are created in the maintenance management system. With an integrated solution, these move automatically and digitally from the maintenance management system to the calibration software. There is no need to print work orders and distribute them manually.
The necessary calibration details are handled by the dedicated calibration software, which sends the work orders to the mobile calibration equipment. Again, this happens digitally.
While the technicians are out in the field performing calibration activities, the results are automatically stored in the mobile devices, and users sign off the results using an electronic signature. From the mobile device, the results are automatically transferred back to the calibration software to save and analyse.
Once the work orders are completed, the calibration software automatically sends an acknowledgement to the maintenance management software and work orders are closed.
So, the whole process is paperless and there is no need for manual entry of data at any point. This makes it far more effective and saves time. It also helps minimise mistakes typically associated with manual data entry, so it improves the quality and integrity of the calibration data. Furthermore, calibration results are safely stored and easily accessible for review, for example in the case of audits, or for analysis purposes.
As mentioned, improving the calibration process is not just about buying some new equipment or software, but the project should also include improvement of the whole calibration process together with the new tools supporting it. Implementing a new process is a project with a formal implementation plan, ensuring that the new system/process is adopted by the users.
The key benefits of an integrated calibration solution
• Improve operation efficiency – do more with less.
• Automate calibrations and calibration documentation – eliminate all manual entry steps in the calibration process. Use multifunctional tools to carry less equipment in the field and lower equipment life-cycle costs.
• Save time and reduce costs – generate a great ROI.
• With automated processes, get more done in a shorter time – don't waste time on unnecessary calibrations, let the data from the system guide you to determine the most important calibrations at appropriate intervals.
• With electronic documentation, avoid all errors in manual entry, transcriptions and Pass/Fail calculations.
• Guides non-experienced users.
• Avoid system failures and out-of-tolerance risks.
Using a calibration system that automatically ensures you meet required tolerance limits not only avoids unnecessary system downtime and expensive out-of-tolerance situations, but also ensures the safety of plant workers and customers by helping maintenance staff navigate through safety critical calibrations. A calibration system that ensures the integrity of the data with automatic electronic data storage and transfer and relevant user authorisation also makes audits and data access easy, thus simplifying compliance issues.
Credit(s)
Further reading:
Humidity generator for probe calibration
Comtest Maintenance, Test & Measurement, Calibration
Portable humidity generator delivers fast, accurate multi-point calibration of humidity probes and loggers.
Read more...
---
An innovative alternative to mechanical seals
Bearing Man Group t/a BMG Maintenance, Test & Measurement, Calibration
BMG's range of Garlock sealing products includes a versatile sealing system that replaces mechanical seals in industrial pump applications.
Read more...
---
Understanding asset reliability for maximum impact in a post-pandemic world
Maintenance, Test & Measurement, Calibration
At the ARC Industry Forum Asia, Anindya Chatterjee, ABB's global head of Value Engineering and Data, gave a presentation that focused on return on asset reliability through information, operations and engineering technologies, powered by machine learning.
Read more...
---
Fluke doubles the troubleshooting power
Comtest Maintenance, Test & Measurement, Calibration
Comtest now offers the Fluke 787B and 789 process meters that double the troubleshooting capabilities of previous versions by combining the power of a safety-rated, digital multimeter and mA loop calibrator into a single, compact test tool.
Read more...
---
Fluke's T6-1000 PRO electrical tester
Comtest Maintenance, Test & Measurement, Calibration
Comtest now offers the Fluke T6-1000 PRO true-RMS electrical tester. It measures voltage up to 1000 V AC and current up to 200 A without test lead contact to live voltage.
Read more...
---
Digitalised oil and gas pipelines
RJ Connect Maintenance, Test & Measurement, Calibration
Moxa's MDS-G4020 series offers a modular platform that can be fitted with fibre interfaces to connect pipeline subsystems to a control centre over long distances.
Read more...
---
Linux-based condition monitoring platform
Turck Banner Maintenance, Test & Measurement, Calibration
Turck Banner's compact IM18-CCM50 DIN rail control centre for collecting, processing and forwarding condition data to the IIoT can be configured for specific OEM requirements.
Read more...
---
Pyrometer for challenging applications
Instrotech Maintenance, Test & Measurement, Calibration
Instrotech now offers the new Optris CT 4M pyrometer for high-speed applications.
Read more...
---
IR thermometer withstands 3-metre drop
Comtest Maintenance, Test & Measurement, Calibration
Comtest has on offer the Fluke 64 MAX IR thermometer with internal memory, unattended monitoring, improved accuracy and increased battery life.
Read more...
---
BMG gearboxes for railway maintenance
Bearing Man Group t/a BMG Maintenance, Test & Measurement, Calibration
BMG supplies the local railways sector with custom-designed planetary gearboxes for use in railway maintenance programmes.
Read more...
---