printer friendly version
Do more with less and generate ROI with an Integrated Calibration Solution
October 2019
Maintenance, Test & Measurement, Calibration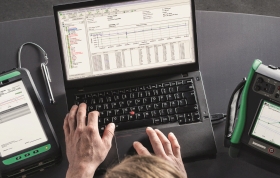 Instrument calibration is just one of the many maintenance-related activities in a process plant, but the last thing anyone needs is to have precious resources wasting time performing unnecessary calibrations or using time-consuming, ineffective calibration procedures.
This article examines at what an 'Integrated Calibration Solution' is, and how it can help make calibration process more effective, save time and money and improve the quality and integrity of the results.
Improve the whole calibration process with an Integrated Calibration Solution (ICS)
It is not enough just to buy some new calibration equipment or calibration software – that does not make calibration processes leaner and more effective. Instead, all the steps of the current calibration process should be analysed, and, with the help of a suitable solution and expertise, find ways to improve the whole calibration process.
Let's take a look at a typical calibration process from beginning to end and explore how an integrated system could help:
ICS-summary
Typically, work is planned, and work orders are created in the maintenance management system. With an integrated solution, these move automatically and digitally from the maintenance management system to the calibration software. There is no need to print work orders and distribute them manually.
The necessary calibration details are handled by the dedicated calibration software, which sends the work orders to the mobile calibration equipment. Again, this happens digitally.
While the technicians are out in the field performing calibration activities, the results are automatically stored in the mobile devices, and users sign off the results using an electronic signature. From the mobile device, the results are automatically transferred back to the calibration software to save and analyse.
Once the work orders are completed, the calibration software automatically sends an acknowledgement to the maintenance management software and work orders are closed.
So, the whole process is paperless and there is no need for manual entry of data at any point. This makes it far more effective and saves time. It also helps minimise mistakes typically associated with manual data entry, so it improves the quality and integrity of the calibration data. Furthermore, calibration results are safely stored and easily accessible for review, for example in the case of audits, or for analysis purposes.
As mentioned, improving the calibration process is not just about buying some new equipment or software, but the project should also include improvement of the whole calibration process together with the new tools supporting it. Implementing a new process is a project with a formal implementation plan, ensuring that the new system/process is adopted by the users.
The key benefits of an integrated calibration solution
• Improve operation efficiency – do more with less.
• Automate calibrations and calibration documentation – eliminate all manual entry steps in the calibration process. Use multifunctional tools to carry less equipment in the field and lower equipment life-cycle costs.
• Save time and reduce costs – generate a great ROI.
• With automated processes, get more done in a shorter time – don't waste time on unnecessary calibrations, let the data from the system guide you to determine the most important calibrations at appropriate intervals.
• With electronic documentation, avoid all errors in manual entry, transcriptions and Pass/Fail calculations.
• Guides non-experienced users.
• Avoid system failures and out-of-tolerance risks.
Using a calibration system that automatically ensures you meet required tolerance limits not only avoids unnecessary system downtime and expensive out-of-tolerance situations, but also ensures the safety of plant workers and customers by helping maintenance staff navigate through safety critical calibrations. A calibration system that ensures the integrity of the data with automatic electronic data storage and transfer and relevant user authorisation also makes audits and data access easy, thus simplifying compliance issues.
Credit(s)
Further reading:
Emerson monitoring accelerates asset digitalisation
December 2019, Emerson Automation Solutions , Maintenance, Test & Measurement, Calibration
Emerson has introduced the AMS Asset Monitor edge analytics device, which digitalises essential asset data and analytics for better operations performance and improved decision making. AMS Asset Monitor 
...
Read more...
---
SKF condition monitoring system to boost reliability at biomass electricity plant
November 2019, SKF South Africa , Maintenance, Test & Measurement, Calibration
As a global bearing and rotating technology specialist, SKF South Africa is committed to assisting companies to achieve their productivity goals whilst remaining environmentally friendly. The Multilog 
...
Read more...
---
Eliminate power outages caused by steam leaks
November 2019, Instrotech , Maintenance, Test & Measurement, Calibration
The current system Inspecta FFT, first released some 20 years ago, is reaching its end-of-life, and Instrotech's design engineers felt the time was right to upgrade to newer technology, by combining their 
...
Read more...
---
RS adds food grade maintenance line
October 2019, RS Components SA , Maintenance, Test & Measurement, Calibration
RS Components has launched a new range of food grade maintenance products for use in the food processing and catering sector. All RS Pro food grade products are registered with the NSF (National Sanitisation 
...
Read more...
---
Improved design tips balance toward HV motor replacement
October 2019, Zest WEG Group , Maintenance, Test & Measurement, Calibration
The applications knowledge of Zest WEG Group, coupled with the design capability of parent company WEG, now make it easier than ever for old high voltage (HV) motors to be replaced with new improved machines, 
...
Read more...
---
Vibration tester diagnoses machine problems
October 2019, Comtest , Maintenance, Test & Measurement, Calibration
Comtest now offers the Fluke 810 vibration tester, an advanced troubleshooting instrument that enables maintenance teams to collect data, diagnose and solve mechanical problems. The handheld instrument 
...
Read more...
---
SKF solution improves service quality at Barcelona Metro
October 2019, SKF South Africa , Maintenance, Test & Measurement, Calibration
For over a century, the citizens of Barcelona have relied on the metro to travel into and around the city. At peak times, 150 trains shuttle passengers between 158 stations on the eight-line network, 
...
Read more...
---
Vibration measurement in machine maintenance
October 2019, R&C Instrumentation , Maintenance, Test & Measurement, Calibration
Vibration and temperature are the most common parameters measured on process plants for machine maintenance. Temperature measurement has been around for longer, probably because it was available first 
...
Read more...
---
Accelerometer for vibration monitoring
October 2019, Instrotech , Maintenance, Test & Measurement, Calibration
Monitran has introduced the General Purpose Monitoring Sensor range, for use with PLCs and other industrial controllers, which provide users with a continuous output of vibration, usually as a 4-20 mA 
...
Read more...
---
Portable thermal camera for industrial inspection
October 2019, Comtest , Maintenance, Test & Measurement, Calibration
Fluke's new PTi 120 pocket thermal imager for easy troubleshooting and industrial inspection offers a first line of defence for easy troubleshooting on the job. It is a camera small enough to carry around 
...
Read more...
---