printer friendly version
Density compensated pressurised vessel level measurement
October 2019
Level Measurement & Control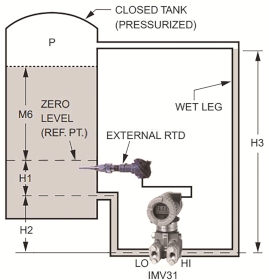 The traditional approach to level measurement in closed vessels such as boilers, evaporators, crystallisers or distillation columns, has been to use a conventional differential pressure (DP) transmitter with external water filled 'wet' legs connecting both the high and low-pressure sides of the transmitter to the vessel. The use of DP transmitters for closed vessel level is ideal because of their low cost, ease of installation and high reliability. However, the output of a conventional DP transmitter in this application will have inaccuracies caused by changes in static pressure, the densities of the water in each leg, and the density of the fluid in the closed vessel.
The Foxboro solution
The Foxboro IMV31 density-compensated level transmitter provides a new approach to closed vessel level measurement. While maintaining all the advantages of DP transmitters, it uses multiple measurements and on-board level calculations to provide a more accurate measurement. This eliminates the need to make similar level calculations in the control system.
The new instrument is based on Foxboro's proven multivariable transmitter technology, which was originally developed for flow measurement. The heart of the device is its ability to conduct on-board level calculations based on multiple measurements and fluid density calculations. The transmitter has a pressure sensor and a differential pressure sensor, as well as an internal temperature sensor. It also has the ability to power and monitor an external RTD temperature sensor.
The transmitter continuously calculates the unique fluid densities based on measured pressures and temperatures, and uses this information along with the DP measurement to calculate an accurate density-compensated liquid level. The densities of both the fluid and vapour are calculated separately, based on the pressure measurement and vessel temperature. The transmitter has an RTD input and can also use the saturation stream table's temperature corresponding to the measured vessel pressure in calculating densities.
Results
Regardless of the size of the drum and the saturation pressure, the IMV31 significantly improves the accuracy of drum level measurement over conventional DP transmitters and automatically provides dynamic compensation for varying pressures and temperatures.
For more information contact Johan van Jaarsveldt,I-PAS (Industrial Process Automation Solutions), +27 87 803 9783, johan.vanjaarsveldt@eoh-pas.co.za, www.eoh-pas.co.za
Further reading:
New additions to Optiflex level transmitter series
May 2020 , Level Measurement & Control
Krohne has introduced four new additions to the Optiflex series of guided radar (TDR) level transmitters. Each device is designed for specific areas of application in the chemical, oil and gas, power, 
...
Read more...
---
Capacitive level switch for fluid, pasty and powdery media
May 2020, GHM Messtechnik SA , Level Measurement & Control
Martens, part of the GHM group of companies, has introduced its MLC 437 capacitive level switches for use principally for the registration of limit levels, full/empty signals in pipes and tanks in fluid, 
...
Read more...
---
Top-mounted level indicator
May 2020, WIKA Instruments , Level Measurement & Control
WIKA's model UTN top-mounted level indicator consists of a measuring chamber, a float with guide rod and a magnetic system. Mounting onto the vessel is made via appropriate process connections (flanged 
...
Read more...
---
New 80 GHz compact radar transmitters
May 2020, Siemens Digital Industries , Level Measurement & Control
Siemens has introduced the Sitrans LR100 series 8 GHz radar level transmitters, a compact instrument with a narrow beam for flexible installations in existing vessel openings or even non-intrusively through 
...
Read more...
---
New compact radar sensor
April 2020, VEGA Controls SA , Level Measurement & Control
A new era in radar level measurement began a few years ago when Vegapuls sensors based on 80 GHz technology were introduced. Thanks to the more precise focusing of the radar beam, the sensor virtually 
...
Read more...
---
Digital innovations using the vibronics measuring principle
February 2020, Endress+Hauser South Africa , Level Measurement & Control
Continuous optimisation and increasingly automated processes are shaping the history of process automation, as well as that of industrialisation.
Read more...
---
High-speed level measurement
February 2020, Morton Controls , Level Measurement & Control
Morton Controls in partnership with Anderson-Negele has introduced the innovative NSL-F level sensor based on a modular device platform. The new platform strategy used with this sensor is based on a building-block 
...
Read more...
---
Capacitive level limit switch
February 2020, Morton Controls , Level Measurement & Control
The Capanivo level limit switch can be used in most solids and liquids as a full or empty detector. The robust, glass reinforced PPS (polyphenylene sulphide) sensor is suitable for food applications while 
...
Read more...
---
Rotary paddle switch with rope extension for point level measurement in silos
February 2020, Morton Controls , Level Measurement & Control
Limit detection is required in most silos and containers to avoid overfilling or unnecessary downtime. The sensor needs to deal with an assortment of process conditions within a wide range of industries. 
...
Read more...
---
Digital float switch
January 2020, WIKA Instruments , Level Measurement & Control
As its first instrument of this kind, WIKA has launched a float switch with a PNP/NPN output signal. The model GLS-1000 detects the level of liquids with an accuracy of 1 mm or less. The digitised float 
...
Read more...
---