printer friendly version
Density compensated pressurised vessel level measurement
October 2019
Level Measurement & Control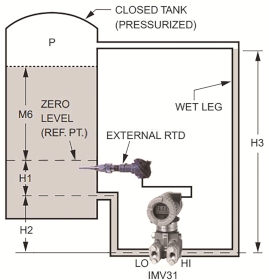 The traditional approach to level measurement in closed vessels such as boilers, evaporators, crystallisers or distillation columns, has been to use a conventional differential pressure (DP) transmitter with external water filled 'wet' legs connecting both the high and low-pressure sides of the transmitter to the vessel. The use of DP transmitters for closed vessel level is ideal because of their low cost, ease of installation and high reliability. However, the output of a conventional DP transmitter in this application will have inaccuracies caused by changes in static pressure, the densities of the water in each leg, and the density of the fluid in the closed vessel.
The Foxboro solution
The Foxboro IMV31 density-compensated level transmitter provides a new approach to closed vessel level measurement. While maintaining all the advantages of DP transmitters, it uses multiple measurements and on-board level calculations to provide a more accurate measurement. This eliminates the need to make similar level calculations in the control system.
The new instrument is based on Foxboro's proven multivariable transmitter technology, which was originally developed for flow measurement. The heart of the device is its ability to conduct on-board level calculations based on multiple measurements and fluid density calculations. The transmitter has a pressure sensor and a differential pressure sensor, as well as an internal temperature sensor. It also has the ability to power and monitor an external RTD temperature sensor.
The transmitter continuously calculates the unique fluid densities based on measured pressures and temperatures, and uses this information along with the DP measurement to calculate an accurate density-compensated liquid level. The densities of both the fluid and vapour are calculated separately, based on the pressure measurement and vessel temperature. The transmitter has an RTD input and can also use the saturation stream table's temperature corresponding to the measured vessel pressure in calculating densities.
Results
Regardless of the size of the drum and the saturation pressure, the IMV31 significantly improves the accuracy of drum level measurement over conventional DP transmitters and automatically provides dynamic compensation for varying pressures and temperatures.
Further reading:
Radar instruments in mining
VEGA Controls SA Level Measurement & Control
VEGA radar measuring instruments hold their own in the difficult environments of gold and platinum mining.
Read more...
---
Level switch for storage bins
GHM Messtechnik SA Level Measurement & Control
Val.Co has introduced a new LPM level switch specifically designed to control the storage of dusts, granules and solid products.
Read more...
---
Specialist instrumentation for specialised applications
GHM Messtechnik SA Level Measurement & Control
Over 30 years of experience puts Val.co at the forefront to supply specialist liquid level, flow, pressure and temperature instrumentation.
Read more...
---
Radar transmitter ensures efficiency at Australian mine
VEGA Controls SA Level Measurement & Control
To eliminate supply bottlenecks at an Australian iron ore mine, the processes were better coordinated with VEGAPULS 69 playing an important role.
Read more...
---
High-reliability float switch
ASSTech Process Electronics + Instrumentation Level Measurement & Control
ASSTech has added a new simple-to-mount horizontal design of float switch to its Jumo range.
Read more...
---
Multi-application radar level transmitters
Instrotech Level Measurement & Control
Instrotech now offers Kobold's NGR, a robust, maintenance-free level sensor that uses TDR (time domain reflectometry) technology.
Read more...
---
Level transmitter for hygienic applications
Emerson Automation Solutions Level Measurement & Control
The Rosemount 1408H Level Transmitter with IO-Link provides accurate, non-contacting measurement to help optimise operations and ensure food safety.
Read more...
---
Ready for use anywhere
Endress+Hauser South Africa Level Measurement & Control
The first 2-wire loop-powered compact transmitter enters the market.
Read more...
---
Make level sensor checks redundant
DRH Components Level Measurement & Control
The Roto-Bin-Dicator PRO is a simple paddlewheel device that monitors the level of dry bulk material.
Read more...
---
Level switches master viscous substances
VEGA Controls SA Level Measurement & Control
VEGA has developed the new front-flush level switch, Vegapoint 24, especially for use with sticky, viscous or abrasive products.
Read more...
---