printer friendly version
Clamp-on ultrasonic flow measurement
October 2019
Flow Measurement & Control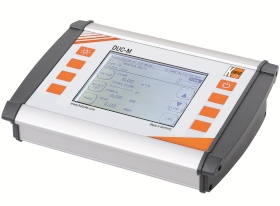 Kobold's portable DUC-MP and the stationary DUC-MF are designed for continuous flow measurement. They are highly accurate and drift-free operating flowmeters for liquids in filled pipes. The devices are hygienic, leak proof and monitor all aggressive and toxic liquids without problem. A special advantage is that the ultrasonic sensors are clamped onto the outside of the pipe, so no cutting the pipe is necessary for installation. Similarly, there is no requirement for process shutdown, significantly reducing the operating costs.
The robust Quickfix mounting kit enables precise and quick sensor installation. With the Quick Setup option, the transmitter can be configured in less than one minute, and in less than two minutes, the sensors are mounted onto the pipe.
By default, the transmitter operates at medium temperatures from -40 to 150°C and flow rates of up to 30 m/sec. in pipe sizes from DN10 to DN6000. DUC works on the high-precision ultrasonic transit time method. The AND-technology (anti-noise deflector), results in the ultrasonic waves being guided and coupled in such a way that unwanted echoes and signal variations are avoided. The flow rate is measured periodically, typically 50-150 times per second. Thanks to the latest digital signal processing, DUC operates drift-free and reliable even under influence of EMC radiations or unwanted machine noises.
Accurate measurements are possible even where conventional devices fail, for example in extremely unfavourable conditions, such as high particle and gas pollution situations. The clear menu-structure, easy operation via eight buttons and the large graphics-capable text display facilitate measurement. Battery operation, as well as the 4 GB memory card, makes the portable version of DUC ideal for temporary measuring tasks.
Application areas
• Power plants (cooling water), district heating, pump protection, condensate and boiler feed water measurements.
• Water and wastewater treatment plant flow, drinking water networks, verification of water meters, pump protection, distribution and consumption measurements, leakage detection.
• Facility management.
• Chemical and petrochemical industry.
• Food and beverage (correct hygienic measurement of media, heat volume measurement in energy supply).
Credit(s)
Further reading:
Compact design electromagnetic flow measurement
December 2019, Endress+Hauser , Flow Measurement & Control
Whether in the life sciences or in biotechnology, whether in the food or chemical industries – global competition is steadily increasing. Ever more companies are implementing their process facilities 
...
Read more...
---
Pressure measurement converter for harsh conditions
December 2019, Instrotech , Pressure Measurement & Control
Kobold's PNK pressure measurement converter is used for the remote electrical transmission of pressure signals. For use in heavy machinery, engines, shipbuilding and automotive engineering, this robustly 
...
Read more...
---
Electronic position indicator with Ethernet interface
December 2019, Instrotech , Sensors & Transducers
Instrotech now offers the Siko AP20 position indicator, equipped to detect the position of spindle adjustments in machines. It displays the corresponding positional data to the operator and passes it 
...
Read more...
---
Self-cleaning flow indicator for liquids
November 2019, Instrotech , Flow Measurement & Control
To check the flow processes in pipeline systems and for insight into the interior of process pipes, many flow indicators are used in which the flowing medium sets a rotor turning and thus to a large extent 
...
Read more...
---
Eliminate power outages caused by steam leaks
November 2019, Instrotech , Maintenance, Test & Measurement, Calibration
The current system Inspecta FFT, first released some 20 years ago, is reaching its end-of-life, and Instrotech's design engineers felt the time was right to upgrade to newer technology, by combining their 
...
Read more...
---
Ultrasonic sensor for remote water level measurement
October 2019, Instrotech , Level Measurement & Control
Instrotech has available the Senix ToughSonic CHEM range of ultrasonic sensors, in service around the world in some of the most demanding and corrosive industrial environments. They measure a wide variety 
...
Read more...
---
Accelerometer for vibration monitoring
October 2019, Instrotech , Maintenance, Test & Measurement, Calibration
Monitran has introduced the General Purpose Monitoring Sensor range, for use with PLCs and other industrial controllers, which provide users with a continuous output of vibration, usually as a 4-20 mA 
...
Read more...
---
Compact IR camera with industrial accessories
October 2019, Instrotech , Sensors & Transducers
Optris has announced additions to the Compact Line, the Xi 80 and Xi 400, now with new industrial accessories for use in rough conditions. The system has a modular design and as a result, the water cooled 
...
Read more...
---
Kobold's electromagnetic flowmeter
September 2019, Instrotech , Flow Measurement & Control
Instrotech now offers Kobold's new electromagnetic flowmeter model EPS with a standard accuracy of 0,3% of reading. The newly developed, microprocessor-controlled converter guarantees the high accuracy 
...
Read more...
---
Electronic pressure gauges for Ex areas
September 2019, Instrotech , Pressure Measurement & Control
Instrotech now offers Keller's range of intrinsically safe electronic pressure gauges for use in areas subject to gas explosion risks. The type approvals are compliant with the ATEX Explosion Protection 
...
Read more...
---