printer friendly version
Top data management on the DIN rail
October 2019
Data Acquisition & Telemetry
The data manager family of Endress+Hauser is growing. To meet the strong demand from the market for a smart, compact DIN rail data manager for mounting in the control cabinet, development of the RSG45 DIN was initiated about a year ago. Short time to market, compact design and the expansion of the display options of the integrated web server were the key objectives. Positive feedback from field tests confirmed this and the expectations were fulfilled.
Full compatibility in multi-functional applications
The RSG45 DIN is 100% hardware and software compatible to its counterparts and has the same possibilities as the display devices. The I/O channels can be ordered freely configured with HART or universal inputs. All interfaces and fieldbuses are also available and it offers an attractive entry price for system builders, OEMs and skid builders. When used as a data and application manager, preferably for communication tasks, an on-site display is often not necessary. The installation is integrated in the control cabinet, allows easy wiring and the visualisation and operation is carried out via the web server which has been considerably extended in terms of its functionality.
To that end, an application (e.g. plant visualisation) can be accessed through a web browser window. A connection can also be established with cordless devices such as tablets and access is of course possible via the Internet from anywhere in the world. With the already well-known application packages such as mathematics, energy, waste water, etc., the device is suitable for applications in most industries. Through the connection using the Ethernet-based fieldbus to automation systems, the unit is suited to use as an intelligent remote I/O with data pre-processing, application packages and control functions. This is a key differentiating feature in comparison to conventional remote I/Os.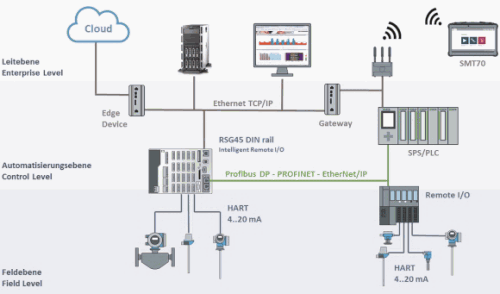 Turn data into information
One of the strengths is the wide range of communication capabilities. With integrated digital communication from the sensor up to higher-level systems (ERP, cloud, etc.), the device offers almost unlimited possibilities for communication. Particularly interesting is the possibility of a second communication channel, which is increasingly required in automation. In addition to the transmission of measured data in real-time via fieldbus to the automation system, Ethernet (TCP/IP, Modbus TCP/IP, OPC, etc.) is available for the transmission of large volumes of data as well as diagnostic and analysis functions in the control level or the cloud databases.
Many sensors, e.g. Endress+Hauser flowmeters not only provide the actual measured value, such as flow rate, but also temperature values, density, condensate, etc. using the HART protocol. Here, the RSG45 DIN is in its element. As an intelligent HART gateway it can pre-process values, perform calculations, and link them together. The measured data or results are then transferred via fieldbus or Ethernet. Device connectivity and the provision for further data processing are the basis for future solutions and cloud-based data management.
iTherm TrustSens calibration monitoring
For the iTherm TM37x TrustSens, the RSG45 offers the new functionality – TrustSens calibration monitoring. In an application with TrustSens temperature sensors connected via HART, the device monitors the sensors for self-calibration. As soon as a TrustSens reports a completed calibration by changing the calibration counter, the RSG45 retrieves all relevant data from the sensor, provides the data with a time stamp and stores it in a database. Directly on the device, via web server or via the FDM software, calibration certificates can be generated from the data records. Deviations from the reference temperature sensor are therefore continuously logged. Customers gain 100% transparency about their processes and reduce the risk of unacceptable deviations in temperature measurement.
Simple ordering process across all device variants
The Memograph M DIN rail is the new basic device in the order structure of the RSG45. The display, with the navigator as well as the stainless steel touch display, is available as an option with an additional charge. Customers who already use the RSG45 with one of the two available displays will not be required to change their order structures. Due to the integration into the existing structure, no adjustments of the validation and approval processes are required.
Credit(s)
Further reading:
Endress+Hauser and partners drive digitalisation towards customer value
April 2021, Endress+Hauser South Africa , News
The Endress+Hauser Open Integration partner programme unites thirteen manufacturers that want to ensure the streamlined interaction of their complementing products.
Read more...
---
Flexibility for disinfection measuring points
April 2021, Endress+Hauser South Africa , Analytical Instrumentation & Environmental Monitoring
Endress+Hauser's new modular Flowfit CYA27 flow assembly enables measurement of up to six parameters in process and drinking water.
Read more...
---
A safe and easy way to check water quality
March 2021, Endress+Hauser South Africa , Analytical Instrumentation & Environmental Monitoring
Ready-to-use water analysis panels from Endress+Hauser ensure water monitoring with minimum effort and maximum reliability.
Read more...
---
Fit for extreme applications
March 2021, Endress+Hauser South Africa , Level Measurement & Control
The first 2-wire loop-powered compact transmitter enters the market.
Read more...
---
Eye-openers for the process industry
January 2021, Endress+Hauser South Africa , News
For a long time, Industry 4.0 was little more than a vision. Now, the benefits of digital services are becoming apparent in real environments.
Read more...
---
Sensor 4.0 – successful digitalisation
March 2021, Endress+Hauser South Africa , Sensors & Transducers
Smart sensors are what provide the foundation of Industry 4.0. In contrast to conventional technology, smart sensors can do more than just reliably monitor and send measurement values.
Read more...
---
Connect your pressure measurement
April 2021, Endress+Hauser South Africa , Pressure Measurement & Control
Improved process safety and productivity with Endress+Hauser's new Cerabar and Deltabar.
Read more...
---
Moisture sensors for all applications
February 2021, Endress+Hauser South Africa , Sensors & Transducers
The IMKO probe portfolio from Endress+Hauser presents a new generation of moisture sensors, suitable for use in a variety of industries.
Read more...
---
Endress+Hauser makes instrument selection easier on endress.com
February 2021, Endress+Hauser South Africa , News
With the introduction of the new FLEX product segmentation structure, integration of the global E-direct portal into the website and further optimisation of the e-commerce area on endress.com, finding and ordering the right products online will be even faster and easier for customers.
Read more...
---
Proline t-mass F/I 300/500 from Endress+Hauser
February 2021, Endress+Hauser South Africa , Flow Measurement & Control
The reliable and versatile all-rounder for pure gases and gas mixtures features alarm functions as well as bidirectional measurement and reverse flow detection.
Read more...
---