printer friendly version
Simple measurement of liquid levels
October 2019
Level Measurement & Control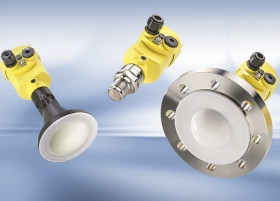 In 2016, VEGA introduced the Vegapuls 64, its first radar level sensor for liquids that measures at a frequency of 80 GHz, which allows considerably better focusing of the radar beam. With Vegapuls 64, measuring is made easier and more reliable, even under difficult conditions such as tanks fitted with heating coils, baffles or agitators.
Until then, a radar sensor with a transmission frequency of 26 GHz and an 80 mm diameter antenna had a beam angle of approximately 10°. With the same size of antenna, the 80 GHz device has a beam angle of only 3°. This allows the sensor to be used in vessels with internal installations or heavy build up on the walls, because the focused microwave beam simply avoids these obstacles.
Radar sensors with a larger dynamic range have a higher measurement certainty, and these sensors can be used for a wider range of applications. With Vegapuls 64, media with poor reflective properties – a low dielectric constant – can be measured with more certainty than with previous radar sensors. Foam, turbulent product surfaces, condensation, or build up on the antenna are no problem. The sensor measures more reliably due to its greater measurement certainty. It has an accuracy of 2 mm and a measuring range of up to 30 m.
The device is ideal for wide use across industries ranging from demanding applications in the chemical industry to hygienic applications in the pharmaceutical and food industries. The relevant approvals for this sector, such as 3A and EHEDG, are available. The 80 GHz device can be used universally for the majority of industrial level applications. Since the sensor can be equipped with a small antenna, there is hardly a mounting location where it will not fit. Other benefits include:
• Ideal for use in vessels with small process connections, such as those used in the pharmaceutical, biotech and food industries.
• Media can be measured with much higher accuracy than before – right up to the process fitting and down to the very bottom of the container.
• The new sensor can easily be installed using existing process connections, eliminating the need for costly equipment modification.
• Since radar signals pass through viewing windows and glass, the sensor can also be mounted outside such containers.
• The larger dynamic range provides a higher measurement certainty, especially when there is build-up, condensate, foam, or a turbulent liquid surface in the vessel.
• Radar technology is immune to process conditions like changing temperature, pressure and density. With Vegapuls 64, levels can be measured in applications where the process or structural conditions were previously not suitable for radar.
Credit(s)
Further reading:
Radar instruments in mining
VEGA Controls SA Level Measurement & Control
VEGA radar measuring instruments hold their own in the difficult environments of gold and platinum mining.
Read more...
---
Level switch for storage bins
GHM Messtechnik SA Level Measurement & Control
Val.Co has introduced a new LPM level switch specifically designed to control the storage of dusts, granules and solid products.
Read more...
---
Specialist instrumentation for specialised applications
GHM Messtechnik SA Level Measurement & Control
Over 30 years of experience puts Val.co at the forefront to supply specialist liquid level, flow, pressure and temperature instrumentation.
Read more...
---
Radar transmitter ensures efficiency at Australian mine
VEGA Controls SA Level Measurement & Control
To eliminate supply bottlenecks at an Australian iron ore mine, the processes were better coordinated with VEGAPULS 69 playing an important role.
Read more...
---
High-reliability float switch
ASSTech Process Electronics + Instrumentation Level Measurement & Control
ASSTech has added a new simple-to-mount horizontal design of float switch to its Jumo range.
Read more...
---
Multi-application radar level transmitters
Instrotech Level Measurement & Control
Instrotech now offers Kobold's NGR, a robust, maintenance-free level sensor that uses TDR (time domain reflectometry) technology.
Read more...
---
Level transmitter for hygienic applications
Emerson Automation Solutions Level Measurement & Control
The Rosemount 1408H Level Transmitter with IO-Link provides accurate, non-contacting measurement to help optimise operations and ensure food safety.
Read more...
---
Ready for use anywhere
Endress+Hauser South Africa Level Measurement & Control
The first 2-wire loop-powered compact transmitter enters the market.
Read more...
---
Make level sensor checks redundant
DRH Components Level Measurement & Control
The Roto-Bin-Dicator PRO is a simple paddlewheel device that monitors the level of dry bulk material.
Read more...
---
Clean and colourful
VEGA Controls SA Pressure Measurement & Control
VEGA has completed its measurement technology portfolio for hygiene-sensitive processes with two new compact instrument series comprising pressure sensors and level switches.
Read more...
---