printer friendly version
Simple measurement of liquid levels
October 2019
Level Measurement & Control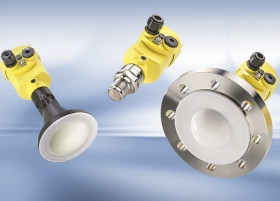 In 2016, VEGA introduced the Vegapuls 64, its first radar level sensor for liquids that measures at a frequency of 80 GHz, which allows considerably better focusing of the radar beam. With Vegapuls 64, measuring is made easier and more reliable, even under difficult conditions such as tanks fitted with heating coils, baffles or agitators.
Until then, a radar sensor with a transmission frequency of 26 GHz and an 80 mm diameter antenna had a beam angle of approximately 10°. With the same size of antenna, the 80 GHz device has a beam angle of only 3°. This allows the sensor to be used in vessels with internal installations or heavy build up on the walls, because the focused microwave beam simply avoids these obstacles.
Radar sensors with a larger dynamic range have a higher measurement certainty, and these sensors can be used for a wider range of applications. With Vegapuls 64, media with poor reflective properties – a low dielectric constant – can be measured with more certainty than with previous radar sensors. Foam, turbulent product surfaces, condensation, or build up on the antenna are no problem. The sensor measures more reliably due to its greater measurement certainty. It has an accuracy of 2 mm and a measuring range of up to 30 m.
The device is ideal for wide use across industries ranging from demanding applications in the chemical industry to hygienic applications in the pharmaceutical and food industries. The relevant approvals for this sector, such as 3A and EHEDG, are available. The 80 GHz device can be used universally for the majority of industrial level applications. Since the sensor can be equipped with a small antenna, there is hardly a mounting location where it will not fit. Other benefits include:
• Ideal for use in vessels with small process connections, such as those used in the pharmaceutical, biotech and food industries.
• Media can be measured with much higher accuracy than before – right up to the process fitting and down to the very bottom of the container.
• The new sensor can easily be installed using existing process connections, eliminating the need for costly equipment modification.
• Since radar signals pass through viewing windows and glass, the sensor can also be mounted outside such containers.
• The larger dynamic range provides a higher measurement certainty, especially when there is build-up, condensate, foam, or a turbulent liquid surface in the vessel.
• Radar technology is immune to process conditions like changing temperature, pressure and density. With Vegapuls 64, levels can be measured in applications where the process or structural conditions were previously not suitable for radar.
For more information contact Leandi Hendrikse, VEGA Controls SA, +27 11 795 3249, leandi.hendrikse@vega.com, www.vega.com
Credit(s)
Further reading:
Hygienic food production
June 2020, VEGA Controls SA , Pressure Measurement & Control
Food production is a matter of trust, and hygiene is the number one priority in the manufacturing process. Success is determined by both the reliability and the efficiency that make flawless production 
...
Read more...
---
New additions to Optiflex level transmitter series
May 2020 , Level Measurement & Control
Krohne has introduced four new additions to the Optiflex series of guided radar (TDR) level transmitters. Each device is designed for specific areas of application in the chemical, oil and gas, power, 
...
Read more...
---
Capacitive level switch for fluid, pasty and powdery media
May 2020, GHM Messtechnik SA , Level Measurement & Control
Martens, part of the GHM group of companies, has introduced its MLC 437 capacitive level switches for use principally for the registration of limit levels, full/empty signals in pipes and tanks in fluid, 
...
Read more...
---
Top-mounted level indicator
May 2020, WIKA Instruments , Level Measurement & Control
WIKA's model UTN top-mounted level indicator consists of a measuring chamber, a float with guide rod and a magnetic system. Mounting onto the vessel is made via appropriate process connections (flanged 
...
Read more...
---
New 80 GHz compact radar transmitters
May 2020, Siemens Digital Industries , Level Measurement & Control
Siemens has introduced the Sitrans LR100 series 8 GHz radar level transmitters, a compact instrument with a narrow beam for flexible installations in existing vessel openings or even non-intrusively through 
...
Read more...
---
Vega's solutions for pharmaceutical applications
May 2020, VEGA Controls SA , Pressure Measurement & Control
The special challenges faced by the pharmaceutical industry result from the wide diversity of its processes. Success depends on the consistency and continuity of the production processes, whether it be 
...
Read more...
---
New compact radar sensor
April 2020, VEGA Controls SA , Level Measurement & Control
A new era in radar level measurement began a few years ago when Vegapuls sensors based on 80 GHz technology were introduced. Thanks to the more precise focusing of the radar beam, the sensor virtually 
...
Read more...
---
VEGA extends portfolio for pharmaceuticals production
February 2020, VEGA Controls SA , Pressure Measurement & Control
The reliable and lasting performance of VEGA's proven instrument portfolio has enabled plant operators to monitor and control with great precision chemical, thermal or biological processes, often under high temperatures and pressures.
Read more...
---
Digital innovations using the vibronics measuring principle
February 2020, Endress+Hauser South Africa , Level Measurement & Control
Continuous optimisation and increasingly automated processes are shaping the history of process automation, as well as that of industrialisation.
Read more...
---
High-speed level measurement
February 2020, Morton Controls , Level Measurement & Control
Morton Controls in partnership with Anderson-Negele has introduced the innovative NSL-F level sensor based on a modular device platform. The new platform strategy used with this sensor is based on a building-block 
...
Read more...
---