printer friendly version
Simple measurement of liquid levels
October 2019
Level Measurement & Control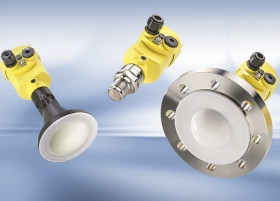 In 2016, VEGA introduced the Vegapuls 64, its first radar level sensor for liquids that measures at a frequency of 80 GHz, which allows considerably better focusing of the radar beam. With Vegapuls 64, measuring is made easier and more reliable, even under difficult conditions such as tanks fitted with heating coils, baffles or agitators.
Until then, a radar sensor with a transmission frequency of 26 GHz and an 80 mm diameter antenna had a beam angle of approximately 10°. With the same size of antenna, the 80 GHz device has a beam angle of only 3°. This allows the sensor to be used in vessels with internal installations or heavy build up on the walls, because the focused microwave beam simply avoids these obstacles.
Radar sensors with a larger dynamic range have a higher measurement certainty, and these sensors can be used for a wider range of applications. With Vegapuls 64, media with poor reflective properties – a low dielectric constant – can be measured with more certainty than with previous radar sensors. Foam, turbulent product surfaces, condensation, or build up on the antenna are no problem. The sensor measures more reliably due to its greater measurement certainty. It has an accuracy of 2 mm and a measuring range of up to 30 m.
The device is ideal for wide use across industries ranging from demanding applications in the chemical industry to hygienic applications in the pharmaceutical and food industries. The relevant approvals for this sector, such as 3A and EHEDG, are available. The 80 GHz device can be used universally for the majority of industrial level applications. Since the sensor can be equipped with a small antenna, there is hardly a mounting location where it will not fit. Other benefits include:
• Ideal for use in vessels with small process connections, such as those used in the pharmaceutical, biotech and food industries.
• Media can be measured with much higher accuracy than before – right up to the process fitting and down to the very bottom of the container.
• The new sensor can easily be installed using existing process connections, eliminating the need for costly equipment modification.
• Since radar signals pass through viewing windows and glass, the sensor can also be mounted outside such containers.
• The larger dynamic range provides a higher measurement certainty, especially when there is build-up, condensate, foam, or a turbulent liquid surface in the vessel.
• Radar technology is immune to process conditions like changing temperature, pressure and density. With Vegapuls 64, levels can be measured in applications where the process or structural conditions were previously not suitable for radar.
For more information contact Leandi Hendrikse, VEGA Controls SA, +27 11 795 3249, leandi.hendrikse@vega.com, www.vega.com
Credit(s)
Further reading:
Process 4.0 breakfast seminar series
November 2019, Beckhoff Automation, VEGA Controls SA , News
Beckhoff Automation recently partnered with VEGA to present another highly successful series of breakfast seminars at venues across the country, with the theme Process 4.0. Beckhoff managing director, 
...
Read more...
---
Radiometric solutions in refineries
November 2019, Mecosa , Level Measurement & Control
Berthold Technologies' radiometric instruments for non-contacting level and density measurement are widely used in the oil refining industry, where customers include Exxon Mobil, Sinopec, Shell, BP, Conoco 
...
Read more...
---
Interface measurement in desalters
November 2019, Mecosa , Level Measurement & Control
Interface measurements in desalters are often regarded as non-critical, even though every drop of oil to be refined passes through the desalter. As refineries try to maximise their margins, so-called 
...
Read more...
---
Level monitoring of groundwater
October 2019, WIKA Instruments , Level Measurement & Control
Much of our drinking water is extracted from subterranean resources. Water that falls to the surface of the Earth drains not only into rivers and lakes, much of it will permeate into subterranean reservoirs. 
...
Read more...
---
Ultrasonic sensor for remote water level measurement
October 2019, Instrotech , Level Measurement & Control
Instrotech has available the Senix ToughSonic CHEM range of ultrasonic sensors, in service around the world in some of the most demanding and corrosive industrial environments. They measure a wide variety 
...
Read more...
---
Density compensated pressurised vessel level measurement
October 2019 , Level Measurement & Control
The traditional approach to level measurement in closed vessels such as boilers, evaporators, crystallisers or distillation columns, has been to use a conventional differential pressure (DP) transmitter 
...
Read more...
---
Process 4.0 Breakfast Seminar Series 2019
September 2019, Beckhoff Automation, VEGA Controls SA , News
Beckhoff Automation, in partnership with VEGA, are proud to present the second South African Process 4.0 Seminar for industry. The 2019 seminars are aimed at industry segments such as oil and gas production, 
...
Read more...
---
Kobold's new float level switches
August 2019, Instrotech , Level Measurement & Control
Kobold's M-series level switch comprises a float that slides up and down with the liquid along a guide tube. Thus, up to 4 reed contacts moulded in the guide tube are switched in a non-contacting fashion 
...
Read more...
---
Foxboro buoyancy level transmitter
August 2019, I-PAS (Industrial Process Automation Solutions) , Level Measurement & Control
Principle of operation
When an element a (displacer rod) is immersed into a liquid, according to Archimedes' Principle, the displacer will 'lose' some of its weight proportional to the level of the liquid 
...
Read more...
---
The dream team for heat and condensate
August 2019, VEGA Controls SA , Pressure Measurement & Control
An innovative duo of ceramic and metallic measuring cells from VEGA optimises pressure measurement in a distillation process at BASF.
Read more...
---