printer friendly version
Ultrasonic sensor for remote water level measurement
October 2019
Level Measurement & Control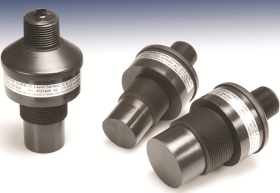 Instrotech has available the Senix ToughSonic CHEM range of ultrasonic sensors, in service around the world in some of the most demanding and corrosive industrial environments. They measure a wide variety of materials including diesel fuel levels in rail locomotives and levels of liquid chemicals in the paper and food processing industries. ToughSonic CHEM sensors are also used in object detection and other non-liquid level applications where corrosive gases are present.
The sensors are sealed in Kynar PVDF housings for protection against solvents and can withstand total immersion in harsh chemicals, both acids and bases, without damage. They include the same full-epoxy potting, heavy-duty electronics, ruggedised-piezoelectric transducers and UV-resistant cables that make these sensors robust and durable.
Several fully configurable and simultaneous outputs are provided, including serial data (RS-232 or RS-485), analog (0-10 VDC and 4-20 mA) and switches (configurable as sinking or sourcing). Up to 32 RS-485 models can be used in a multi-drop addressable network using the Modbus protocol – a standard feature. ToughSonic Chem sensors offer the configuration and operational flexibility that all Senix sensors provide. Powerful extended features can be configured using SenixView software. ToughSonic general -purpose sensors can also be used in liquid level applications where chemical resistance is not required.
Credit(s)
Further reading:
Robust oxygen analyser for challenging conditions
June 2020, Instrotech , Analytical Instrumentation & Environmental Monitoring
A major supplier of nitrogen generators has selected Michell's XTP601 oxygen analyser to ensure N2 quality as part of its engineered systems for the oil and gas industry in the Middle East. The containerised 
...
Read more...
---
Process moisture analyser
June 2020, Instrotech , Analytical Instrumentation & Environmental Monitoring
Michell Instruments has announced that an independent report confirms excellent measurement performance of its OptiPeak TDL600 process moisture analyser. A new report undertaken by DBI Gas und Umwelttechnik 
...
Read more...
---
Advanced pump control
June 2020, Instrotech , Valves, Actuators & Pump Control
Factory automation continues to develop year on year and pumps are increasingly required to supply real-time operating data to control networks so that their performance can be monitored and adjusted 
...
Read more...
---
New additions to Optiflex level transmitter series
May 2020 , Level Measurement & Control
Krohne has introduced four new additions to the Optiflex series of guided radar (TDR) level transmitters. Each device is designed for specific areas of application in the chemical, oil and gas, power, 
...
Read more...
---
Capacitive level switch for fluid, pasty and powdery media
May 2020, GHM Messtechnik SA , Level Measurement & Control
Martens, part of the GHM group of companies, has introduced its MLC 437 capacitive level switches for use principally for the registration of limit levels, full/empty signals in pipes and tanks in fluid, 
...
Read more...
---
Top-mounted level indicator
May 2020, WIKA Instruments , Level Measurement & Control
WIKA's model UTN top-mounted level indicator consists of a measuring chamber, a float with guide rod and a magnetic system. Mounting onto the vessel is made via appropriate process connections (flanged 
...
Read more...
---
New 80 GHz compact radar transmitters
May 2020, Siemens Digital Industries , Level Measurement & Control
Siemens has introduced the Sitrans LR100 series 8 GHz radar level transmitters, a compact instrument with a narrow beam for flexible installations in existing vessel openings or even non-intrusively through 
...
Read more...
---
Covid-19 early detection strategy
May 2020, Instrotech , Sensors & Transducers
Instrotech would like to make it known that it has a specialised early detection system on offer, that allows for fast, non-contact screening and identification of school learners, tertiary students and 
...
Read more...
---
Electromagnetic flowmeter upgrade
May 2020, Instrotech , Flow Measurement & Control
Instrotech has announced that the Kobold magnetic inductive flowmeters MIM and MIS have been upgraded and further developed as follows: Kobold MIM, for measuring and monitoring of conductive liquids, 
...
Read more...
---
Oval wheel flowmeters
April 2020, Instrotech , Flow Measurement & Control
Instrotech has on offer three Kobold oval wheel flowmeters that give precise flow measurement for all viscous, non-abrasive clean liquids and can be used in a number of diverse applications, such as measurement 
...
Read more...
---