printer friendly version
Level monitoring of groundwater
October 2019
Level Measurement & Control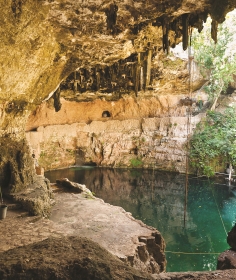 Much of our drinking water is extracted from subterranean resources. Water that falls to the surface of the Earth drains not only into rivers and lakes, much of it will permeate into subterranean reservoirs. These aquifers are natural underground reservoirs that store groundwater.
Level monitoring of groundwater is critical to understand what is happening to the subterranean water and to allow any exploitation of this resource. Therefore, narrow boreholes are sunk into the soil that allows the groundwater level and quality to be monitored.
These wells will usually include a level monitoring system to keep track of how deep wells and water extraction are affecting the overall groundwater level.
If the soil is composed of permeable sand and rock then as the water is extracted from deep bore wells, the overall water level of the area will be drawn down, as the resource water can easily flow from all separated reservoirs into the deep bore well. Also, if water permeates the soil e.g. due to rain, the underground reservoir is quickly restored and the water level increases rapidly, as the water can pass quickly through the permeable soil.
However, if the water is held in a barely permeable e.g. clay-like soil, then the water resource is stored in many small pockets. When water is then extracted from deep bore wells, the level monitoring of groundwater at the well will show a fast drop in water level and it will take a considerably longer time to replenish from the surrounding area. Also the surrounding monitoring well levels will not change as rapidly as the water resource takes more time to pass through to the deep well.
Contamination must be prevented
Monitoring wells are also used for water quality monitoring, to ensure that pollution is not getting into the subterranean water supply. For example, this may be critical around landfill sites where changes in the water level, e.g. due to an overflow, could allow contaminated water to escape into pure groundwater reservoirs. Both the level monitoring of groundwater and the monitoring of the stored contaminated water form a critical balance. Monitoring systems therefore usually combine level and water quality sensors to detect any contamination.
It is estimated that only 3% of the total water resources on Earth are consumable fresh water, of which less than one-third is easily accessible, for the most part stored as groundwater. Therefore, it is essential to use reliable solutions for level monitoring of groundwater, to preserve these reservoirs and to exploit these resources sustainably.
Groundwater level can be measured using submersible pressure transmitters such as the WIKA LF-1, a transmitter with low power signals and increased life service through the fast response times and a low current consumption.
An ideal transmitter must be suitable for long periods of submersion in stagnant and flowing water. Excellent sealing, special cabling, anti-clogging and overvoltage protection during lighning strikes must also be considered to achieve exceptional protection against failure.
Credit(s)
Further reading:
Thermocouples in gasification reactors
November 2019, WIKA Instruments , Temperature Measurement
Gasification reactors, due to their harsh process conditions, place high demands on the instruments used there. Many manufacturers have reacted to this and adapted their products accordingly, but what 
...
Read more...
---
Radiometric solutions in refineries
November 2019, Mecosa , Level Measurement & Control
Berthold Technologies' radiometric instruments for non-contacting level and density measurement are widely used in the oil refining industry, where customers include Exxon Mobil, Sinopec, Shell, BP, Conoco 
...
Read more...
---
Interface measurement in desalters
November 2019, Mecosa , Level Measurement & Control
Interface measurements in desalters are often regarded as non-critical, even though every drop of oil to be refined passes through the desalter. As refineries try to maximise their margins, so-called 
...
Read more...
---
Ultrasonic sensor for remote water level measurement
October 2019, Instrotech , Level Measurement & Control
Instrotech has available the Senix ToughSonic CHEM range of ultrasonic sensors, in service around the world in some of the most demanding and corrosive industrial environments. They measure a wide variety 
...
Read more...
---
Simple measurement of liquid levels
October 2019, VEGA Controls SA , Level Measurement & Control
In 2016, VEGA introduced the Vegapuls 64, its first radar level sensor for liquids that measures at a frequency of 80 GHz, which allows considerably better focusing of the radar beam. With Vegapuls 64, 
...
Read more...
---
Density compensated pressurised vessel level measurement
October 2019 , Level Measurement & Control
The traditional approach to level measurement in closed vessels such as boilers, evaporators, crystallisers or distillation columns, has been to use a conventional differential pressure (DP) transmitter 
...
Read more...
---
Tough OEM pressure switch from WIKA
October 2019, WIKA Instruments , Pressure Measurement & Control
The PSD-4-ECO pressure switch from WIKA is designed for harsh ambient conditions, and is optimised for OEM integration. With a diameter of 29 mm, the model is very slim and through the arrangement of 
...
Read more...
---
Portable calibrator approved for hazardous areas
September 2019, WIKA Instruments , Maintenance, Test & Measurement, Calibration
WIKA's CPH7000 portable process calibrator has received ATEX approval. It is therefore now also suitable for use in hazardous areas. The calibrator provides highly flexible on-site calibration for process 
...
Read more...
---
Kobold's new float level switches
August 2019, Instrotech , Level Measurement & Control
Kobold's M-series level switch comprises a float that slides up and down with the liquid along a guide tube. Thus, up to 4 reed contacts moulded in the guide tube are switched in a non-contacting fashion 
...
Read more...
---
Foxboro buoyancy level transmitter
August 2019, I-PAS (Industrial Process Automation Solutions) , Level Measurement & Control
Principle of operation
When an element a (displacer rod) is immersed into a liquid, according to Archimedes' Principle, the displacer will 'lose' some of its weight proportional to the level of the liquid 
...
Read more...
---