printer friendly version
Compact IR camera with industrial accessories
September 2019
Temperature Measurement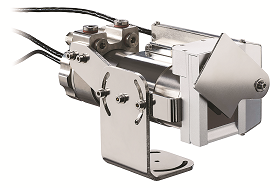 Comtest has announced an addition to the Optris Compact line of IR cameras – Xi 80 and Xi 400 – with new industrial accessories for use in harsh conditions. The range has a modular design and as a result, the water cooled housing, the air purge unit and the shutter can be used both individually and combined.
This stainless-steel shutter is generally used to protect the optics from contamination and foreign objects. This is particularly important when the camera measures upwards with the measurement objects above it, such as in the glass industry. With a response time of just
100 ms, the cameras are optimally protected from falling broken glass. Furthermore, the shutter can be used in intermittent processes, so that the optics are exposed to environmental conditions only during the measurement process.
Temperature measurement in harsh conditions
A stainless steel, water-cooled housing and an air purge collar made of anodised aluminium are available so that the compact infrared camera can be used in rough industrial conditions. Cooling allows for use in hot environments up to 250°C. The air purge unit protects against air particles and prevents condensation on the optics. It can be screwed on in four positions, allowing the air flow to be customised for the application. Integrated into the air purge unit is a silicone window that can be replaced without complex assembly steps if it suffers mechanical damage.
For more information contact Comtest, +27 10 595 1821, sales@comtest.co.za, www.comtest.co.za
Credit(s)
Further reading:
Bimetal thermometer with switch contacts
December 2019, WIKA Instruments , Temperature Measurement
WIKA's model TGS55 is a stainless steel bimetal thermometer which offers high reliability and long service life. Wherever the process temperature has to be indicated on-site and, at the same time, circuits 
...
Read more...
---
Infrared monitoring of kiln shells extends refractory life
December 2019 , Temperature Measurement
Extending the life of a kiln refractory as well as preventing disastrous failures requires a good understanding of the condition of the refractory material.
Read more...
---
Thermocouples in gasification reactors
November 2019, WIKA Instruments , Temperature Measurement
Gasification reactors, due to their harsh process conditions, place high demands on the instruments used there. Many manufacturers have reacted to this and adapted their products accordingly, but what 
...
Read more...
---
Hotspot detection in pressboard manufacturing applications
October 2019, R&C Instrumentation , Temperature Measurement
In the building industry, there is a product used that is commonly referred to as pressboard, also known as chipboard. Sheets of pressboard are typically 1,2 m x 2,4 m in size and are used in the construction 
...
Read more...
---
Pair temperature probes with different cable lengths
October 2019, ASSTech Process Electronics + Instrumentation , Temperature Measurement
In heat meters for heating systems, two paired temperature probes are usually used for symmetrical installation. These must have identical cable lengths to comply with the legal regulations. Now, Jumo 
...
Read more...
---
Vibration tester diagnoses machine problems
October 2019, Comtest , Maintenance, Test & Measurement, Calibration
Comtest now offers the Fluke 810 vibration tester, an advanced troubleshooting instrument that enables maintenance teams to collect data, diagnose and solve mechanical problems. The handheld instrument 
...
Read more...
---
Batteries in motive power applications
October 2019, Comtest , Electrical Power & Protection
When discussing motive power applications, the initial thought is that their batteries must be similar to transportation batteries. After all, this equipment is 'motive' just like a car or truck. However, 
...
Read more...
---
Stakeless ground loop tester
October 2019, Comtest , Electrical Power & Protection
Testing the grounding components of equipment in hard to reach spaces, including areas that are indoors or fully paved and do not permit driving auxiliary test stakes, is always challenging. Comtest is 
...
Read more...
---
Portable thermal camera for industrial inspection
October 2019, Comtest , Maintenance, Test & Measurement, Calibration
Fluke's new PTi 120 pocket thermal imager for easy troubleshooting and industrial inspection offers a first line of defence for easy troubleshooting on the job. It is a camera small enough to carry around 
...
Read more...
---
Tektronix simplifies automotive Ethernet testing with new software
October 2019, Comtest , Fieldbus & Industrial Networking
Tektronix has released two new software packages that greatly simplify Automotive Ethernet testing, debug and protocol decode, for use with its 5 and 6 series mixed-signal oscilloscopes (MSO). Using the 
...
Read more...
---