printer friendly version
All codes at a glance
September 2019
Sensors & Transducers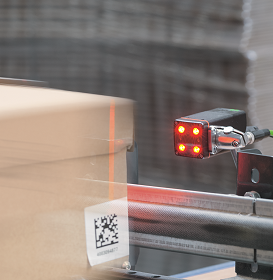 The new O2I multi-code reader from ifm electronic convinces with its high resolution, short evaluation time and quick set-up, all of which fulfil the requirements placed on modern components for high-performing process automation.
Fast, robust and future orientated
The O2I, which made its début at Hannover Messe 2019, is an optimal solution for precise requirements. The technical data includes image resolution four times as high, a 10-times faster code evaluation time and the obligatory real-time Ethernet support. This latest generation of the multi-code reader therefore meets all the requirements for sustainable, instantaneous and reliable product registration, identification and tracking. Thanks to its powder-coated die-cast zinc housing, gorilla glass protecting the lens, and M12 Ethernet connectors made of stainless steel, the O2I achieves the protection class IP65 i.e. optimally prepared for use in demanding industrial environments.
Flexible and quick integration into the work environment
It is clear from the beginning that the O2I is designed for maximum efficiency: within just a few seconds it adjusts itself to its work environment. One push on the teach button is enough, and the multicode reader automatically begins with focussing, exposure setting and code type recognition. Optionally equipped with standard, wide angle or telephoto lens, the O2I can read all common 1D and 2D codes within a distance of 35 up to 1000 mm, as well as at an angle of inclination of up to 45 degrees and therefore adapts flexibly to any structural condition.
Easy configuration via app
The basic integration of the device into the work flow and infrastructure is accomplished easily thanks to the matching smartphone app for iOS, Android and Windows. With this, for example, the trigger function of the camera can be set and the intended network parameters defined. As soon as the settings are adjusted to the individual requirements, the app creates a DataMatrix code. When this code is held into the reader's field of view, the configuration is automatically adopted.
Once the instrument is configured with a few steps, it processes codes with a frequency of up to 40 Hz and with a speed of up to 7 m/s.
Whether the information is printed on the surface, engraved by laser or dot-peened into metallic products is unimportant. Thanks to optional integrated red light or infrared illumination and polarisation filter, the O2I can easily deal with reflecting surfaces, varying colours and changing ambient light.
The same goes for the omnidirectional recognition of several different codes per image, due to the auto-find code function. Together with the award-winning Vision Assistant software, the O2I shows off its strengths. In the software, the user can easily classify identified codes and assign them to a defined automatic process via various logic functions. The live image and extensive visualisation of all settings provide an optimum overview for the user.
Memory stick saves costs and makes reproduction easier
Once the user has created a process, it will be saved on an exchangeable USB memory stick which is built into the multicode reader. A solution that has several advantages: firstly, the configuration can be passed on in case of a device exchange; secondly, using the same method, identical process controls can be transferred to several devices. At the same time the use of the device also reduces costs for further components, as the procurement of an expensive external evaluation unit is no longer necessary.
With the O2I, ifm meets all the requirements for a sustainable multi-code reader. Easy to integrate into the existing network and plant infrastructure, powerful in code reading and equipped with a large range of functions, the instrument takes product tracking to a new level.
Credit(s)
Further reading:
Prevent backward driving accidents
September 2020, SICK Automation Southern Africa , Sensors & Transducers
To prevent collisions and improve worker safety, Cologne-based sugar producer Pfeifer & Langen selected SICK Automation's Visionary-B CV 3D driver assistance system for use at its reloading point.
Read more...
---
Conductivity sensor for CIP monitoring
September 2020, ifm - South Africa , Sensors & Transducers
The LDL200 from ifm electronic is designed to be used in cleaning processes (CIP) in the food industry.
Read more...
---
Conductivity sensor for interface detection
September 2020, ifm - South Africa , Sensors & Transducers
The conductivity sensor LDL100 for interface detection from ifm electronic ensures that product validation is possible at all times.
Read more...
---
Image processing software with Profinet interface
August 2020, ASSTech Process Electronics + Instrumentation , Sensors & Transducers
ASSTech now offers Wenglor's image processing software – uniVision – with new features. The latest release, Version 2.2, enables smart cameras and control units to be integrated into controls quickly 
...
Read more...
---
Flexible sensors for individual beer
August 2020, ifm - South Africa , Sensors & Transducers
A variety of individual beers characterise the regional brewery Skanderborg Bryghus in the Danish town of Skanderborg. Unlike large commercial breweries, this brewery is largely promoted and operated 
...
Read more...
---
Monitoring of chemical distribution
August 2020, Instrotech , Sensors & Transducers
The IoT offers smart solutions that help make life easier and more convenient, improve and streamline processes, and receive information in good time that were previously unavailable or difficult to acquire. 
...
Read more...
---
Programmable LED strip with19 colours
August 2020, Turck Banner , Sensors & Transducers
his work light can be programmed to provide bright white light for safety or efficiency during normal operation and then change colour to indicate other machine statuses, such as red for a stop condition.
Read more...
---
Sensors support crisp bread production in Sweden
August 2020, ifm - South Africa , Sensors & Transducers
Production is automated according to the latest state-of-the-art technology with sensors from ifm electronic monitoring the processes from the supply of ingredients to the dispatch area.
Read more...
---
Ecolab certified photoelectric sensors
August 2020, Turck Banner , Sensors & Transducers
Banner's new T18-2 photoelectric sensors have an FDA-grade shatterproof plastic housing and are IP69K rated and Ecolab certified to protect against water ingress and chemical washdown. IP69K and epoxy 
...
Read more...
---
Fork sensor in hygienic design
July 2020, ASSTech Process Electronics + Instrumentation , Sensors & Transducers
Production sequences in the pharmaceutical and food industries are subject to extremely demanding hygiene standards. With corrosion-free stainless steel, FDA conformity and Ecolab certification, Wenglor's 
...
Read more...
---