printer friendly version
Adding days of production to manufacturing operations
September 2019
Maintenance, Test & Measurement, Calibration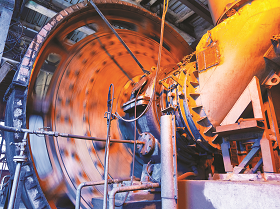 Condition monitoring systems track equipment degradation. Typically, an equipment criticality and reliability assessment is performed to identify common failure modes. With the selected equipment and failure modes in hand, users can identify sensors to monitor specific components of the equipment for degradation and the initiation of identified failure modes.
"Reliability engineers cannot be in two places at once," says Stephen Plumb, sales manager at Test Dynamics. "But this is the request when assets from two different plants are raising concern. Which one is more likely to contribute to an outage? If deciding between two assets is difficult, what about thousands of them? Remote diagnostics help maintenance teams decide where to deploy valuable resources like subject matter experts, troubleshooting equipment and spares."
The National Instruments solution
Fortunately, there are a number of measurement technologies and sensors for condition monitoring applications. National Instruments' InsightCM is condition monitoring software for reliability professionals who want to remotely diagnose equipment before deciding if an in-person trip to the asset is needed. The software, along with NI monitoring devices, can catch pre-failure indicators while helping to reduce, or eliminate, route-based data collection and replace it with more productive use of time in the field.
Plumb says that five salient remote diagnostics features help unlock maintenance team productivity: web client access; waveform data for vibration analysis; the ability to convert raw accelerometer data to a WAV file; multiple measurement technologies; and intelligent alarming.
The core component of InsightCM is the server installed on a standard IT machine on-site or in the cloud. Maintenance engineers log into the server using a web browser to view and analyse data from any of the connected assets. This also means IT groups have fewer software installations to manage because no software is needed on user machines.
InsightCM collects waveform data so analysts can perform more detailed diagnostics without needing to travel to the asset or assume which machine requires the most attention. Some vibration data displays include trend views for standard calculated features as well as viewers for waveform and spectral analysis including orbit, bode, shaft centreline, FFT, order, enveloping, and time synchronous averaging.
The system can convert raw accelerometer data into an audio quality WAV file to help experts recreate the experience of being in the plant, even if they are hours away.
Multiple technologies supported
Analysts use more than vibration to diagnose machine health problems, which is why multiple sensor technologies are supported, allowing experts to monitor various failure modes and crosscheck their diagnosis for greater confidence. Supported measurement technologies beyond standard vibration measurements include:
• Motor current signature analysis (MCSA).
• Thermography.
• Electromagnetic signature analysis (EMSA).
• Other standard sensor inputs.
"Moving from route-based data collection that happens monthly or quarterly to an automated and connected system where data can come in multiple times an hour could overwhelm analysts without a way to intelligently screen data," says Plumb.
InsightCM can help maintenance teams set alarms and data capture conditions for any of the available features. The screening can happen at the server or on intelligent NI monitoring devices already connected to sensors in the plant. The system also has an alarm baselining feature that automatically sets statistics-based alarm points created from previously captured data from 'known to be good' operating states.
"In addition, we also offer RFmx Bluetooth which is application software that provides simple access to advanced optimisation techniques such as multi-measurement parallelism and multi-DUT measurements," concludes Plumb. "The result is fast, high-quality measurements with minimal software development effort. RFmx Bluetooth supports modulation accuracy, transmitted power and adjacent channel power measurements on both low energy and enhanced data rate physical layer signals.
It is completely interoperable with all RFmx APIs. We invite anybody interested in maximising their condition monitoring to contact our team and discuss a productivity-enhancing solution."
For more information contact Stephen Plumb, Test Dynamics, +27 62 217 0063, stephen.plumb@testdynamics.co.za, www.testdynamics.co.za
Credit(s)
Further reading:
The Fluke T6 with FieldSense technology
October 2020, Comtest , Maintenance, Test & Measurement, Calibration
FieldSense technology works by providing a capacitive path from a contact point on the back of the tester and the operator's hand to earth ground.
Read more...
---
Preventive maintenance in pulp and paper mills
October 2020, R&C Instrumentation , Maintenance, Test & Measurement, Calibration
The thinking around machine condition monitoring has changed over the years and it is now stated that vibration is the better measurement over temperature, since it gives earlier warning.
Read more...
---
Leak detection has never been quicker and easier
September 2020, SKF South Africa , Maintenance, Test & Measurement, Calibration
SKF's TKSU 10 ultrasonic leak detector is able to identify leakages in compressed air and vacuum systems, delivering substantial savings for end-users by reducing inspection time and minimising energy costs.
Read more...
---
Best practices in measurement
September 2020, Yokogawa South Africa , Maintenance, Test & Measurement, Calibration
Operating envelopes are changing and the impact of these changes on instrumentation must not be underestimated. Instrumentation with a design rating of a particular capacity is heavily stressed when the load is increased.
Read more...
---
Internal inspection of machinery
September 2020, SKF South Africa , Maintenance, Test & Measurement, Calibration
The TKES 10 Endoscope Series from SKF is designed for fast, easy internal inspection of machinery, delivering significant savings in terms of both time and money to customers and end-users.
Read more...
---
Parker releases new software tool
September 2020, Parker Hannifin - Sales Company South Africa , Maintenance, Test & Measurement, Calibration
IQANgo enables service technicians or machine owners to connect wirelessly to modules in their machines, allowing them to perform a broad range of actions such as system status checks and troubleshooting errors or alarms.
Read more...
---
Condition monitoring solutions from Turck Banner
September 2020, Turck Banner , Maintenance, Test & Measurement, Calibration
Turck Banner's retrofit solution can be used in industrial plants that do not yet fully support Industry 4.0 sensor-based condition monitoring. Machines can easily be monitored by customised systems, with data transmitted via wireless networks if required.
Read more...
---
Detect compressed air, steam, gas and vacuum leaks
September 2020, Comtest , Maintenance, Test & Measurement, Calibration
Comtest has introduced the Fluke ii900, a handheld sonic industrial imager that enables maintenance to quickly locate air, steam, gas and vacuum leaks in compressed air systems. The straightforward, intuitive 
...
Read more...
---
Condition monitoring in the cloud
August 2020, Festo South Africa , Maintenance, Test & Measurement, Calibration
Detecting irregularities at an early stage and initiating the necessary measures before a system failure are now made possible by the dashboards and IoT gateway CPX-IOT from Festo. The turnkey, preconfigured 
...
Read more...
---
The Ratchet P-Clamp reloaded
August 2020 , Maintenance, Test & Measurement, Calibration
When a heavy-duty equipment manufacturer asked HellermannTyton to devise the most effective way to attach and remove cables for additional equipment, nobody imagined that a well-trodden path would lead 
...
Read more...
---