printer friendly version
Adding days of production to manufacturing operations
September 2019
Maintenance, Test & Measurement, Calibration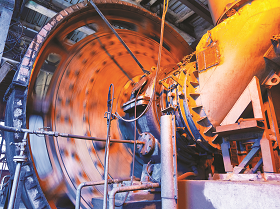 Condition monitoring systems track equipment degradation. Typically, an equipment criticality and reliability assessment is performed to identify common failure modes. With the selected equipment and failure modes in hand, users can identify sensors to monitor specific components of the equipment for degradation and the initiation of identified failure modes.
"Reliability engineers cannot be in two places at once," says Stephen Plumb, sales manager at Test Dynamics. "But this is the request when assets from two different plants are raising concern. Which one is more likely to contribute to an outage? If deciding between two assets is difficult, what about thousands of them? Remote diagnostics help maintenance teams decide where to deploy valuable resources like subject matter experts, troubleshooting equipment and spares."
The National Instruments solution
Fortunately, there are a number of measurement technologies and sensors for condition monitoring applications. National Instruments' InsightCM is condition monitoring software for reliability professionals who want to remotely diagnose equipment before deciding if an in-person trip to the asset is needed. The software, along with NI monitoring devices, can catch pre-failure indicators while helping to reduce, or eliminate, route-based data collection and replace it with more productive use of time in the field.
Plumb says that five salient remote diagnostics features help unlock maintenance team productivity: web client access; waveform data for vibration analysis; the ability to convert raw accelerometer data to a WAV file; multiple measurement technologies; and intelligent alarming.
The core component of InsightCM is the server installed on a standard IT machine on-site or in the cloud. Maintenance engineers log into the server using a web browser to view and analyse data from any of the connected assets. This also means IT groups have fewer software installations to manage because no software is needed on user machines.
InsightCM collects waveform data so analysts can perform more detailed diagnostics without needing to travel to the asset or assume which machine requires the most attention. Some vibration data displays include trend views for standard calculated features as well as viewers for waveform and spectral analysis including orbit, bode, shaft centreline, FFT, order, enveloping, and time synchronous averaging.
The system can convert raw accelerometer data into an audio quality WAV file to help experts recreate the experience of being in the plant, even if they are hours away.
Multiple technologies supported
Analysts use more than vibration to diagnose machine health problems, which is why multiple sensor technologies are supported, allowing experts to monitor various failure modes and crosscheck their diagnosis for greater confidence. Supported measurement technologies beyond standard vibration measurements include:
• Motor current signature analysis (MCSA).
• Thermography.
• Electromagnetic signature analysis (EMSA).
• Other standard sensor inputs.
"Moving from route-based data collection that happens monthly or quarterly to an automated and connected system where data can come in multiple times an hour could overwhelm analysts without a way to intelligently screen data," says Plumb.
InsightCM can help maintenance teams set alarms and data capture conditions for any of the available features. The screening can happen at the server or on intelligent NI monitoring devices already connected to sensors in the plant. The system also has an alarm baselining feature that automatically sets statistics-based alarm points created from previously captured data from 'known to be good' operating states.
"In addition, we also offer RFmx Bluetooth which is application software that provides simple access to advanced optimisation techniques such as multi-measurement parallelism and multi-DUT measurements," concludes Plumb. "The result is fast, high-quality measurements with minimal software development effort. RFmx Bluetooth supports modulation accuracy, transmitted power and adjacent channel power measurements on both low energy and enhanced data rate physical layer signals.
It is completely interoperable with all RFmx APIs. We invite anybody interested in maximising their condition monitoring to contact our team and discuss a productivity-enhancing solution."
For more information contact Stephen Plumb, Test Dynamics, +27 62 217 0063, stephen.plumb@testdynamics.co.za, www.testdynamics.co.za
Credit(s)
Further reading:
Do more with less and generate ROI with an Integrated Calibration Solution
October 2019, QTEK Instrumentation & Calibration Solutions , Maintenance, Test & Measurement, Calibration
Instrument calibration is just one of the many maintenance-related activities in a process plant, but the last thing anyone needs is to have precious resources wasting time performing unnecessary calibrations 
...
Read more...
---
RS adds food grade maintenance line
October 2019, RS Components SA , Maintenance, Test & Measurement, Calibration
RS Components has launched a new range of food grade maintenance products for use in the food processing and catering sector. All RS Pro food grade products are registered with the NSF (National Sanitisation 
...
Read more...
---
Improved design tips balance toward HV motor replacement
October 2019, Zest WEG Group , Maintenance, Test & Measurement, Calibration
The applications knowledge of Zest WEG Group, coupled with the design capability of parent company WEG, now make it easier than ever for old high voltage (HV) motors to be replaced with new improved machines, 
...
Read more...
---
Vibration tester diagnoses machine problems
October 2019, Comtest , Maintenance, Test & Measurement, Calibration
Comtest now offers the Fluke 810 vibration tester, an advanced troubleshooting instrument that enables maintenance teams to collect data, diagnose and solve mechanical problems. The handheld instrument 
...
Read more...
---
SKF solution improves service quality at Barcelona Metro
October 2019, SKF South Africa , Maintenance, Test & Measurement, Calibration
For over a century, the citizens of Barcelona have relied on the metro to travel into and around the city. At peak times, 150 trains shuttle passengers between 158 stations on the eight-line network, 
...
Read more...
---
Vibration measurement in machine maintenance
October 2019, R&C Instrumentation , Maintenance, Test & Measurement, Calibration
Vibration and temperature are the most common parameters measured on process plants for machine maintenance. Temperature measurement has been around for longer, probably because it was available first 
...
Read more...
---
Accelerometer for vibration monitoring
October 2019, Instrotech , Maintenance, Test & Measurement, Calibration
Monitran has introduced the General Purpose Monitoring Sensor range, for use with PLCs and other industrial controllers, which provide users with a continuous output of vibration, usually as a 4-20 mA 
...
Read more...
---
Portable thermal camera for industrial inspection
October 2019, Comtest , Maintenance, Test & Measurement, Calibration
Fluke's new PTi 120 pocket thermal imager for easy troubleshooting and industrial inspection offers a first line of defence for easy troubleshooting on the job. It is a camera small enough to carry around 
...
Read more...
---
See the latest development in LabVIEW 2019 at the Test Dynamics roadshows
September 2019, Test Dynamics , News
Test Dynamics is hosting a series of roadshows during September and October to share the latest developments in LabVIEW 2019. The half-day training/information sessions will discuss the technologies that 
...
Read more...
---
Oil and gas producer reduces downtime by 20%
September 2019, Rockwell Automation , Maintenance, Test & Measurement, Calibration
In India, the swelling middle class has created a growing market demand for petroleum products. An oil and gas producer, one of India's largest petroleum product manufacturers and distributors, with a 
...
Read more...
---