printer friendly version
Cut the complexity of panel design
September 2019
Electrical Power & Protection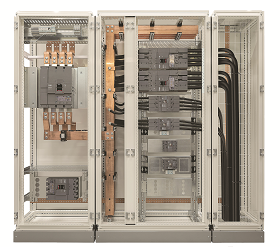 A low-voltage electrical distribution system design to reduce the complexities often associated with panel design is available from leading local supplier ElectroMechanica (EM). Quadro+ from Hager combines modularity with familiar low-voltage (LV) components to simplify the design of a professional distribution solution.
The Quadro+ modules include assemblies, equipment and accessories required to build a complete enclosure, with IP30 or IP55 protection levels up to 4000 A. According to EM product manager, Christo van Rensburg: "This is a tried and tested international solution, the Quadro+ system is designed around a rigid frame that offers adaptability, ease of assembly, and quick build times, along with quality components."
A feature of EM's value offering is that it can provide customers with complete solutions: when a customer partners with EM, it is able to design and build a complete LV electrical distribution system suited to its requirements.
The Quadro+ system offers support of essential third-party products like Socomec change over-switches, Lovato motor control and metering, Delta variable speed drives and automation products, with little or no additional effort. "This significantly simplifies the complexity associated with completing projects on-time, and gives customers a single point of contact for all of their needs," highlights van Rensburg.
EM offers a comprehensive range of enclosures, from a two-way surface enclosure to a 168-way flush or surface distribution boards. IP65-rated enclosures are also available. While this range is suitable for residential and small commercial buildings, the Quadro+ system is tailored specifically for the larger commercial and even industrial markets.
"When you select Quadro+, you opt for a fully-tested LV electrical distribution solution that has continually proven its worth in different industries. It is manufactured in Italy to IEC and EN-62439-1&2 standards. This means it meets the latest international standards of safety, performance and reliability," stresses van Rensburg.
All enclosures are designed with an extremely rigid structure (IK10 and IP55) for extra durability. Cabinets are shipped flat-packed to save on transportation and storage cost. Only eight screws are required to assemble the frame, and all the screws are pre-mounted for quick turnaround time.
"Thanks to the supporting HagerCad software, planning and designing your system is intuitive, simple and fast," concludes van Rensburg. "You'll also benefit from local technical support and expertise. Whether designing, building, or installing a distribution system, the Quadro+ solution impresses with its convenience and overall quality. EM and Hager see this as a further opportunity to build on their reputation of being a trusted, reliable, and on-time partner for more than 30 years."
For more information contact Karen Zotter, ElectroMechanica, +27 11 249 5000, karenz@em.co.za, www.em.co.za
Credit(s)
Further reading:
Power supplies for building automation
June 2020, Phoenix Contact , Electrical Power & Protection
The new Step Power power supplies from Phoenix Contact are specifically tailored to the needs of modern building automation. With their comprehensive approval package, which includes the standard 
...
Read more...
---
Skid-mounted dry-type transformer
June 2020 , Electrical Power & Protection
In a specialised application on a coal mine, Trafo Power Solutions recently supplied a dry-type transformer mounted on a mobile skid. "The harsh environment of a coal mine required us to specially 
...
Read more...
---
Customised transformers for renewables and beyond
June 2020 , Electrical Power & Protection
A focus on application engineering allows Trafo Power Solutions to supply customised dry-type transformers for a range of sectors including renewable energy. "We begin at the proposal stage by engaging 
...
Read more...
---
Complete Hager electrical distribution solutions available from EM
June 2020, ElectroMechanica , News
A complete range of products and systems for electrical distribution in industrial, residential and commercial buildings is available from leading supplier ElectroMechanica (EM). "Customers include professional 
...
Read more...
---
Electrical certificate of compliance (COC) for instrumentation: non-hazardous installations
June 2020, Everest Equipment & Control , Electrical Power & Protection
An instrument and control installation's scope of work often never makes a request for a certificate of compliance: it is assumed to be an electrical function and hence many installations are non-compliant. 
...
Read more...
---
Modular mid-range PLC series
June 2020, ElectroMechanica , PLCs, DCSs & Controllers
The Delta compact modular mid-range AS series PLCs, available locally from ElectroMechanica (EM), is a high-performance, multi-purpose controller designed for all kinds of automated equipment. The series 
...
Read more...
---
Five tips to manage energy use while staying at home
May 2020 , Electrical Power & Protection
Covid-19 continues to impact many aspects of our lives. Many are now required to stay at home in an effort to curb the spread of the pandemic. One of the many implications of staying at home will be the 
...
Read more...
---
EM launches 2020 catalogue with 450 new products
April 2020, ElectroMechanica , News
ElectroMechanica has launched the latest edition of its biannual product catalogue. The catalogue covers a broad range of new developments across each of the various categories. "We place the same emphasis 
...
Read more...
---
Holistic approach to energy security
April 2020 , Electrical Power & Protection
As South Africans settle into the routine and inconvenience of load shedding and planning their activities around shifting electricity supply, it is businesses that are taking the biggest hit through 
...
Read more...
---
Save energy costs with highly-efficient Delta VFDs
April 2020, ElectroMechanica , Electrical Power & Protection
Customers can realise significant savings on their total energy costs by replacing older motor starters with energy-efficient Delta variable frequency drives (VFDs), distributed locally by ElectroMechanica 
...
Read more...
---