printer friendly version
IR thermometers in the steel industry
September 2019
Temperature Measurement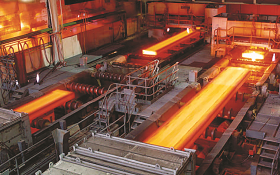 In many foundry applications, temperature readings show whether processes are operating within their proper ranges, whether a reheater is too cold or too hot, whether a stand needs adjusting, or how much cooling should be applied.
By utilising non-contact infrared thermometers, each stage can be accurately monitored so the steel retains the correct metallurgical properties as it travels through the process.
Every section of the steel manufacturing process can benefit from the use of infrared thermometers. These benefits include higher quality products, increased productivity, reduced energy costs, enhanced worker safety, reduced downtime and easy data recording.
Infrared sensors take temperature measurement one step further. Fast and accurate analog and digital outputs allow temperature data to be integrated into a control system and simultaneously output for remote temperature monitoring and analysis. Smart sensors, with digital electronics and 2-way communications, can be configured remotely from the safety of the control room – especially important for metals with changing emissivity.
A wide range of optics covers a variety of applications. This is supported by integrated through-the-lens sighting, plus either laser or video sighting for correct target location. Infrared thermometers are used world-wide and in South Africa in many iron and steel applications. These applications include:
Continuous casting
Accurate real-time temperature monitoring coupled with the ability to adjust water nozzles and water flow rates allow for proper cooling, which helps maintain metallurgical properties. Fixed sensors, fibre Optic devices and line scanners are standard in this application.
Reheating
Reheating steel to a uniform temperature is critical so that deformation does not occur.
Measuring inside a reheater with a series of temperature measurement devices gives an operator the ability to check the reheater's overall temperature and burner efficiency. Once the slab or billet exits the reheat furnace, ratio thermometers or line scanners (for wide slabs) transmit temperature data immediately to an operator or controller, allowing mill operations to be adjusted correctly.
Rolling mills
The diversity in the types of hot rolling mills and the number of types of stands in a process vary according to the type of product being manufactured. Scale breaker, rolling stands, down coilers and coil boxes are just a few areas for the utilisation of infrared temperature measurement and scanning.
Cold mills
Coiling is also often done at the end of the finishing stands after cooling, and the coiled steel is transported to cold mills in another area in the plant or shipped to other facilities.
Cold rolling makes a product thinner and smoother and is done while the steel is around 100°C, or even at room temperature. Sensors mounted between each finishing stand allow the operator to detect temperature changes that require any adjustments.
Rod/wire mills
In a typical rod or wire mill, billets are reheated and sent to a rolling mill to be reshaped as rods. From here the rods go through a series of intermediate stands that reduce them to different sizes. Finishing stands reduce and smooth the rods into a product that can be further processed into hundreds of different products. Reheating a billet to a uniform temperature is critical to the entire process. Knowing the temperature of the product at each stand allows the operator to adjust the rollers accordingly. When the product heads for the cooling area, cooling is rapid but carefully monitored to make sure the metallurgical properties are correct. If cooling is improperly controlled, the product will not meet specifications and could be downgraded or scrapped.
In some processes, the high speeds and vibrations of narrow rod or wire products make temperature measurement difficult. High-performance infrared ratio thermometers solve this problem. Even when the target drifts in and out of the field of view or is partially obscured (dust, steam, obstacles), a ratio thermometer will still take accurate temperature measurements.
Other processes
Infrared provides temperature measurement solutions for every step in the steel treatment and manufacturing process, from coke ovens and blast furnaces to annealing and coating mills. Raytek and Ircon also have temperature measurement solutions for forging mills and heat treating facilities. Wherever temperature is a factor in production, from the raw material to the finished goods, Raytek and Ircon are there to help.
For more information contact R&C Instrumentation, +27 11 608 1551, info@randci.co.za, www.randci.co.za
Credit(s)
Further reading:
Profiling in paint cure ovens
April 2020, R&C Instrumentation , Temperature Measurement
Datapaq's solution for monitoring temperatures in furnaces, ovens and dryers.
Read more...
---
New fibre-optic pyrometer
April 2020, R&C Instrumentation , Temperature Measurement
As part of their Endurance range, Raytek and Ircon combined, have introduced the Endurance fibre-optic infrared thermometer. These pyrometers have an external sensor head attached via a fibre-optic 
...
Read more...
---
New temperature transmitters with Bluetooth
April 2020, Endress+Hauser , Temperature Measurement
High measuring performance and ease of use for all industries.
Read more...
---
Inspection system for coronavirus detection
April 2020, Instrotech , Temperature Measurement
The coronavirus and other diseases are highly infectious and transferred by sick people or contaminated objects. Globally, aircraft are one way that this virus is quickly exported worldwide. China, the 
...
Read more...
---
Temperature measurement on ultra-thin glass
March 2020, Instrotech , Temperature Measurement
Touch displays, such as for smartphones and tablets, use ultra-thin glass that brings special challenges for temperature measurement technology during their manufacturing. For this application, Optris 
...
Read more...
---
Using infrared to detect the invisible
March 2020, R&C Instrumentation , Sensors & Transducers
Both preventive and predictive maintenance programmes rely on regular inspections of the critical assets that comprise a plant or facility. These inspections range from visual inspections to non-destructive 
...
Read more...
---
Bimetal thermometer with switch contacts
December 2019, WIKA Instruments , Temperature Measurement
WIKA's model TGS55 is a stainless steel bimetal thermometer which offers high reliability and long service life. Wherever the process temperature has to be indicated on-site and, at the same time, circuits 
...
Read more...
---
Infrared monitoring of kiln shells extends refractory life
December 2019 , Temperature Measurement
Extending the life of a kiln refractory as well as preventing disastrous failures requires a good understanding of the condition of the refractory material.
Read more...
---
Thermocouples in gasification reactors
November 2019, WIKA Instruments , Temperature Measurement
Gasification reactors, due to their harsh process conditions, place high demands on the instruments used there. Many manufacturers have reacted to this and adapted their products accordingly, but what 
...
Read more...
---
Thermal profiling can prevent business disasters
November 2019, R&C Instrumentation , Temperature Measurement
Thermal profiling is the term used to describe the process of recording and interpreting the temperatures of products and air as they move through a heat treatment process. In the food, beverage 
...
Read more...
---