printer friendly version
Valve technology for tyre presses
September 2019
Valves, Actuators & Pump Control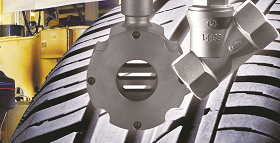 Production plants for tyres place extremely high demands on valves. Tyre curing presses work at high pressures of steam, water, and nitrogen, as well as at high temperatures. In addition, the very short processing cycles require extremely robust valves for very high cycles, so that good operating efficiency is achieved with the service life being as long as possible. In the Continental plant in Púchov, Slovakia, angle seat valves and sliding gate valves from Schubert & Salzer Control Systems have proven particularly suitable for these operating conditions.
Continental, a leading tyre manufacturer with global production facilities, has used Schubert & Salzer valves for years at its plant in Púchov. Previously, a large number of different valves from various manufacturers had been used in the curing installations at this site. This led to increasingly bigger problems in terms of maintenance and spare parts procurement. Some years ago these systems began to be retrofitted uniformly to Schubert & Salzer technology, in order to, above all to optimise the control accuracy, extend the service life under the harsh operating conditions, simplify the maintenance, reduce the range of models, and reduce the processing heat waste.
Space-saving valve construction
Initially, angle seat valves of Type 7010 were used in a special high-temperature design with threaded connections. The special advantage of 7010 angle seat valves is the high wear resistance. Due to the rapid wear of the seating seal, the ball valves, previously used for this purpose, regularly led to leakage and required maintenance after one to two months. The construction of the 7010 angle seat valves allows self-cleaning of the valve seat. This is very important under the critical conditions of vulcanisation with deposits and corrosion in the pipeline. The 7010 valves from Schubert & Salzer have operated at the same place without problems for years.
Relative to other seat valves, angle seat valves save space due to their angled design to the pipeline and the very compact actuators. Compared with traditional globe valves, angle seat valves have high Kvs values with relatively small dimensions. These dimensions make handling of the valve easier and result in a reduced weight for the entire valve.
This construction can be easily insulated, which significantly reduces the heat losses at the valve. With the single acting actuators used here, the number of control air supply lines is also reduced, and the safety of the press systems is increased in the event of the loss of control or power.
After the good experiences with the angle seat valves, Continental also decided to convert the curing installations from hot water to steam based on Schubert & Salzer technology. Instead of an inlet pressure of 3 bar, the valves must now also be able to handle 17 bar. Sliding gate valves are best suited for this purpose, because they can be used simultaneously in both areas of application.
Less wear in all operating situations
The heart of the sliding gate valve is composed of two slotted discs that slide one on top of the other and are sealed relative to each other. A sealing plate fixed in the housing perpendicular to the direction of flow has a defined number of transverse slots of the same size. A rotationally fixed disc with the same arrangement of slots is moved vertically and thus changes the flow cross-section. The subsequent pressure difference presses the moving disc onto the fixed disc. The sliding gate valve thus forms a seal without any metallic seat. This functional principle also causes a self-lapping action of the moving sealing disc. This area seal is thus considerably less susceptible to faults than a ring seal typically used in globe valves. This design achieves leakage rates of less than 0,0001% of the Kvs value.
For a good long-term sealing, there is another system-dependent advantage of sliding gate valves that has an effect on an economical service life. The maximum control stroke of the sliding gate valve is only 9 mm. This short stroke length provides not only short actuation paths and switching times, but the packing and actuators are also operated very gently due to the short stroke length. In the case of sliding gate valves, both are subject to significantly less stress, so that these also have considerably longer service lives.
In the event of maintenance, all common valves require the disassembly of the entire valve housing, in order to reach the seating elements. And this requires, by experience, the help of at least two workers. This is not the case for sliding gate valves. The throttling element can be disassembled and serviced by a single person on site in the plant. After disassembly of the valve, only four cover screws have to be loosened and then the so-called functional unit can be pressed out and replaced.
In curing installations, the following properties of sliding gate control valves have proven extremely advantageous:
• According to operating requirements, the valve can be optimised with a corresponding Kvs value by simple replacement of the fixed disc.
• The high control accuracy of the sliding gate valve allows a shortening of the press cycles resulting in increased productivity.
• Simple and quick maintenance of the valve by replacing the easily accessible disc pair.
For these reasons, all of the valves in this plant have been standardised to Schubert & Salzer. Currently, over 1700 angle seat valves of Type 7010 and approximately 800 control valves of Type 7020 and sliding gate valves of Type 8043 are in use at this plant. Schubert & Salzer valves offer excellent advantages for Continental especially in the areas of cost minimisation for plant management, maintenance, and service.
For more information contact Kamil Maharaj, Macsteel Fluid Control, +27 31 581 7800, kamil.maharaj@macfluid.co.za, www.macsteel.co.za
Credit(s)
Further reading:
Festo online configurator tool simplifies sizing of process valves
April 2020, Festo South Africa , Valves, Actuators & Pump Control
From manually operated to automated process valves, the new configurator tool for process valves from Festo makes selecting the right solution easy and less time-consuming.
Read more...
---
Early detection of faults in BMW's light metal die casting
April 2020, Macsteel Fluid Control , Valves, Actuators & Pump Control
Sliding gate valves from Schubert & Salzer optimise process reliability.
Read more...
---
All around the turbine
April 2020, Valve & Automation , Valves, Actuators & Pump Control
At the heart of a power station are the steam turbines, which serve as generators or mechanical drives for pumps und compressors. For their operation, a network of valves is built around the turbines. 
...
Read more...
---
Monoblock for sampling and injection processes
March 2020, WIKA Instruments , Valves, Actuators & Pump Control
WIKA's new monoblock has been designed to meet the requirements of the process industry. It is especially well suited to applications in natural gas and aggressive media. The compact design integrates 
...
Read more...
---
Digital transformation enables new solutions for valves and pumps
March 2020 , Valves, Actuators & Pump Control
With the emergence of IIoT-enabled remote management solutions, process industry end users can begin to take full advantage of remote monitoring, analysis, and management services provided by valve and pump suppliers or third-party service providers.
Read more...
---
Flow control valves from BMG
February 2020, Bearing Man Group t/a BMG , Valves, Actuators & Pump Control
BMG's Fluid Technology division supplies and supports an extensive range of components for fluid technology systems and general industrial applications. These products include valves, hydraulic hoses 
...
Read more...
---
Large anti-surge control valves from ARCA
February 2020, Valve & Automation , Valves, Actuators & Pump Control
Arca supplies its extensive range of valves to nearly all types of industries, but an important part of the product range are valves for turbines and turbo compressors, especially anti-surge control valves. 
...
Read more...
---
AVK helps water industry meet local content
February 2020 , Valves, Actuators & Pump Control
AVK Valves Southern Africa is helping key players in the water and wastewater treatment sectors comply with the Department of Trade and Industry's requirements for local content. Since 2016, following 
...
Read more...
---
Control valves with positioner suitable for gas and burner installations
January 2020, Macsteel Fluid Control , Valves, Actuators & Pump Control
Sliding gate valves are true all-rounders in the valve technology field and can be used for high-precision control purposes in the fields of natural gas applications, combustion and firing installations, 
...
Read more...
---
ARCA: masters of innovation and variety in control valve solutions
January 2020, Valve & Automation , Valves, Actuators & Pump Control
Dating back to 1918, ARCA Regler has earned global recognition for specialising in control valves, manufactured and marketed around the world primarily for the chemical, food, power, petrochemical, steel, pharmaceutical and oil and natural gas industries.
Read more...
---