printer friendly version
Oil and gas producer reduces downtime by 20%
September 2019
Maintenance, Test & Measurement, Calibration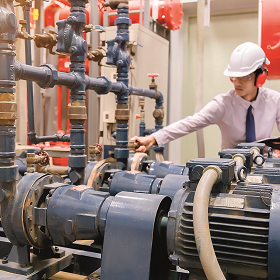 In India, the swelling middle class has created a growing market demand for petroleum products. An oil and gas producer, one of India's largest petroleum product manufacturers and distributors, with a processing capacity of 6,5 million metric tonne per annum, must keep petroleum products pumping through the plant because any unplanned downtime could cause critical product shortages. A key contributor in the quest to reach zero unplanned downtime is healthy equipment – like pumps – achieved through monitoring and maintenance.
The company's pipeline supplies the interior areas of India. Seven pumping stations along that pipeline have already used Rockwell Automation systems for several years, with almost no downtime. The goal was to maintain, and even improve, such performance.
Challenge
The biggest challenge for this customer is timely distribution and accurate pumping of products 24/7. Any disruption could increase refinery inventory and leave retail units without adequate supply.
To maintain continuous flow, each pumping station uses three pumps: two are at work at all times to maintain line pressure across the pipeline to the next terminal. The remaining pump is on standby, in case one of the others fails.
Oil pump operation is precise. Undetected or unreported wear and tear on the pump is not acceptable because even the slightest shift in pump operating parameters can cause damage. An ageing monitoring system, installed years ago, no longer functioned reliably, and there was no ability to communicate with the station PLC to identify and rectify system faults.
Solution
To reduce the number of systems it needed to maintain, the customer preferred a single system (and a single system supplier) for their control system, HMI and the machine monitoring system (MMS).
Since continuous operation is required, this customer could not shut down the system for a switchover. The company requires seamless integration of this system, including the MMS, with existing systems.
Given the scope and complexity of the requirements, the customer wanted a supplier with proven skills, experience and support, and selected Rockwell Automation for its extensive experience in automation and global support. With a local office and authorised distributor just five kilometres from the site, Rockwell Automation had the required expertise to manage the requirements of the project, from initial design through engineering, integration and implementation.
Effective solutions for the terminal included seamless integration on a single EtherNet/IP network with the flexibility to configure parameters using the existing graphic user interface. Separate training was not required to ensure the new systems were easily accepted by the operations team.
Rockwell Automation Global Solutions implemented a vibration monitoring solution that:
• Interfaces with existing systems to monitor vibration data of the pumps and alert operators of any abnormal situations.
• Allows operators/engineers to easily set parameters and provides trending, alarming, and exception handling.
• Works with existing equipment, including probes and sensors, by ensuring compatibility.
• Offers the plant manager complete and accurate information in real-time.
The solution is built on:
• Dynamix 1444 Condition Monitoring System using a common control system, ControlLogix L72, with a common development environment to provide high performance in an easy-to-use environment. The system's tight integration between the programming software, controller, and I/O modules reduced development time and cost at commissioning and during normal operation.
• Logix5000 controllers and Add-on Instructions (AOI) to increase productivity and make troubleshooting easier.
Results
With this solution and the integration of various OEM control systems to enable plant wide visibility and real-time monitoring, Rockwell Automation helped its customer reduce the risk of critical equipment failure.
At the same time, the solution improved the ability of operators to monitor conditions and immediately address concerns before problems turn into downtime. The solution ensures that any abnormalities in the process conditions and deviation from the standard operating parameters are immediately highlighted to avoid problems and improve reliability.
As a result of implementing the Rockwell Automation vibration monitoring system, the customer reduced the risk of downtime by 20%, and also reduced its dependency on multiple vendors. The flexible graphic user interface helped reduce operator training time and expense. The next iteration of the solution could include the ability to create real-time dashboards for production and utility data.
For more information contact Michelle Junius, Rockwell Automation, +27 11 654 9700, mjunius@ra.rockwell.com, www.rockwellautomation.co.za
Credit(s)
Further reading:
Rockwell Automation walks the Connected Enterprise talk
October 2019, Rockwell Automation , System Integration & Control Systems Design
The Connected Enterprise is Rockwell Automation's vision for seamless integration across all divisions of the organisation to enable more efficient decision making through access to the power of information based on real-time data.
Read more...
---
Rockwell Automation announced as Founding Member of ISA Global Cybersecurity Alliance
October 2019, Rockwell Automation , News
Production facilities can contain thousands of technologies from different vendors. Cybersecurity threats only need to exploit one of them to steal trade secrets, stop production or even harm workers. 
...
Read more...
---
Do more with less and generate ROI with an Integrated Calibration Solution
October 2019, QTEK Instrumentation & Calibration Solutions , Maintenance, Test & Measurement, Calibration
Instrument calibration is just one of the many maintenance-related activities in a process plant, but the last thing anyone needs is to have precious resources wasting time performing unnecessary calibrations 
...
Read more...
---
RS adds food grade maintenance line
October 2019, RS Components SA , Maintenance, Test & Measurement, Calibration
RS Components has launched a new range of food grade maintenance products for use in the food processing and catering sector. All RS Pro food grade products are registered with the NSF (National Sanitisation 
...
Read more...
---
Improved design tips balance toward HV motor replacement
October 2019, Zest WEG Group , Maintenance, Test & Measurement, Calibration
The applications knowledge of Zest WEG Group, coupled with the design capability of parent company WEG, now make it easier than ever for old high voltage (HV) motors to be replaced with new improved machines, 
...
Read more...
---
Vibration tester diagnoses machine problems
October 2019, Comtest , Maintenance, Test & Measurement, Calibration
Comtest now offers the Fluke 810 vibration tester, an advanced troubleshooting instrument that enables maintenance teams to collect data, diagnose and solve mechanical problems. The handheld instrument 
...
Read more...
---
SKF solution improves service quality at Barcelona Metro
October 2019, SKF South Africa , Maintenance, Test & Measurement, Calibration
For over a century, the citizens of Barcelona have relied on the metro to travel into and around the city. At peak times, 150 trains shuttle passengers between 158 stations on the eight-line network, 
...
Read more...
---
Vibration measurement in machine maintenance
October 2019, R&C Instrumentation , Maintenance, Test & Measurement, Calibration
Vibration and temperature are the most common parameters measured on process plants for machine maintenance. Temperature measurement has been around for longer, probably because it was available first 
...
Read more...
---
Accelerometer for vibration monitoring
October 2019, Instrotech , Maintenance, Test & Measurement, Calibration
Monitran has introduced the General Purpose Monitoring Sensor range, for use with PLCs and other industrial controllers, which provide users with a continuous output of vibration, usually as a 4-20 mA 
...
Read more...
---
Portable thermal camera for industrial inspection
October 2019, Comtest , Maintenance, Test & Measurement, Calibration
Fluke's new PTi 120 pocket thermal imager for easy troubleshooting and industrial inspection offers a first line of defence for easy troubleshooting on the job. It is a camera small enough to carry around 
...
Read more...
---