printer friendly version
Water level system controls cathodic protection
August 2019
Level Measurement & Control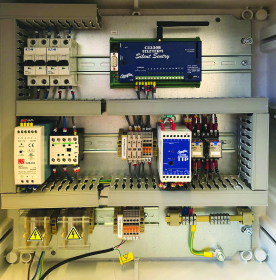 Corrosion Control Services is a leading specialist in the design, installation, commissioning and monitoring of cathodic protection. CCSL carries out works on reinforced concrete structures, historic and steel-framed buildings, ports and harbours, and immersed pipelines. To help overcome a problem experienced on an existing impressed current cathodic protection system, the company approached Omniflex.
CCSL needed a system that would monitor the level of water in the harbour surrounding the structure and switch the existing cathodic protection (CP) system off if the water level rose too high, and on again when it dropped. In addition, CCSL needed to be kept informed of the status of the system.
The solution
The solution uses a level sensor to measure the water level. If the level gets too high, the mains power supply to the CP system is switched off. When the level drops, the mains supply is switched on.
In addition to the mains supply switching, the system uses an Omniflex Silent Sentry to send SMSs to the appropriate personnel, informing them of the status. The system was installed inside a GRP panel and testing was carried out at Omniflex's facility prior to shipping to site.
The water level monitoring system was installed close to the existing CP cabinet and routed to the power supply through the new panel. The system now ensures that high water levels do not cause problems with the existing CP system, which in turn protects the residential building above.
CCSL's Chris Spence, concludes: "Omniflex delivered an excellent product on time and we are extremely satisfied with the solution provided. This was due to the professional approach Omniflex provided from concept through design to installation and commissioning."
For more information contact Ian Loudon, Omniflex Remote Monitoring Specialists, +27 31 207 7466, sales@omniflex.com, www.omniflex.com
Credit(s)
Further reading:
New additions to Optiflex level transmitter series
May 2020 , Level Measurement & Control
Krohne has introduced four new additions to the Optiflex series of guided radar (TDR) level transmitters. Each device is designed for specific areas of application in the chemical, oil and gas, power, 
...
Read more...
---
Remote alarm monitoring made simple
May 2020, Omniflex Remote Monitoring Specialists , IS & Ex
Alarms are normally managed on site by personnel charged with supervising the plant/facility and ensuring the continuity of the operation. Alarms are implemented to help manage operations and mobilise 
...
Read more...
---
Capacitive level switch for fluid, pasty and powdery media
May 2020, GHM Messtechnik SA , Level Measurement & Control
Martens, part of the GHM group of companies, has introduced its MLC 437 capacitive level switches for use principally for the registration of limit levels, full/empty signals in pipes and tanks in fluid, 
...
Read more...
---
Top-mounted level indicator
May 2020, WIKA Instruments , Level Measurement & Control
WIKA's model UTN top-mounted level indicator consists of a measuring chamber, a float with guide rod and a magnetic system. Mounting onto the vessel is made via appropriate process connections (flanged 
...
Read more...
---
New 80 GHz compact radar transmitters
May 2020, Siemens Digital Industries , Level Measurement & Control
Siemens has introduced the Sitrans LR100 series 8 GHz radar level transmitters, a compact instrument with a narrow beam for flexible installations in existing vessel openings or even non-intrusively through 
...
Read more...
---
New compact radar sensor
April 2020, VEGA Controls SA , Level Measurement & Control
A new era in radar level measurement began a few years ago when Vegapuls sensors based on 80 GHz technology were introduced. Thanks to the more precise focusing of the radar beam, the sensor virtually 
...
Read more...
---
Digital innovations using the vibronics measuring principle
February 2020, Endress+Hauser South Africa , Level Measurement & Control
Continuous optimisation and increasingly automated processes are shaping the history of process automation, as well as that of industrialisation.
Read more...
---
High-speed level measurement
February 2020, Morton Controls , Level Measurement & Control
Morton Controls in partnership with Anderson-Negele has introduced the innovative NSL-F level sensor based on a modular device platform. The new platform strategy used with this sensor is based on a building-block 
...
Read more...
---
Capacitive level limit switch
February 2020, Morton Controls , Level Measurement & Control
The Capanivo level limit switch can be used in most solids and liquids as a full or empty detector. The robust, glass reinforced PPS (polyphenylene sulphide) sensor is suitable for food applications while 
...
Read more...
---
Wireless control of pumps
February 2020, Omniflex Remote Monitoring Specialists , Industrial Wireless
The ability to control a pump remotely over distance and without using wires is simple using Omniflex Teleterm Radio RTUs over a licence free band, avoiding administration of radio frequency band use. 
...
Read more...
---