printer friendly version
Water level system controls cathodic protection
August 2019
Level Measurement & Control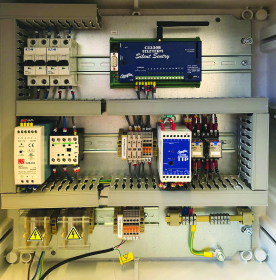 Corrosion Control Services is a leading specialist in the design, installation, commissioning and monitoring of cathodic protection. CCSL carries out works on reinforced concrete structures, historic and steel-framed buildings, ports and harbours, and immersed pipelines. To help overcome a problem experienced on an existing impressed current cathodic protection system, the company approached Omniflex.
CCSL needed a system that would monitor the level of water in the harbour surrounding the structure and switch the existing cathodic protection (CP) system off if the water level rose too high, and on again when it dropped. In addition, CCSL needed to be kept informed of the status of the system.
The solution
The solution uses a level sensor to measure the water level. If the level gets too high, the mains power supply to the CP system is switched off. When the level drops, the mains supply is switched on.
In addition to the mains supply switching, the system uses an Omniflex Silent Sentry to send SMSs to the appropriate personnel, informing them of the status. The system was installed inside a GRP panel and testing was carried out at Omniflex's facility prior to shipping to site.
The water level monitoring system was installed close to the existing CP cabinet and routed to the power supply through the new panel. The system now ensures that high water levels do not cause problems with the existing CP system, which in turn protects the residential building above.
CCSL's Chris Spence, concludes: "Omniflex delivered an excellent product on time and we are extremely satisfied with the solution provided. This was due to the professional approach Omniflex provided from concept through design to installation and commissioning."
For more information contact Ian Loudon, Omniflex Remote Monitoring Specialists, +27 31 207 7466, sales@omniflex.com, www.omniflex.com
Credit(s)
Further reading:
Radiometric solutions in refineries
November 2019, Mecosa , Level Measurement & Control
Berthold Technologies' radiometric instruments for non-contacting level and density measurement are widely used in the oil refining industry, where customers include Exxon Mobil, Sinopec, Shell, BP, Conoco 
...
Read more...
---
Interface measurement in desalters
November 2019, Mecosa , Level Measurement & Control
Interface measurements in desalters are often regarded as non-critical, even though every drop of oil to be refined passes through the desalter. As refineries try to maximise their margins, so-called 
...
Read more...
---
Time synchronise your key remote sites
November 2019, Omniflex Remote Monitoring Specialists , Sensors & Transducers
Managing processes where root cause identification is rapidly identified can generate substantial savings though improved productivity and implementation of planned preventive maintenance schedules. Knowing 
...
Read more...
---
Level monitoring of groundwater
October 2019, WIKA Instruments , Level Measurement & Control
Much of our drinking water is extracted from subterranean resources. Water that falls to the surface of the Earth drains not only into rivers and lakes, much of it will permeate into subterranean reservoirs. 
...
Read more...
---
Omniflex eases mine water compliance
October 2019, Omniflex Remote Monitoring Specialists , System Integration & Control Systems Design
Water licences carry a 'Burdon of Proof' that the licence holder will not harm the environment or the water system through its activities. This covers the use of water from the system and the responsible 
...
Read more...
---
Ultrasonic sensor for remote water level measurement
October 2019, Instrotech , Level Measurement & Control
Instrotech has available the Senix ToughSonic CHEM range of ultrasonic sensors, in service around the world in some of the most demanding and corrosive industrial environments. They measure a wide variety 
...
Read more...
---
Simple measurement of liquid levels
October 2019, VEGA Controls SA , Level Measurement & Control
In 2016, VEGA introduced the Vegapuls 64, its first radar level sensor for liquids that measures at a frequency of 80 GHz, which allows considerably better focusing of the radar beam. With Vegapuls 64, 
...
Read more...
---
Density compensated pressurised vessel level measurement
October 2019 , Level Measurement & Control
The traditional approach to level measurement in closed vessels such as boilers, evaporators, crystallisers or distillation columns, has been to use a conventional differential pressure (DP) transmitter 
...
Read more...
---
Alarm system upgrade from Omniflex
September 2019, Omniflex Remote Monitoring Specialists , IS & Ex
Fiddler's Ferry Power Station was constructed by the CEGB (Central Electricity Generating Board) in the UK and came into full operation in 1973. It has four 500 MW sets, giving a total generating capacity 
...
Read more...
---
Kobold's new float level switches
August 2019, Instrotech , Level Measurement & Control
Kobold's M-series level switch comprises a float that slides up and down with the liquid along a guide tube. Thus, up to 4 reed contacts moulded in the guide tube are switched in a non-contacting fashion 
...
Read more...
---