printer friendly version
Fast payback on steam cogeneration
August 2019
Electrical Power & Protection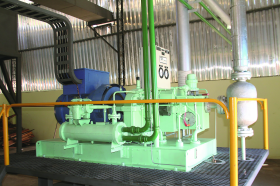 Fast payback on steam turbine cogeneration systems makes this power source an attractive option across numerous industries. This is according to Leandro Magro, manager steam turbines at Zest WEG Group, who explains that any industry with a boiler installed has a potential for cogeneration using a steam turbine. "The electricity cost savings usually pay back the investment in less than three years, but this payback period can be further reduced depending on the applicable electricity price tariff in effect," he adds.
Power plants, sugar mills, pulp and paper mills, steel mills, oil and gas installations, food and beverage manufacturing operations and many other industries, including commercial and institutional facilities use steam turbines for electricity production or to drive mechanical equipment such as compressors, fans, mills and blowers.
When used for the production of electricity, the steam turbine is coupled to a generator set. Magro says that typically, industrial steam turbine models start from a 30 kW capacity and go up to 150 MW. "These turbines can operate at a very low steam pressure (5 bar or less), or at high pressure up to 140 bar, using saturated or superheated steam at temperatures up to 540°C," he says.
"The operational availability of an industrial steam turbine should be about 98%, however a proper maintenance programme is essential not only for prolonging the life of the equipment, but also to ensure the correct operation of the turbine," says Magro.
The best way to achieve this is to enter into a service contract with the OEM who will recommend an appropriate maintenance and service programme. A new steam turbo-generator set could be installed in the plant to operate in parallel with the pressure reducing valve, so when maintenance is required on either, the processes that require steam would not need to be stopped.
"Steam turbine cogeneration is not only suitable for large installations, but can play a vital role in medium and small applications, saving the end-user a significant amount in energy costs over the expected life span of the system which, depending on the design, can vary from 20 to 30 years," Magro concludes.
Credit(s)
Further reading:
Power supplies for building automation
June 2020, Phoenix Contact , Electrical Power & Protection
The new Step Power power supplies from Phoenix Contact are specifically tailored to the needs of modern building automation. With their comprehensive approval package, which includes the standard 
...
Read more...
---
Skid-mounted dry-type transformer
June 2020 , Electrical Power & Protection
In a specialised application on a coal mine, Trafo Power Solutions recently supplied a dry-type transformer mounted on a mobile skid. "The harsh environment of a coal mine required us to specially 
...
Read more...
---
Zest grows Africa base with local partners
June 2020, Zest WEG Group , News
"The key to sustainable growth in Africa is partnering with locally owned companies which have proven track records, are technically sound, have strong market knowledge and a business culture aligned 
...
Read more...
---
Customised transformers for renewables and beyond
June 2020 , Electrical Power & Protection
A focus on application engineering allows Trafo Power Solutions to supply customised dry-type transformers for a range of sectors including renewable energy. "We begin at the proposal stage by engaging 
...
Read more...
---
Electrical certificate of compliance (COC) for instrumentation: non-hazardous installations
June 2020, Everest Equipment & Control , Electrical Power & Protection
An instrument and control installation's scope of work often never makes a request for a certificate of compliance: it is assumed to be an electrical function and hence many installations are non-compliant. 
...
Read more...
---
Zest WEG partners with Panaco Katanga
June 2020, Zest WEG Group , News
As part of strengthening its African footprint, Zest WEG has appointed established local firm Panaco as its value-added reseller (VAR) in the Katanga region of the Democratic Republic of Congo (DRC). 
...
Read more...
---
Zest adds geared motors to product range
May 2020, Zest WEG Group , Motion Control & Drives
A range of WEG geared motors with benefits including efficiency and reliability will soon be available to customers in South Africa and the rest of the continent from Zest WEG. According to national sales 
...
Read more...
---
Five tips to manage energy use while staying at home
May 2020 , Electrical Power & Protection
Covid-19 continues to impact many aspects of our lives. Many are now required to stay at home in an effort to curb the spread of the pandemic. One of the many implications of staying at home will be the 
...
Read more...
---
Holistic approach to energy security
April 2020 , Electrical Power & Protection
As South Africans settle into the routine and inconvenience of load shedding and planning their activities around shifting electricity supply, it is businesses that are taking the biggest hit through 
...
Read more...
---
Save energy costs with highly-efficient Delta VFDs
April 2020, ElectroMechanica , Electrical Power & Protection
Customers can realise significant savings on their total energy costs by replacing older motor starters with energy-efficient Delta variable frequency drives (VFDs), distributed locally by ElectroMechanica 
...
Read more...
---