printer friendly version
Rolling railway maintenance to a digital destination
August 2019
Maintenance, Test & Measurement, Calibration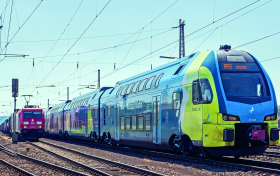 In the rail industry, time is a valuable currency. SKF's latest digital innovation is proven to extend maintenance levels and keep rolling stock rolling as long as possible.
Condition-based maintenance (CBM), which involves measuring and monitoring parameters, such as vibration and temperature to spot anoma-lies at an early stage, has been applied for a long time in many industries. The monitoring aspect is commonly known as conditioning monitoring.
Historically, the rail industry's maintenance regime is to service trains on a time or mileage basis. Though this approach has been used successfully for many years, it does not take account of whether parts actually need replacing. Inspection can only take place when trains are not running, and maintenance actions require rolling stock to be taken out of service, or lines to be closed for extended periods.
As such, maintenance costs remain one of the biggest concerns for the industry, due to aging fleets and the increasing need for train availability.
Adoption of CBM is steadily growing thanks to significant innovations and the availability of technology. Digitalisation is making a difference towards how maintenance is executed and enables operators to extend maintenance intervals. This can have beneficial effects on, for example, train availability. The less time rolling stock spends in maintenance, the more time it can spend carrying passengers or cargo – this is important at a time when the sector is seeing increased pressures on demand. It can also help with reducing lifecycle costs and inventory management of spare parts, due to the early warnings provided by condition monitoring of any risks and possibilities of incidents.
SKF combined CBM with its knowledge in bearings and other components and developed an entirely rail-focused version of its highly successful Multilog IMx platform. This latest innovation combines rolling stock and track condition monitoring in a single, easily customised solution.
The next step in train digitalisation
Multilog IMx-Rail is a multi-channel, online condition monitoring system, based on new rail approved components. It is the next step in train digitalisation, allowing operators to implement condition-based maintenance that can help achieve goals such as TCO reduction, higher availability, the avoidance of unplanned stoppages and longer maintenance intervals.
Available for OEM installation and as a retrofit solution, the Multilog IMx-Rail offers advance warning of rolling stock rotating part issues on wheel bearings, gearboxes and motors, as well as data collection from many other components. The system can also provide a track health map with line faults located, identified and recorded.
The system can also be integrated easily with SKF's Cloud services for data storage, data sharing and for SKF Remote Diagnostic Services. Its versatility, combined with expertise at monitoring rotating components across many industries, enables the quick analysis and prioritisation of any planned rolling stock maintenance.
Proven on the tracks
Multilog IMx-Rail is already demonstrating its capabilities in the field. To provide a sense of how the system typically works, on a standard commercial train, for example, the self-­contained package of sensors and electronics is mounted onto one of the train's bogies, under a carriage. In everyday operation, the unit measures and records acceleration and vibration signals, it then processes this data and transmits all the information wirelessly to a back-office collection point, where reported information can trigger required actions.
Next, a dedicated software system, also provided by SKF, uses smart algorithms to analyse the sensor's data, along with information on the train's location and operating conditions. The software system, called ­­@ptitude Observer, identifies, locates and accurately records rail track abnormalities that might generate wear or damage to the train's wheels, passenger discomfort, or noise on particular parts of the track. Maintenance staff can then use that information to trigger a more detailed inspection of specific areas of the track.
This not only helps operators understand the condition of wheels and track, but the system is also designed to identify vibrations caused by other problems on the train, such as faulty bearings. Operators around the world are already using this approach to avoid breakdowns and optimise their rolling stock maintenance schedules.
As rail traffic increases, the role of digitalisation and condition monitoring solutions, such as the Multilog IMx-Rail, will become increasingly more important in boosting rolling stock efficiency and keeping trains on track.
For more information contact Samantha Joubert, SKF South Africa, +27 11 821 3500, samantha.joubert@skf.com, www.skf.com
Credit(s)
Further reading:
Do more with less and generate ROI with an Integrated Calibration Solution
October 2019, QTEK Instrumentation & Calibration Solutions , Maintenance, Test & Measurement, Calibration
Instrument calibration is just one of the many maintenance-related activities in a process plant, but the last thing anyone needs is to have precious resources wasting time performing unnecessary calibrations 
...
Read more...
---
RS adds food grade maintenance line
October 2019, RS Components SA , Maintenance, Test & Measurement, Calibration
RS Components has launched a new range of food grade maintenance products for use in the food processing and catering sector. All RS Pro food grade products are registered with the NSF (National Sanitisation 
...
Read more...
---
Improved design tips balance toward HV motor replacement
October 2019, Zest WEG Group , Maintenance, Test & Measurement, Calibration
The applications knowledge of Zest WEG Group, coupled with the design capability of parent company WEG, now make it easier than ever for old high voltage (HV) motors to be replaced with new improved machines, 
...
Read more...
---
Vibration tester diagnoses machine problems
October 2019, Comtest , Maintenance, Test & Measurement, Calibration
Comtest now offers the Fluke 810 vibration tester, an advanced troubleshooting instrument that enables maintenance teams to collect data, diagnose and solve mechanical problems. The handheld instrument 
...
Read more...
---
SKF solution improves service quality at Barcelona Metro
October 2019, SKF South Africa , Maintenance, Test & Measurement, Calibration
For over a century, the citizens of Barcelona have relied on the metro to travel into and around the city. At peak times, 150 trains shuttle passengers between 158 stations on the eight-line network, 
...
Read more...
---
Vibration measurement in machine maintenance
October 2019, R&C Instrumentation , Maintenance, Test & Measurement, Calibration
Vibration and temperature are the most common parameters measured on process plants for machine maintenance. Temperature measurement has been around for longer, probably because it was available first 
...
Read more...
---
Accelerometer for vibration monitoring
October 2019, Instrotech , Maintenance, Test & Measurement, Calibration
Monitran has introduced the General Purpose Monitoring Sensor range, for use with PLCs and other industrial controllers, which provide users with a continuous output of vibration, usually as a 4-20 mA 
...
Read more...
---
Portable thermal camera for industrial inspection
October 2019, Comtest , Maintenance, Test & Measurement, Calibration
Fluke's new PTi 120 pocket thermal imager for easy troubleshooting and industrial inspection offers a first line of defence for easy troubleshooting on the job. It is a camera small enough to carry around 
...
Read more...
---
Oil and gas producer reduces downtime by 20%
September 2019, Rockwell Automation , Maintenance, Test & Measurement, Calibration
In India, the swelling middle class has created a growing market demand for petroleum products. An oil and gas producer, one of India's largest petroleum product manufacturers and distributors, with a 
...
Read more...
---
Easy way to detect compressed air, steam and gas leaks
September 2019, Comtest , Maintenance, Test & Measurement, Calibration
Comtest has announced Fluke's new ii900, a handheld sonic industrial imager that enables maintenance teams to locate air, steam, gas and vacuum leaks. The intuitive interface allows technicians to isolate 
...
Read more...
---