printer friendly version
Ultrasonic sensors in agricultural automation
August 2019
Sensors & Transducers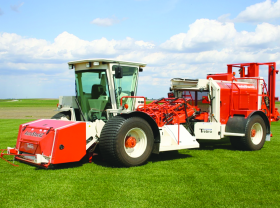 German manufacturer Dallmeier has announced a development partnership with AnyVision, a pioneer in AI-based facial, body, and object recognition. The aim of the cooperation is to integrate AnyVision's facial recognition technology into Dallmeier Hemisphere. The Hemisphere software platform offers customers from various industries a wide variety of modular solutions for security applications and business process optimisation.
From the optimisation of marketing activities to forensic evaluations – the use of facial recognition technologies is becoming increasingly important for customers of video technology solutions. The integration of AnyVision's technology will enable Dallmeier customers to use facial recognition data within various modules of the Dallmeier Hemisphere software platform. In this way, security and business processes can be optimised, eg. through blacklist/whitelist procedures, marketing optimisation through VIP-customer recognition, forensic evaluations in law enforcement procedures or the automation of access controls in office or manufacturing environments.
This allows customers of the Hemisphere software platform to access and use the data within various solution suites. Specifically, AnyVision's facial recognition solution will be integrated into the Hemisphere SeMSy video and security management suite, as well as in other solution suites of the Hemisphere platform, such as the situational awareness/incident management or data and security information management.
"In today's increasingly complex world, customers need solutions that can integrate powerful components from leading manufacturers within a single platform strategy. Partnerships like this with AnyVision ensure that our customers always have the optimal combination of leading technologies at their disposal," said Dieter Dallmeier, founder and CEO, Dallmeier. "Dallmeier's solutions in sectors such as safe city, stadiums, airports, logistics, casinos but also in the processing industry cover more and more topics that go far beyond classic video security technology. This makes it all the more important to work together with the right partners for complementary technologies which, when combined, offer decisive added value."
Plug-and-play for easy integration
The partnership is also part of AnyVision's mission to make its AI-powered technology available to more businesses and environments across the globe. Unlike other software solutions in the market, AnyVision's software is plug-and-play for new and existing systems, and able to overcome challenges such as occlusions, different angles of view, and poor lighting conditions. AnyVision currently develops technology for security and surveillance, mobile authentication, access control, and real-world analytics.
Boris Gokhman, VP of strategic partnerships at AnyVision, commented: "Facial, body, and object recognition have real-world benefits right now. Collaborating with best-of-breed technology partners to help more organisations working across diverse sectors to harness new capabilities and achieve those benefits is hugely important to us. We are delighted to be working with Dallmeier on this and look forward to expanding this partnership in the future."
For more information contact Dallmeier southern Africa Office, +27 11 510 0505, dallmeiersa@dallmeier.com, www.dallmeier.com
Credit(s)
Further reading:
Infrared sensors for stock control
October 2019, Gail Norton Instrumentation , Sensors & Transducers
Telco's high performance, self-contained infrared sensor series provides a total solution for pulp and paper applications. This industry poses serious problems for photoelectric sensors as the highly 
...
Read more...
---
Ultrasonic sensor for remote water level measurement
October 2019, Instrotech , Level Measurement & Control
Instrotech has available the Senix ToughSonic CHEM range of ultrasonic sensors, in service around the world in some of the most demanding and corrosive industrial environments. They measure a wide variety 
...
Read more...
---
Clamp-on ultrasonic flow measurement
October 2019, Instrotech , Flow Measurement & Control
Kobold's portable DUC-MP and the stationary DUC-MF are designed for continuous flow measurement. They are highly accurate and drift-free operating flowmeters for liquids in filled pipes. The devices are 
...
Read more...
---
Positioning sensor achieves high accuracy
October 2019, SICK Automation Southern Africa , Sensors & Transducers
SICK Automation's next-generation laser distance measurement sensor, DL100Hi, achieves higher levels of accuracy over greater distances for positioning and control in fast-moving environments. This high 
...
Read more...
---
LM sensor for precise applications
October 2019, Turck Banner , Sensors & Transducers
Banner's LM series of precision measurement sensors is now available in an even more precise model that features a 0,002 mm analog resolution at a range of 40-80 mm. The new LM80 model also features a 
...
Read more...
---
Deep learning sensor application
October 2019, SICK Automation Southern Africa , Sensors & Transducers
SICK Automation has developed a sensor solution that operates on the basis of deep learning algorithms. Following the AppSpace eco-system that permits realisation of flexible solutions for automation 
...
Read more...
---
Rosemount food and beverage leak detection system
October 2019, Emerson Automation Solutions , Sensors & Transducers
In response to industry demand for increased quality in food and beverages at every level, Emerson has introduced the Rosemount CT4215 food and beverage leak detection system. The CT4215 is a quantum 
...
Read more...
---
Accelerometer for vibration monitoring
October 2019, Instrotech , Maintenance, Test & Measurement, Calibration
Monitran has introduced the General Purpose Monitoring Sensor range, for use with PLCs and other industrial controllers, which provide users with a continuous output of vibration, usually as a 4-20 mA 
...
Read more...
---
Compact IR camera with industrial accessories
October 2019, Instrotech , Sensors & Transducers
Optris has announced additions to the Compact Line, the Xi 80 and Xi 400, now with new industrial accessories for use in rough conditions. The system has a modular design and as a result, the water cooled 
...
Read more...
---
3D sensors for robot grippers
October 2019, ifm - South Africa , Sensors & Transducers
The 3D sensor detects the object position, even when objects are moving, and transmits it to the robot control which activates the gripper. The system can detect rectangular, round and irregular shapes 
...
Read more...
---