printer friendly version
Feed mill project relies on SEW-Eurodrive
August 2019
Motion Control & Drives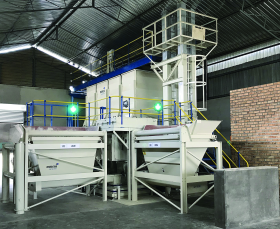 SEW-Eurodrive has supplied 120 geared motors to Dalein Agriplan for a customised 100 tph feed mill for a major beef producer in the Free State. This is not only one of the largest single projects undertaken by the manufacturer to date, but is also one of the biggest fully-automated systems of its kind in southern Africa. The project commenced in early 2017, and was completed at the end of 2018.
A critical success factor was the steady supply of geared motors over the years, sales manager Willem Strydom reports. "Our long-standing association with Dalein Agriplan indicates how important the agricultural industry is as a future growth area."
Part of the larger Dalein Group of companies, Dalein Agriplan designs, manufactures, and commissions a range of modular feed mills, with outputs from 3 to 100 tph. It also manufactures raw materials handling and processing facilities across southern Africa, and as far afield as Ethiopia and Ghana.
The success of the company's feed mills is due to the high degree of accuracy with which they weigh the raw materials, with a 5-10 kg margin on a 9 ton batch. Owner Lohan Heyl reveals: "Such accuracy is critical for the mixed ration to have the best possible homogeneity, and hence adherence to the formulation."
Key to this accuracy is the use of quality components from main suppliers. "Our clients in the agricultural industry depend on us to meet their requirements and specifications, and we in turn rely on companies like SEW-Eurodrive to provide the best possible components to ensure that our locally manufactured feed mills are world-class," adds Heyl. "We strive to associate ourselves with global leaders because it is a reflection on our reputation as well."
He adds that, apart from the quality German-engineered geared motors themselves, what is equally important is the customer support and technical backup that Dalein Agriplan receives. "There is a fast turnaround time on geared motors in the event of any breakdown, from critical spares to replacement units, which allows us to reduce the downtime for our own customers."
Dalein Agriplan pioneered its compact purpose-designed feed mill in the early 1990s, and to date has designed and built about 100 throughout the region. Its current target market ranges from smaller farmers who want to reduce their costs by producing their own high-quality feed, to large corporate mega-farmers with largescale commercial operations. The products supplied for this project included helical bevel geared motors for macro batching plants, parallel helical geared motors for belt and chain conveyors and bucket elevators, as well as inline helical geared motors for screw conveyors.
For more information contact Jana Klut, SEW-Eurodrive, +27 11 248 7000, jklut@sew.co.za, www.sew-eurodrive.co.za
Credit(s)
Further reading:
SEW-Eurodrive launches Generation X.e
October 2019, SEW-Eurodrive , News
Generation X.e represents the latest iteration of the highly-successful X series of industrial gear units, which has gained significant traction globally in industries as diverse as mining, cement and 
...
Read more...
---
Sawmills and sugar mills underpin growth for SEW-Eurodrive
October 2019, SEW-Eurodrive , Motion Control & Drives
Ageing sawmills and sugar mills in KwaZulu-Natal represent a significant growth opportunity for SEW-Eurodrive to introduce its latest energy-efficient technology. This is an increasing trend as both the 
...
Read more...
---
Smart devices for Ex areas: Unbelievably simple mistakes that prevent control.
September 2019, Michael Brown Control Engineering , Editor's Choice, Motion Control & Drives
I am often astounded by finding really basic problems with controls in plants, which have operated that way for years. These problems are so basic that one can only wonder at how these controls could 
...
Read more...
---
DLM V-Drives
September 2019, Dupleix Liquid Meters (DLM) , Motion Control & Drives
DLM V-Drives control the latest generation of permanent magnet and standard induction motors. DLM offers the AMC (advanced motor control) and EPC (efficient pump control) V-Drives, which are available 
...
Read more...
---
Complete drive solutions to boost efficiency and cut costs
September 2019, SEW-Eurodrive , Motion Control & Drives
The importance of the sugar industry in KwaZulu-Natal to SEW-Eurodrive as a key growth area for its complete drive solutions was underscored when it exhibited at the Congress of the South African Sugar 
...
Read more...
---
RS announces drive controller kit
September 2019, RS Components SA , Motion Control & Drives
RS Components has announced the launch of the K4 Drive System Development Kit (K4DSDK) from ebm-papst, one of the world's leading manufacturers of high-efficiency fan and motor drive products. Targeting 
...
Read more...
---
SEW-Eurodrive provides on-site training and service in Africa
August 2019, SEW-Eurodrive , News
A key differentiator for SEW-Eurodrive in Africa is its capability to offer on-site training and service. This not only familiarises clients with the drive automation specialist's complete range, but 
...
Read more...
---
Dust solutions for conveyor systems in bulk handling
August 2019 , Motion Control & Drives
BLTWorld works closely with ScrapeTec, to offer advanced solutions for conveyor systems used in the handling of materials with excessive dust. "AirScrape, TailScrape and DustScrape have been developed 
...
Read more...
---
Movidrive for screen filters
August 2019, SEW-Eurodrive , Electrical Power & Protection
An industrial water filtration specialist that has used gearmotors from SEW-Eurodrive for many years has adopted its Movidrive inverters with CMP servo motors and customisable iPOS software for its latest 
...
Read more...
---
Case History 167: Test your analytical capabilities
July 2019, Michael Brown Control Engineering , Editor's Choice, Motion Control & Drives
Answer to the question at the end of Case History 166 (
www.instrumentation.co.za/8690r
) In the last Case History article, I suggested you try and see what was not so good about a level control, which 
...
Read more...
---